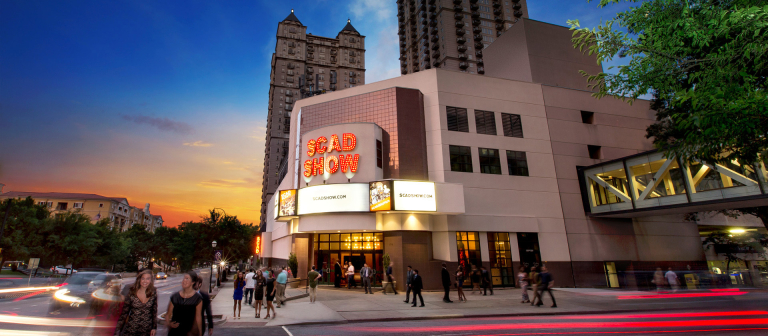 Make your voice heard at SCADFILM Podcasting Weekend
Atlanta, GA
173 14th St. NE
SCADFILM presents a weekend celebrating podcasts — the fastest-growing medium. Join SCAD for compelling podcast listening parties and live discussions with popular hosts, panel discussions, and workshops. Whether you're looking to launch your own podcast, a fan of the genre, or just a student of storytelling, SCADFILM Podcasting Weekend offers an exciting lineup.
SCADFILM Podcasting Weekend is free to SCAD Card holders. Weekend passes are $20 for non-SCAD students and $25 for the general public. Daily and individual event tickets start at $10. Passes and tickets are available at Eventbrite.
Schedule subject to change.
Jan. 24
7 p.m.
Finding a Voice: Podcasting Success Stories
Flexible formats, endless topic variety, on-demand listening, and the promise of community are just a few of the reasons for the recent explosive growth in podcasting. Join successful podcast hosts and producers as SCAD explores the fast-growing form of media and how to harness its power.
Moderator: Matt Nickley. Guests: Jeremy Campbell, creator and host, Number 1500; Matt Frederick, lead executive producer, iHeart Podcasts; Necole Kane, founder and CEO, xoNecole.
Film Screening: 'The Farewell'
This funny, uplifting tale originated in the real-life events featured on an episode of the podcast This American Life. In it, Chinese-born, U.S.-raised Billi (played by Golden Globe winner Awkwafina) returns to her hometown of Changchun to find that, although her whole family knows their beloved matriarch has been given mere weeks to live, they've decided not to tell her. To assure her happiness, they gather under the joyful guise of a sudden wedding. As Billi navigates a minefield of family expectations, she finds there's a lot to celebrate: a chance to rediscover the country she left as a child, her grandmother's wondrous spirit, and the ties that keep on binding even when so much goes unspoken.
Jan. 25
10 a.m. 
SCADFILM Workshop: A Foley Experience
Experience the opportunity to create original sounds in a state-of-the-art Foley studio at this workshop led by the SCAD sound design program. Space is limited. Reservations are required.
10 a.m.
SCADFILM Workshop: Desktop Podcasting
Learn how to produce a podcast outside the studio environment in this two-hour production workshop. Space is limited. Reservations are required.
1:30 p.m. 
Christina Lee and Dr. Regina Bradley host 'Bottom of the Map'
Go behind the scenes of the coming season of Bottom of the Map, a passionate exploration of southern hip-hop culture and its impact on the world. Bottom of the Map is a production of Atlanta's NPR station, WABE, and PRX with support from the Corporation for Public Broadcasting. 
3 p.m. 
Finding an Audience: Tips and Tricks for Podcasters
Among hundreds of thousands of choices, how does one podcast stand out in the crowd?  SCADcast producer and host Matt Nickley leads a panel of experts discussing tips and tricks for launching and growing a successful podcast.
Moderator: Matt Nickley. Guests: Stephanie Booker, account executive, Beck Media; Je-Anne Berry, director of marketing and business strategy, WABE; Kamilah Gragg, senior executive for emerging content and partnerships, Pandora Podcasts; Ona Oghogho, founder, Blk Pod Collective. 
4:30 p.m. 
Jeremy Campbell hosts 'Number 1500'
From Atlanta's 11-Alive/NBC comes Number 1500: About to be Free, which follows a journalist's journey to learn all he can about a murderer, the crime, and the controversy surrounding the death penalty in America in anticipation of being the media witness to the execution of the convicted killer. Host Jeremy Campbell provides insight on how he turned this unique experience into a compelling podcast and previews future series. 
5:30 p.m. 
Tenderfoot TV presents 'Behind the Scenes at Monster'
This wildly popular true-crime series began with Atlanta Monster, continued with The Zodiac Killer, and now has Monster: DC Sniper. Produced by Tenderfoot TV for iHeart, Monster: DC Sniper reinvestigates the 2002 beltway shootings. Executive producer Matt Frederick and hosts from the popular series talk about their runaway success and how their programs helped define the true crime podcast genre.