Event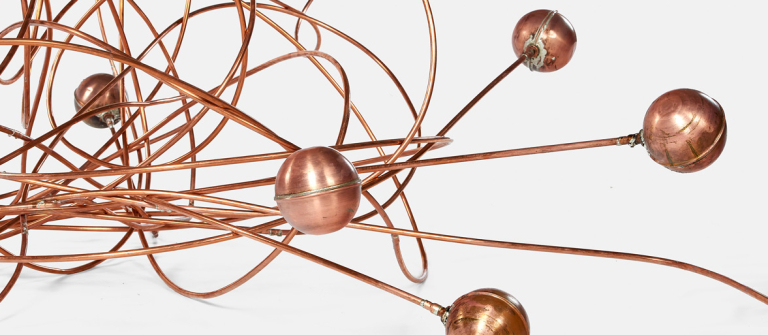 Nicholas Hlobo exhibition: 'Unyukelo'
Savannah, GA
601 Turner Blvd.
In "Unyukelo" Nicholas Hlobo responds to historic narratives of the American South to create a poetic and moving installation comprised of large two-dimensional and sculptural works for the SCAD Museum of Art. Inspired by the evocative name of the city of Savannah – with echoes of the rolling fields of grass of the African savanna - Hlobo conceived a project rooted in the search for liberation and escape. Taking the reference of tumbleweed as a metaphor, Hlobo's new artwork explores the materiality of copper piping, as both sculptural and linear drawing in space. Small, recognizable objects are attached to larger entangled shapes, which shift the original function and meaning to a place outside of immediate comprehension.
The artist's interest in language and the deliberate choice in using his mother tongue, isiXhosa, in titling his work connects to an ongoing interest in skillfully guiding viewers on a journey, letting understanding and reading of his work slip in and out of translation and legibility. The title of the exhibition "Unyukelo" translates directly as "The Ladder" in isiXhosa, which also means ascension. For Hlobo, the connotation is not so much about religion, but more broadly refers to a change in state of consciousness. The artist also articulates an interest in the process of getting lost as a way toward a deeper understanding of one's environment and place within it. This becomes an apt metaphor of both the process in the artist's studio while making, as well as a way of navigating and experiencing his installation.
Nicholas Hlobo was born in Cape Town, South Africa and lives in Johannesburg. His work has been shown in solo exhibitions at institutions including the Institute of Contemporary Art Indian Ocean, Port Louis, Mauritius; Uppsala Konstmuseum, Sweden; Museum Beelden aan Zee, the Hague, Netherlands; Locust Projects, Miami, Florida; the National Museum of Art, Architecture and Design, Oslo, Norway; Tate Modern, London; and the Institute of Contemporary Art, Boston, among others.
In 2011, Hlobo showed newly commissioned work on "ILLUMInations," the 54th International Art Exhibition of the Venice Biennale. His work also appeared in Venice on "The World Belongs to You," works from the Pinault Collection at the Palazzo Grassi, and the "Future Generation Art Prize" exhibition at the Palazzo Papadopoli. He has participated in notable group exhibitions, such as Performa 17, New York and at institutions such as Fondation Louis Vuitton; Tate Modern, London; the Centre Pompidou in Paris; Foundation De 11 Lijnen in Oudenburg, Belgium; the Smithsonian National Museum of African Art, Washington D.C.; MMK (Museum für Moderne Kunst), Frankfurt Germany and SCAD Museum of Art, Georgia; the Yerba Buena Center for the Arts, San Francisco, California; the 18th Biennale of Sydney, Australia; Palais de Tokyo, Paris; the Liverpool Biennale, England; the third Guangzhou Triennial, China and the Studio Museum in Harlem.
Hlobo was the first recipient of the Villa Extraordinary Award for Sculpture in 2016. He was the Tolman Award winner 2006, the Standard Bank Young Artist for Visual Art 2009 and the Rolex Visual Arts Protégé for 2010/11, working with Anish Kapoor as his mentor.
"Unyukelo" is curated by Storm Janse van Rensburg, head curator of SCAD exhibitions.
Museum hours:
Sunday: Noon to 5 p.m.
Monday: Closed
Tuesday: 10 a.m. to 5 p.m.
Wednesday: 10 a.m. to 5 p.m.
Thursday: 10 a.m. to 8 p.m.
Friday: 10 a.m. to 5 p.m.
Saturday: 10 a.m. to 5 p.m.
The exhibition is free for all museum members, and SCAD students, faculty and staff with a valid SCAD Card. Open to the public with the cost of museum admission.
"Unyukelo" is part of SCAD deFINE ART 2019, held Feb. 26–28 at university locations in Atlanta and Savannah, Georgia.