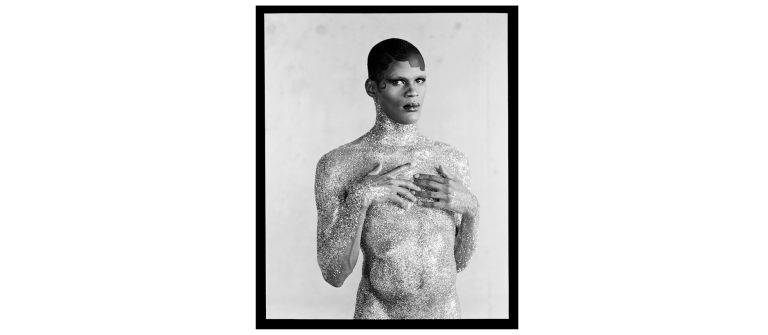 Michael James O'Brien exhibition: 'We Have Translated Each Other Into Light'
Savannah, GA
201 E. Broughton St.
SCAD presents "We Have Translated Each Other Into Light," a solo photography exhibition by Michael James O'Brien, SCAD associate chair of photography. O'Brien's illustrious career has spanned more than 30 years, and the artist has photographed diverse subjects internationally. The exhibition presents photos from the 1980s to present day and features distinct bodies of work from a variety of categories, notably fashion photography, still life, portraiture, counter-culture documentation and celebrity portraiture.
The exhibition presents selections from O'Brien's "Girlfriend" series, which documents early '90s New York drag culture. These black-and-white photographs highlight the joy, ferocity, theatricality and irreverence of drag, a custom uniting a diverse group of individuals in a community of self-expression and freedom. O'Brien found inspiration for this project during visits to New York clubs including the Pyramid Club and Jackie 60, where he encountered drag as a political performative act.
The exhibition also features two portraiture projects. The first, "Portrait of a Young Man," was inspired by Diego Velázquez paintings seen in the Prado Museum in Madrid, Spain. The title is derived from a common motif found in traditional master paintings by artists such as Botticelli, Raphael and van Eyck, and captures the beauty and fragility of youth. Created in reaction to the AIDS epidemic, the work encompasses more than 100 portraits of young men, found in the streets of New York, Paris and Antwerp, Belgium, and lit dramatically in a three-quarter pose. To eliminate distractions and promote the most essential elements of portraiture, O'Brien set parameters on the photo sessions: Subjects were only photographed wearing white, black or bare skin; no grooming was allowed and the shoots lasted an hour.
In the second portrait project, created in Liverpool, England, in 2016, the artist took a similar approach, photographing members of the local art community including writers, musicians, artists and gallery owners.
Similar to the "Portrait of a Young Man" and the aforementioned Liverpool series, the artist also creates still lifes that touch on traditions of painting and recall a sensibility of Dutch Vanitas masterworks. These are shot in high-contrast, dramatic light with a stark, black background. Memento mori are found in the placement of skulls, as well as opulent arrangements of flowers and silks, a subtle reminder of mortality and the futile pursuit of earthly goods. Allusions to the body and gender are made through dress forms and sculptures. The objects in these still lifes are a mixture of cheap items O'Brien found in flea markets and precious personal items that hold a strong resonance of personal history and memory for the artist.
In addition to these portrait projects, the artist has photographed many celebrities throughout his career. Pictured in the exhibition are Jude Law, artist duo Gilbert and George, Keanu Reeves, Andy Warhol, Amanda Lepore, Daniel Lismore and more. O'Brien captures his subjects' unique personas through composition. Gilbert and George, known for their highly formal appearance, are presented in iconic gray suits in a straightforward shot. The artists face each other on opposite sides of the photograph, with a strict window grid and symmetrical placement of religious ephemera filling the middle of the composition. This photograph is flanked by two photos of the bottom half of the artists' bodies, sitting formally with hands on laps. 
The exhibition also includes a selection of photographs from artist Matthew Barney's iconic project "The Cremaster Cycle." O'Brien began working with the artist in 1993, and continued to collaborate with him for 10 years, photographing sets, actors and outtakes from films and performances Barney created.
"We Have Translated Each Other into Light" is curated by Ben Tollefson, assistant curator of SCAD exhibitions. This exhibition is free and open to the public.
Gallery hours: Monday–Saturday, 10 a.m. to 6 p.m.
Reception: Friday, April 27, 2018, 6–8 p.m.

About the artist
Michael James O'Brien earned a B.A. from Kenyon College, and a B.F.A. and M.F.A. from Yale University. While at Yale, he studied with Walker Evans. His work has been published in The New Yorker, Rolling Stone, GQ US, GQ UK, The New York Times Magazine, Vogue UK, Interview and many others. O'Brien's commercial commissions include Polo Ralph Lauren, Saks Fifth Avenue, Longchamps, Thierry Mugler, Bergdorf Goodman and more. O'Brien worked with Matthew Barney on his Cremaster films 1, 2, 4 and 5, resulting in photographs that have been shown throughout the world. His work is in the permanent collections of the National Portrait Gallery, London, the Cleveland Museum of Art, Ohio, and Joyce Holdings, Beijing.