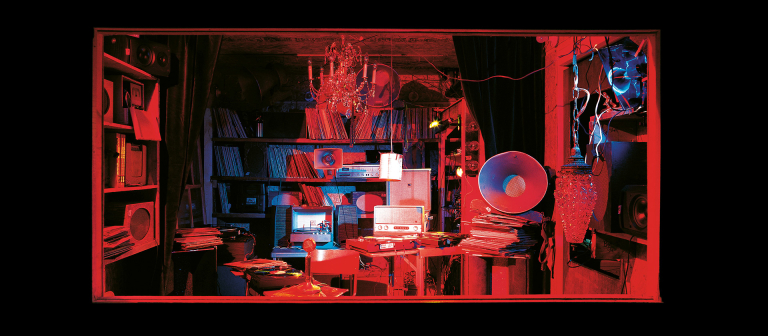 Janet Cardiff and George Bures Miller exhibition: 'Two Works'
SCAD Museum of Art presents "Two Works," an exhibition by SCAD deFINE ART 2018 honorees Janet Cardiff and George Bures Miller. The artists are internationally known for their immersive multimedia sound installations and innovative audio/video walks. While Cardiff and Miller have established individual careers, "Two Works" includes two major collaborative installations, "Opera for a Small Room" and "Experiment in F# Minor." These installations are examples of the artists' interest in crafting emotive, transformational experiences for audiences through theatrically charged environments and evocative, layered soundscapes.
The artists' interests in the spectator as subject as well as the act of spectatorship are explored in "Two Works." The installations are presented in separate rooms with visitors encountering "Experiment in F# Minor" first. Here, visitors are critical in the completion of the artwork when their shadows fall across a table filled with speakers, triggering sound and instrumental tracks. Depending on the number of people in the room, their movements, and where their shadows fall, viewers can create a cacophony of sounds that ebbs and flows. The room falls silent when it is empty.
Navigating into a large, open space, visitors encounter a small, room-sized wooden box, from which emanates operatic arias, songs, sounds, voices and pop tunes, as well as erratically flickering lights. Viewed through openings, the interior consists of thousands of stacked records, some record players and dozens of antique loudspeakers where spectators can hear but not see someone move and sort through albums. "Opera for a Small Room" creates a narrative around an absent central figure that occupies the room, and the viewer becomes a voyeur, peering into a fictional private space.
"Two Works" challenges and provokes by primarily playing on hearing and listening. Combined with haunting object-based configurations, Cardiff and Miller lulls and seduces their audiences into provocative and transcendent sensory experiences.
"Two Works" is curated by Storm Janse van Rensburg, head curator of SCAD exhibitions. 
Museum hours:
Sunday: Noon to 5 p.m.
Monday: Closed
Tuesday: 10 a.m. to 5 p.m.
Wednesday: 10 a.m. to 5 p.m.
Thursday: 10 a.m. to 8 p.m.
Friday: 10 a.m. to 5 p.m.
Saturday: 10 a.m. to 5 p.m.
The exhibition is free for all museum members, and SCAD students, faculty and staff with a valid SCAD Card. Open to the public with the cost of museum admission.
This exhibition is part of SCAD deFINE ART 2018, held Feb. 20-23 at university locations in Savannah and Atlanta, Georgia, and Hong Kong. SCAD deFINE ART is an annual program of exhibitions, lectures, performances and public events that highlights emerging and established artists and visionaries.
Read more about the exhibition with The Art Newspaper's review.