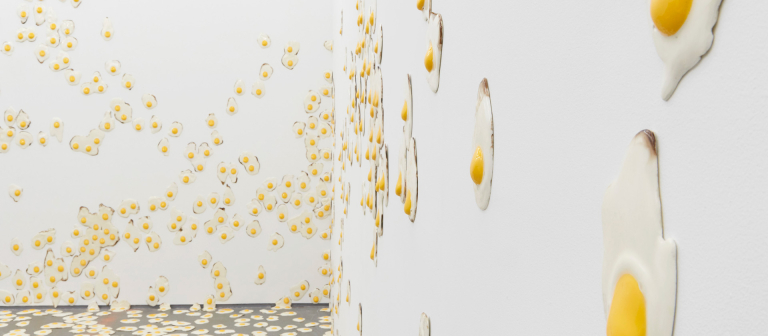 Christopher Chiappa exhibition: 'LIVESTRONG Savannah'
Savannah, GA
601 Turner Blvd.
SCAD Museum of Art presents "LIVESTRONG Savannah," an installation by New York-based artist Christopher Chiappa. The artist transforms the museum lobby into an all-consuming invasion of eggs; thousands of illusionistic, hand-made sculptures of sunny-side-up, fried eggs are suspended on the walls, dripping to the corner and floor, and even found in unexpected places like the museum's front desk and staircase. When solitary, an egg is recognized as a ubiquitous symbol of everyday experience; yet, the collective group of more than 4,000 sculptures transforms the lobby into a recognizable but disorienting aftermath of a strange and unexplained event.
Chiappa's sculptures are made of plaster, resin, paint and fiberglass. They are individually poured, sanded, hand-painted and coated in resin. Chiappa's production method entails dropping each yolk into the plaster that becomes the egg white. The act of the drop serves to remove the artist's hand from control over the form of the egg – the shape of each work, each egg, is thus unique.
The fried egg functions as a dual symbol for Chiappa, a combination of perfect form and random shape. The yoke, when intact, retains a perfect bulbous, geometric oval, whereas the fried egg white always takes on an arbitrary form. The unbroken egg has historically stood as a symbol for perfection, purity and potential in contrast to its fried iteration. In Chiappa's installation, the eggs, with their edges browned and stuck to the wall, become products of irreversible transformation, a vestige of potential.
"LIVESTRONG Savannah" is curated by Ben Tollefson, assistant curator of SCAD exhibitions. 
Museum hours:
Sunday: Noon to 5 p.m.
Monday: Closed
Tuesday: 10 a.m. to 5 p.m.
Wednesday: 10 a.m. to 5 p.m.
Thursday: 10 a.m. to 8 p.m.
Friday: 10 a.m. to 5 p.m.
Saturday: 10 a.m. to 5 p.m.
The exhibition is free and open to the public.
This exhibition is part of SCAD deFINE ART 2018, held Feb. 20-23 at university locations in Savannah and Atlanta, Georgia, and Hong Kong. SCAD deFINE ART is an annual program of exhibitions, lectures, performances and public events that highlights emerging and established artists and visionaries.