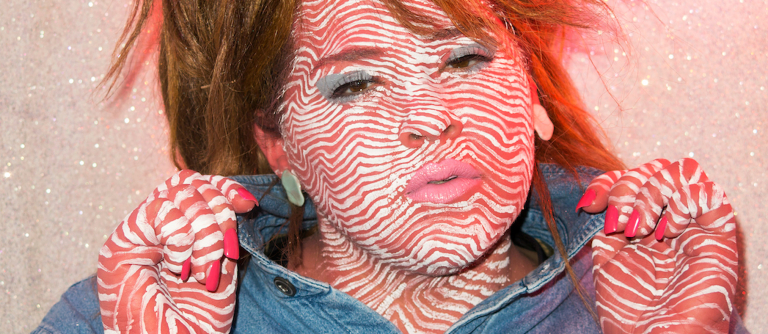 Group exhibition: 'Alter Ego'
Savannah, GA
201 E. Broughton St.
SCAD presents "Alter Ego," a group exhibition offering diverse approaches to the broad theme of the artist's alter ego. The exhibition, featuring various artistic practices, follows a rich history of persona, but offer fresh approaches that critique or celebrate notions of celebrity, commodity culture, reality and fiction. 
Artists Chuck Carbia, SCAD foundation studies professor, and Jaimie Warren don the alter ego as versions of iconic public figures or characters, and base their artistic practices in performance. Carbia is a founding member of the performance art group Glitter Chariot — his persona is a reinterpretation of Ernie from the children's TV show "Sesame Street." He creates paintings based on the group's acts, which are visceral and colorful reflections on emotional extremes experienced through human relationships. Warren founded Whoop De Do, a nonprofit with which she engages community groups to stage elaborate DIY performances and exhibitions and creates films based on historic paintings. In these films, Warren dresses as various celebrities such as Freddie Mercury or Stevie Wonder.
The alter egos of Shamus Clisset, Shana Moulton and SCAD alumnus Bin Feng (M.F.A., photography, 2017) exist in worlds of the artists' invention. Clisset, whose works appear to be manipulated photographs, are made purely through digital means. His guise of Fake Shamus is the god of his invented world, one inhabited by hyper-real, glistening figures and environments. Moulton's alter ego is Cynthia, a neurotic hypochondriac searching for healing through kitschy consumer products. "Alter Ego" includes a sculptural plinth displaying objects from Cynthia's world, while a monitor imbedded in the artwork plays a video of her activities. Feng's stylized photographs feature a character called the "Pin Man" on highly detailed spaceship sets. The Pin Man is the artist in a gold bodysuit to which hundreds of novelty pins are attached.
SCAD painting professor Vanessa Platacis presents a commissioned mural. The artist creates public murals that incorporate decorative elements referencing the traditions of painting and architectural ornament. Platacis formerly went by the alias PIXNIT and subsequently killed the persona through a public obituary and social media.
Los Angeles-based artist Adam Novak paints an invented gay man named Steve. Steve is born of tropes of the traditionally handsome man — he is a contemporary dandy, a man about town. With awkward compositions and unnatural proportions, Novak depicts the alter ego in various daily situations: picnicking in the park, 'liking' content on his phone or drinking wine in the tub.
Two videos by Indianapolis, Indiana-based artist Casey Roberts explore the discrepancy between who we are, who we were and what we aspire to be. "I think I know what the problem is" follows a man who is living his life as an animal in the wilderness of northern California. He humorously narrates his ambitions, which are often at odds with his current situation. The video is a wry observation of the struggles experienced through our societal roles. "Sometimes I Dream of Myself as Two People" documents the artist as he discovers objects in a cave — an environment rich also in metaphor, from Plato to Freud.
"Alter Ego" is curated by Ben Tollefson, assistant curator of SCAD exhibitions and Amanda York.
This exhibition is part of SCAD deFINE ART 2018, held Feb. 20-23 at university locations in Savannah and Atlanta, Georgia, and Hong Kong. SCAD deFINE ART is an annual program of exhibitions, lectures, performances and public events that highlights emerging and established artists and visionaries.
Gallery hours: Monday–Saturday, 10 a.m. to 6 p.m.
This exhibition is free and open to the public.