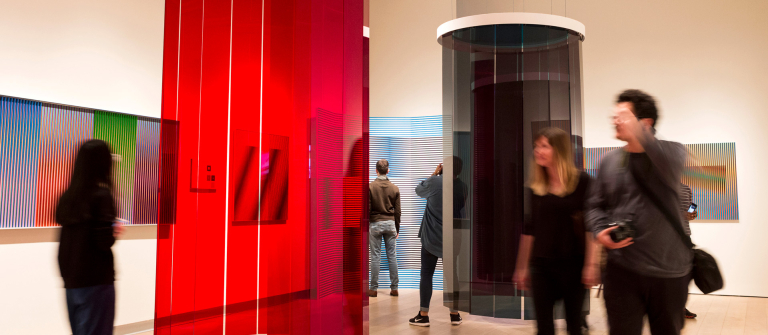 SCAD AT MIAMI: Carlos Cruz-Diez 'Chroma'
Untitled, Miami Beach
Ocean Drive and 12th Street
The SCAD Museum of Art, in collaboration with Articruz and the Cruz-Diez Art Foundation, presents "Chroma," a traveling exhibition by Carlos Cruz-Diez. Known for his groundbreaking color theory philosophies developed and refined over seven decades, Cruz-Diez's experimental and multidisciplinary practice is featured as an Untitled, Miami Beach Special Project. The exhibition includes a large-scale public artwork, an exhibition consisting of recent works and three new documentaries covering the artist's life and work. SCAD is the official university partner of Untitled, Miami Beach.
"Chroma" considers Cruz-Diez's fundamental concerns regarding the transformative possibility that color is diachronic and unstable, dependent on individual perception, space and context. Cruz-Diez's works are — aside from their aesthetic uniqueness — provocations completed by the viewers' movement in the artist's chromatic environments, where objects deliver a profound viewer experience. In the words of Cruz-Diez himself: "The world of color is the world of emotion."
"Chroma" offers a concise selection of new works, presented in Untitled, Miami Beach's main lobby, to provide an overview of Cruz-Diez's conceptual concerns. The rich terminology and language of color theory developed by the artist is also evident, an aspect of Cruz-Diez's practice that is as important as the work itself. This language addresses not only his artistic interventions, but also defines chromatic phenomena to unlock an understanding of color as unstable, dynamic and unique, evolving in and with a space.
An outdoor intervention extends the dialogue from the inside of the exhibition venue to the outside public space, a strategy in which the artist invites viewers to integrate an experience of color into their daily routines. These public gestures encourage viewers to reformulate their relationship to the urban landscape as a space that can be inhabited both critically and joyfully. A large, altered shipping container placed outside Untitled, Miami Beach holds "Chromosaturation," a series of connected color chambers that provides an intangible experience of pure color.
All works for "Chroma" were produced by Articruz, an atelier for artists dedicated to the production of contemporary art. Based in Panama City, Panama, and founded in 2009, Articruz offers artists the knowledge and experience gathered by Cruz-Diez and his family over nearly a century. The Cruz-Diez Art Foundation, founded in Houston, Texas, in 2005, is a nonprofit organization committed to preserving, promoting and transmitting the artistic and conceptual legacy of Carlos Cruz-Diez.
The exhibition was first shown at the SCAD Museum of Art in 2017 and is curated by Storm Janse van Rensburg, SCAD head curator of exhibitions, and SCAD alumna Raquel Serebrenik Sultan (M.A., business design and arts leadership, 2017; B.F.A., art history, 2015). "Chroma" was selected as an Untitled, Miami Beach Special Project by Omar Lopez-Chahoud, independent curator and artist director, Untitled, Art.
French-Venezuelan artist Carlos Cruz-Diez was born in Caracas, Venezuela, in 1923, and has lived and worked in Paris since 1960. Along with Jesús Rafael Soto and Alejandro Otero, Cruz-Diez is considered one of Venezuela's modernist masters, and, moreover, he is a major international protagonist in the field of Kinetic and Op art, a movement that encourages "an awareness of the instability of reality." His body of work has established him as one of the key 20th-century thinkers in the realm of color. Cruz-Diez's research has contributed to a new way of understanding color phenomena in art, greatly expanding its perceptual universe. In his works, Cruz-Diez shows that through interaction with the viewer, color becomes an autonomous, evolving reality, devoid of anecdotes, which develops in real time and space. He was the SCAD deFINE ART 2017 honoree.
VIP and Press Preview: Tuesday, Dec. 5, 1–8 p.m.