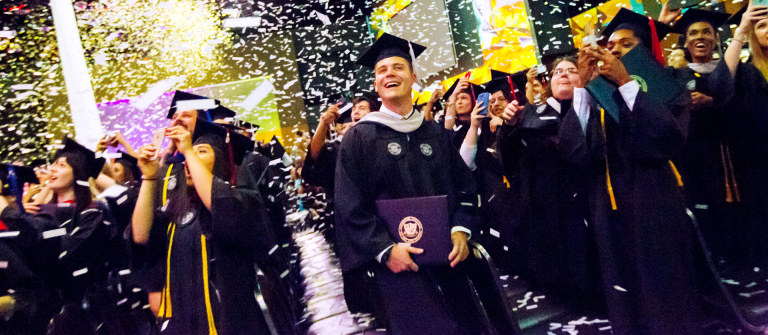 SCAD 2017 Commencement in Savannah
Savannah Civic Center
301 W. Oglethorpe Ave.
Join us as we honor and celebrate the Class of 2017 at commencement.
The Presidential Conferment of Degrees ceremony begins at 9 a.m., followed by two degree presentation ceremonies in the afternoon. Both commencement ceremonies will also be available via livestream. Check back here on graduation day to watch the ceremonies live.
Presentation of degrees ceremony one
begins at 1 p.m.
School of Building Arts
Architectural history
Architecture
Furniture design
Interior design
Preservation design
Urban design
School of Digital Media
Animation
Interactive design and game development
Motion media design
Television producing
User experience (UX) design
Visual effects
School of Entertainment Arts
Film and television
Performing arts
Production design
Sound design
Themed entertainment design
School of Liberal Arts
Art history
Cinema studies
Dramatic writing
Equestrian studies
Writing
Presentation of degrees ceremony two
begins at 5 p.m.
School of Communication Arts
Advertising
Branded entertainment
Graphic design
Illustration
Sequential art
User experience (UX) design
School of Design
Business design and arts leadership
Design for sustainability
Design management
Fibers
Industrial design
Jewelry
Service design
User experience (UX) design
School of Fashion
Accessory design
Fashion
Fashion marketing and management
Luxury and fashion management
School of Fine Arts
Painting
Photography
Printmaking
Sculpture
Contact
For more information about commencement ceremonies in Savannah, email the registrar's office at registrar@scad.edu or call 912.525.5800.
Guest information
Guest entrance and seating
Guests may enter the Savannah Civic Center through the Liberty Street or Montgomery Street entrances. Tickets are required, and holding or reserving seats is not permitted. Guests will not be allowed on the arena floor before, during or after the ceremony, and should exit the building as soon as possible after each ceremony so that preparations may be made for the next ceremony.
Ticket information
Because of limited seating in the Martin Luther King Jr. Arena, tickets are required for all guests and must be picked up in advance by the graduating student. Students should visit the graduation channel on MySCAD for more information.
Guests without tickets may watch a live broadcast of the ceremony in the Savannah Civic Center's Johnny Mercer Theatre or online via live webcast.
Bag policy
We have implemented the following policies to ensure the comfort of all of our guests during the commencement ceremony. Large bags, including backpacks, suitcases, large camera bags and large purses, are not allowed in the venue. All purses, bags and packages are subject to inspection before entry to the venue. Students may check their keys prior to the ceremony but may not store or check any other items.
All attendees will be required to pass through metal detectors to ensure the safety of ceremony guests. To accommodate for this new security measure, be sure that you and your guests arrive early.
Disability access
Handicapped-accessible seating is available to guests who require special accommodations for a disability. Email events@scad.edu for seating arrangements.
The last day to submit special seating requests is Friday, May 26. Because of limited handicapped-accessible seating, only one person may accompany the individual in the designated seating area. Any special seating tickets requested by the graduating student will be counted toward the total number of tickets allotted to that student.
A designated handicapped-accessible parking area is available on a first-come, first-served basis. A state-issued handicapped sticker or parking permit is required.
Parking information
Parking at the Savannah Civic Center is reserved for students participating in SCAD 2017 Commencement ceremonies and their guests. Additional overflow parking is available at City of Savannah parking garages. Carpooling is encouraged.
Robinson Garage
Open 24 hours a day, seven days a week. The garage entrance is located on West State Street, between Jefferson and Montgomery streets.
Liberty Street Garage
Open Monday-Friday, 6 a.m. to 1 a.m.; Saturday, 5 a.m. to 3 a.m.; and Sunday, 5 a.m. to 1 a.m. The garage entrance is located on East Liberty Street, between Whitaker and Bull streets, and is within walking distance to the Savannah Civic Center.
Designated stroller parking areas will be located outside the Savannah Civic Center entrances. These areas will be monitored by a security representative for the duration of the ceremony.
Savannah accommodations
For your convenience, SCAD has compiled several hotel options located near Savannah's Historic District and the Savannah Civic Center. Some of these accommodations may offer reduced rates to SCAD guests.
What do I need to do to be considered for graduation?
All students should apply for graduation two quarters prior to expected completion of their degree. Students must complete an application online through MySCAD.
Who do I contact if I have questions about my eligibility to graduate?
For questions regarding your graduation audit, eligibility to graduate or eligibility to participate in the ceremony, reach out to your graduation auditor. Use your SCAD email account for all correspondence.
Is there any kind of meeting before the ceremony that participating graduates have to attend?
Yes. There are two participation meetings on Friday, April 21, at the Trustees Theater, 216 E. Broughton St. All students participating in the commencement ceremony are encouraged to attend for important details.
Do I still need to apply if I will not participate in the ceremony?
Yes. Any student who wants to have their degree awarded must apply to graduate. If you decide not to participate in the commencement ceremony, we will need to remove your name from our lists. Talk to your graduation auditor as soon as possible.
How do I get tickets?
Students should visit the graduation channel on MySCAD for more information.
How will I receive my diploma?
Diplomas will be mailed to the graduates at their diploma mailing address. Graduates should ensure their correct diploma address is on their graduation application. Diplomas will be mailed six to eight weeks after the ceremony.
Will I get my picture taken at the commencement ceremony?
Grad Images Inc. will be available to photograph students on the second floor. A passport-sized photo proof and order form will be sent within 30 days of commencement to the email address on file with the school.
Note: SCAD student email addresses will be inactive 90 days after completing coursework and completing graduation requirements.
How do I order my cap and gown?
Visit the Oak Hall cap and gown ordering site to order your cap and gown. Call 800.456.7623 with any questions about your order.
Can I bring my cellphone, camera, purse or bag, or food and drinks to the ceremony?
No food, drinks, purses or bags are allowed. All cellphones must be turned off during the ceremonies. You cannot take pictures during the ceremony.
Will the ceremony be viewable online?
Yes. SCAD 2017 Commencement ceremonies will be available via live webcasts on graduation day.