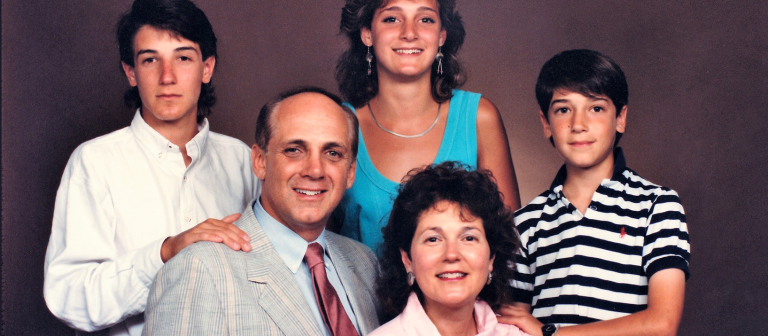 Glen Fogel exhibition: 'With You… Us'
SCAD Museum of Art presents a solo exhibition by Glen Fogel, an installation artist who creates immersive exhibitions often adapted to specific sites. His work uses deeply personal materials, such as letters, the clothing of loved ones, his grandmother's car, family heirlooms and his childhood home. He deliberately mediates his source material through sleek, high-tech production in order to interrogate the ways in which we establish bonds.
The exhibition "With You… Us" features Fogel's 2011 five-channel video "With Me… You," and premieres "With You… Me," a new five-channel video conceived as a companion to the former and specifically adapted for the Experimental Gallery. The two video installations will play one after another, using an identical technical setup. A selection from two series of ongoing wall works, "Letter Paintings" and "Man Quilts," further complicate and mirror the premise of the exhibition.
For "With Me… You," 2011, Fogel designed and commissioned a gyroscopic robotic device to film his family members' engagement rings. Exhibited as large-scale HD projections, the rings spin, tilt and invert in choreographed synchronization against colorful morphing backgrounds. Signs of wear — such as scratched metal and missing stones — contrast with the pristine surface of a home-shopping spectacle. Periodically, a lo-fi ring tone abruptly interrupts the projections and turns on the gallery's lights.
In "With You… Me," 2017, Fogel inverts the same gyroscopic device employed to film his family's rings to serve as a host for a camera. The video captures Fogel's childhood home in Denver, just before it was sold and demolished. The viewers are taken on a spinning journey through every space of the empty house, where intermittent lights expose subtle marks of wear from former inhabitants. Remaining decoration and appliances reveal how the aesthetics of several decades have modified the house, while occasional reflections of the artist complete an uncanny atmosphere.
Similarly, a selection of "Man Quilts" and "Letter Paintings" evoke the presence of absent family members and loved ones. The quilts are composed of fragmented suits once worn by close male figures and mounted on sound panels as fabric paintings dominated by abstraction and pattern. "Letter Paintings" are hyperrealistic reproductions of letters addressed to the artist, dealing with love and disenchantment. The letters surrender their intimacy as they become hyperrealistic paintings created in China by professional copyists using the methods of mass production.
In Fogel's work, there is a persistent suggestion of marketing vocabulary: the cinematic style of the Home Shopping Network, the lending and trading of personal objects and promises as a system of exchange. For Fogel, the moment in which the extraordinary becomes ordinary is not necessarily a time for mourning, but a time in which relationships can be seen as they are.
"With You… Us" is curated by Humberto Moro, SCAD curator of exhibitions.
About the artist
Glen Fogel was born in 1977 in Denver, and now lives and works in New York. In 2010, he earned an M.F.A. from The Milton Avery Graduate School of the Arts at Bard College. He has had solo exhibitions in New York; Chicago, Illinois; Portland, Oregon; Houston, Texas; Santa Barbara, California; Istanbul; and Porto, Portugal. His work has been part of many group shows, including the 2002 Whitney Biennial and, most recently, he collaborated with artist Alexandra Bachzetsis for "Massacre: Variations on a Theme," a performance commission for the Museum of Modern Art, New York. Fogel has been awarded the Princess Grace Award, a grant from The Rema Hort Mann Foundation and a grant from MAP Production Fund, Creative Capital.
"With Me… You" was first conceived for Participant Inc., New York in 2011.
Reception: Tuesday, Feb. 21, 2017, 6–7 p.m.
Museum hours:
Sunday: Noon to 5 p.m.
Monday: Closed
Tuesday: 10 a.m. to 5 p.m.
Wednesday: 10 a.m. to 5 p.m.
Thursday: 10 a.m. to 8 p.m.
Friday: 10 a.m. to 5 p.m.
Saturday: 10 a.m. to 5 p.m.
The exhibition and reception are free for all museum members, and SCAD students, faculty and staff with a valid SCAD Card. Open to the public with the cost of museum admission.
This exhibition is part of deFINE ART 2017, held Feb. 21–24 at SCAD locations in Savannah and Atlanta, Georgia, and Hong Kong. DeFINE ART is an annual program of exhibitions, lectures, performances and public events that highlights emerging and established artists and visionaries.