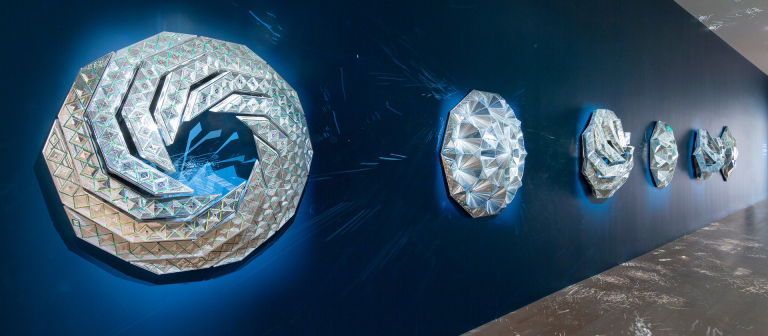 Monir Shahroudy Farmanfarmaian exhibition: 'Lineages'
SCAD Museum of Art presents a solo exhibition of the work of Monir Shahroudy Farmanfarmaian. The artist has rigorously explored the possibilities of form across artistic media and disciplines since the 1970s. "Lineages" features a selection of mirrored sculptural mosaics and geometric drawings. The exhibition is composed primarily of artwork created since 2011, but also includes a series of small drawings from 1977 that informs these more recent works and illuminates the artist's longstanding concerns of line, color and composition.
Farmanfarmaian works in series she calls "families," a term that indicates formal and conceptual connections linking works. She establishes initial aesthetic parameters for the series relating to composition, then applies these guidelines to shapes ranging from triangles to decagons. Despite these self-imposed rules, Farmanfarmaian states, "These geometric forms are miracles…One can create so much art based on them; they generate thousands of ideas. They offer infinite possibilities." To this end, she intuitively selects surface patterning and color to enhance her initial framework.
Farmanfarmaian's interests and influences are wide-ranging and informed by a lifetime spent between her native Iran and the U.S. Her work is a fusion of traditional Iranian techniques and materials and contemporary art movements. As she explains, "I'm taking old forms and making them modern." Within Sufism, which the artist has extensively studied, geometric forms contain symbolic references — associations Farmanfarmaian embraces. The artist's ever-changing — even, at times, disorienting — sculptural surfaces have drawn comparisons to the 20th century movements such as Op and Kinetic Art. Ultimately, however, her works largely defy categorizations, and are the product of circumstances uniquely her own.
"Lineages" is co-curated by Amanda York, assistant curator of exhibitions, and Storm Janse van Rensburg, head curator of exhibitions.
About the artist
Monir Shahroudy Farmanfarmaian was born in 1924 and is based in Tehran, Iran. Her artwork has been exhibited at major institutions and exhibitions worldwide, most recently in the Gwangju Biennale, South Korea in 2016. In 2015, she was featured in a traveling career retrospective at the Solomon R. Guggenheim Museum, New York City, as well as a showing at the Vienna Biennale. In prior years, her artwork has been exhibited at the Fundação Serralves–Museu de Arte Contemporânea, Porto, Portugal; Guggenheim Abu Dhabi, United Arab Emirates; Prospect.3, New Orleans, Louisiana; Sharjah Biennial 11, United Arab Emirates; WIELS Contemporary Art Centre, Brussels, Belgium; Haus der Kunst, Munich, Germany; the 6th Asia Pacific Triennial of Contemporary Art, Queensland, Australia; and the 29th Biennial de São Paulo, Brazil.
Farmanfarmaian's work has been collected by institutions around the world, including: Solomon R. Guggenheim Museum, New York City; Tate Modern, London, U.K.; Museum of Fine Arts, Boston, Massachusetts; and Metropolitan Museum of Art, New York City.
Reception: Tuesday, Feb. 21, 2017, 6–7 p.m.
Museum hours:
Sunday: Noon to 5 p.m.
Monday: Closed
Tuesday: 10 a.m. to 5 p.m.
Wednesday: 10 a.m. to 5 p.m.
Thursday: 10 a.m. to 8 p.m.
Friday: 10 a.m. to 5 p.m.
Saturday: 10 a.m. to 5 p.m.
The exhibition is free for all museum members, and SCAD students, faculty staff with a valid SCAD Card. Open to the public with the cost of museum admission.
This exhibition is part of deFINE ART 2017, held Feb. 21-24 at SCAD locations in Savannah and Atlanta, Georgia, and Hong Kong. DeFINE ART is an annual program of exhibitions, lectures, performances and public events that highlights emerging and established artists and visionaries.