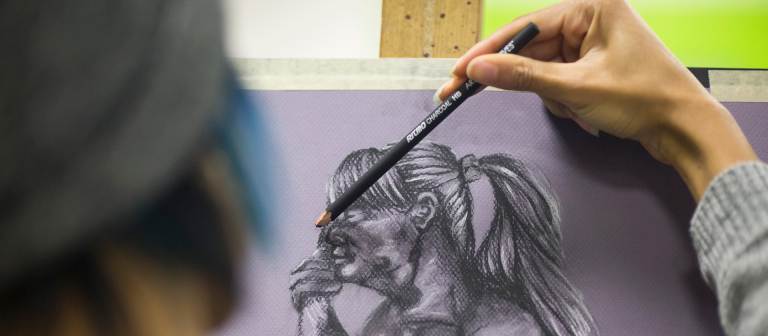 Show off your work and win big at the Foundation Studies Portfolio Award Exhibition
Exhibit your best artwork and compete for coveted prizes at this annual showcase that acknowledges and celebrates students committed to excellence in their foundation studies courses.
Submission deadline | Wednesday, Feb. 1, 2017
Exhibition date | Feb. 18–25, 2017
Closing reception | Friday, Feb. 24, 2017, 2 p.m.
Eligibility
Any undergraduate student with fewer than 71 credit hours and who has completed or is currently enrolled in at least one foundation studies course is eligible to submit.
Requirements
Email professor Jeffrey Hicks at fspa@scad.edu with the subject line "2017 FSPA" and include:
• A typed, one-page, double-spaced statement titled "Why Foundation Studies Is Important to My Education."
• A screen shot of your unofficial transcript, accessible via MySCAD > Student Workspace tab > Academic Profile channel > "Transcript" link. Choose "undergraduate" and "unofficial" from the drop-down menus. (Be sure to screenshot the entire document. Use Safari, as Firefox and other browsers do not show the entire document.)
• Five original pieces of artwork completed while attending SCAD.
• Compile all works together in a .pdf file.
• Save images at 72 DPI (high resolution, no less than 300 PPI in any direction).
• Each slide should include your name, contact information, title of work, medium(s), dimensions and class in which it was made (including the professor's name).
Any submission that does not follow these guidelines exactly will not be considered. To learn how to photograph, size and load works into a .pdf file, visit the foundation studies blog.
Accepted works must be delivered to Wallin Hall by noon, Thursday, Feb. 9, 2017. We reserve the right to reject works that are poorly prepared, lacking in craftsmanship or diverge greatly from the digital submission.
Awards and prizes
Ten finalists will receive a $100 Ex Libris voucher. One finalist will be selected as the overall winner and receive a one-course tuition scholarship for a subsequent quarter at SCAD.