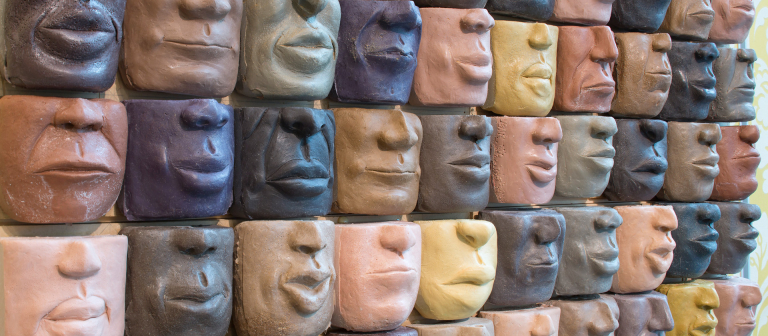 Masud Olufani exhibition: 'Imprint: Past as Prologue'
SCAD presents "Imprint: Past as Prologue," an exhibition by Masud Olufani (M.F.A., sculpture, 2013) that explores history, memory, community and the symbolic power of objects.
Olufani adopts familiar shapes, words and sounds, and recontextualizes them to allow for ongoing — and individualized — shifts in meaning. He states, "The spectrum of meaning [in art] is expanded as each viewer responds to the object, based on a history of interactions with a shape, a material, a smell, or a sound … Ultimately, the act of attaching meaning to an object is collaborative in nature." Additionally, as the exhibition title suggests, these works flatten the perspective of history through imagery that refers to both historic and contemporary events.
The works in "Imprint: Past as Prologue" are a fusion of sculpture, drawing and sound. A series of drawings depicts people Olufani encountered on the streets of Atlanta and Savannah, Georgia, while "Chorus of Memory" explores the genealogy of a diverse group of participants through sculptural relief and audio. Together these artworks demonstrate Olufani's belief in "the interdependence of community" and "the virtue of collective participation" — reoccurring themes in his body of work.
Olufani is an Atlanta-based mixed media artist and was a SCAD Alumni Atelier ambassador in 2015. He holds a Bachelor of Arts degree in studio art from Morehouse College in Atlanta, and his residencies include the Atlanta Contemporary Art Center, Creative Currents Artist Collaborative in Portobelo, Panama; The Creatives Project in Atlanta; The Hambidge Center for Arts and Sciences in Rabun Gap, Georgia; and the Vermont Studio Center in Johnson, Vermont. Olufani is a recipient of a 2015–16 Museum of Contemporary Art Georgia Working Artist Project grant; a 2014 Idea Capital Grant; the 2015 Southwest Airlines Art and Social Engagement Project grant; and was a 2014-15 Walthall Fellow. His work has been featured in exhibitions in Atlanta; New Orleans, Louisiana; Chicago, Illinois; Richmond, Virginia; Lacoste, France; and Hong Kong.
"Imprint: Past as Prologue" is curated by Amanda York, assistant curator of exhibitions.
Museum hours:
Sunday: Noon to 5 p.m.
Monday: Closed
Tuesday: 10 a.m. to 5 p.m.
Wednesday: 10 a.m. to 5 p.m.
Thursday: 10 a.m. to 8 p.m.
Friday: 10 a.m. to 5 p.m.
Saturday: 10 a.m. to 5 p.m.
The exhibition is free and open to the public.