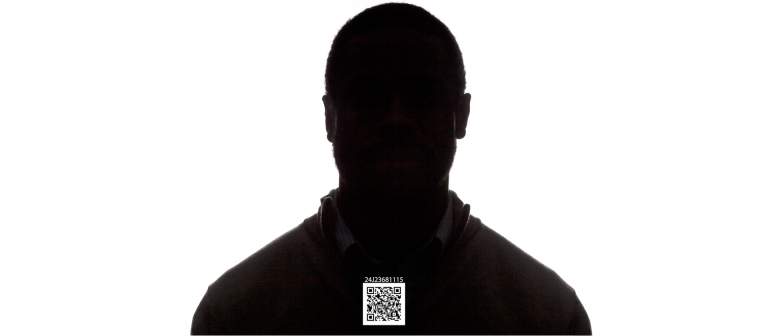 Manijeh Rahimi exhibition: 'Identity'
Atlanta, GA
1600 Peachtree St.
SCAD presents "Identity," an M.F.A. photography thesis exhibition by Manijeh Rahimi, who combines photography, video and digital media to explore the complexities of identity. Rahimi is inspired by the passport as a form of worldwide identification, and the inherent irony in identifying individuals through a system that is so impersonal.
In Rahimi's view, to identify someone based on his or her national identity is limiting and restrictive. Rahimi's "Identity" challenges first impressions versus the complex construction of identity through a multilayered process of revealing information. Viewer's thoughts will shift from the first impression of a person to a deeper one — from physical identity to self-identity — and eventually to a comparison of how others see us versus how we see ourselves.
"Identity" is introduced with silhouette portraits paired with a number and a QR Code. The silhouettes are then transformed digitally via smart devices into a simple passport-style photo that shows the nationality and physical traits of the subject, providing enough information for the viewer to form an opinion of the person. The photos then become animated — the participants share information about themselves — and the viewer learns more about the subjects through their own words and images. Rather than the limitations of a passport photo, "Identity" gives voice to the people portrayed, revealing their lives, hopes and dreams, in addition to their sameness and otherness compared to each other and the viewer.
Born in Esfahan, Iran, in 1983, Rahimi earned her B.F.A. in photography from Azad University in Tehran, Iran, in 2007, and her digital photography certification from Central Saint Martins College at the University of the Arts London in England in 2008. Rahimi later taught photography at the Esfahan Vocational School of Fine Arts in Iran and worked as a photographer and journalist for three years.. Her photographs have been featured by several magazines and exhibited in galleries. During her M.F.A. coursework at SCAD, Rahimi completed several photography projects involving installation, video, lighting and digital media, most of which reflect contemporary issues in conceptual and symbolic ways.
Reception: Thursday, July 7, 2016, 6–8 p.m.
Gallery hours: Monday–Friday: 8:30 a.m. to 5:30 p.m.
The exhibition and reception are free and open to the public.