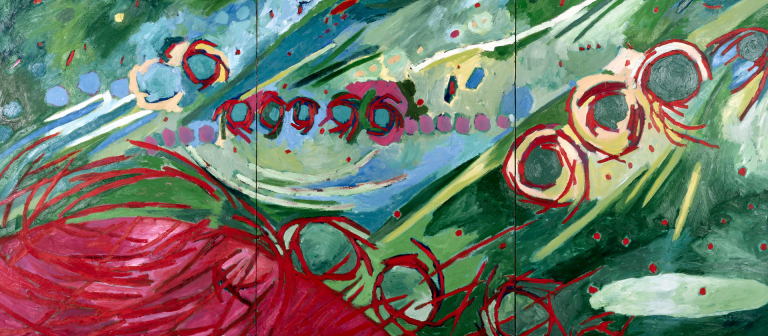 Mildred Thompson exhibition: 'Mildred Thompson: Resonance, Selected Works from the 1990s'
Savannah, GA
601 Turner Blvd.
The SCAD Museum of Art presents "Mildred Thompson: Resonance, Selected Works from the 1990s," an exhibition featuring artwork by prolific American artist Mildred Thompson (1936–2003). Over several decades, Thompson devoted her artistic practice to exploring and expanding the language of nonrepresentational abstraction. This exhibition presents a selection of works from the 1990s that collectively represent her highly developed visual language.
Defined by dynamic mark-making, complex uses of color, and vast atmospheres, Thompson's immersive imagery, created in the media of painting, drawing and printmaking, are inspired by scientific theories and universal systems. As exemplified in the works on view, Thompson sought to interpret and visualize elements and experiences invisible to the naked eye, with a particular affinity for the subjects of space and sound. In painting series such as "Music of the Spheres," "String Theory" and "Magnetic Fields," Thompson deftly and uniquely makes manifest ideas related to philosophy, physics, mathematics and astronomy in stylistic improvisations of lasting resonance.
With the renewed curatorial and academic interest in the African American contribution to the history of abstraction, "Mildred Thompson: Resonance, Selected Works from the 1990s," presented in the Walter O. Evans Center for African American Studies, is a remarkable opportunity to expand this dialogue by celebrating the work of an under-recognized historical figure.
Although she was born in Jacksonville, Florida, Thompson spent most of her career in Germany and France to avoid racial discrimination she faced in the United States. She spent the last 15 years of her life in Atlanta, Georgia, where she worked as the associate editor of ART PAPERS magazine and taught at Spelman College, Agnes Scott College and the Atlanta College of Art, while producing accomplished bodies of work in fine art and music. Her work is included in the permanent collections of the Smithsonian American Art Museum and Howard University in Washington, D.C., and the Museum of Modern Art and the Brooklyn Museum in New York.
"Mildred Thompson: Resonance, Selected Works from the 1990s" is curated by by Melissa Messina, interim executive director of the SCAD Museum of Art and Savannah exhibitions.
Reception: Thursday, June 23, 2016, 6:30–7:30 p.m.
Museum hours:
Sunday: Noon to 5 p.m.
Monday: Closed
Tuesday: 10 a.m. to 5 p.m.
Wednesday: 10 a.m. to 5 p.m.
Thursday: 10 a.m. to 8 p.m.
Friday: 10 a.m. to 5 p.m.
Saturday: 10 a.m. to 5 p.m.
The reception is free and open to the public. Daily admission to the museum is free for all museum members, as well as SCAD students, faculty and staff with a SCAD Card. Become a museum member at scadmoa.org/membership.