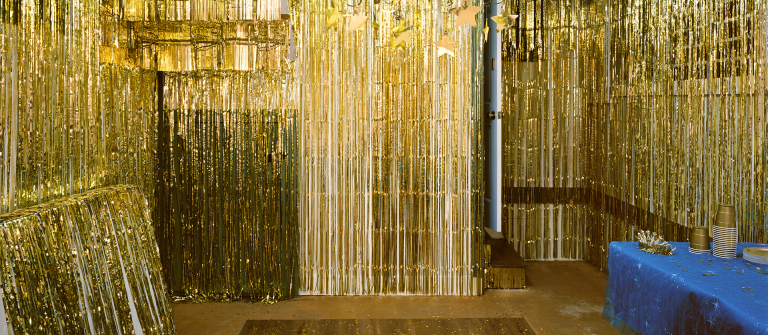 Sarah Hobbs exhibition: 'Interior States'
Savannah, GA
320 E. Liberty St.
SCAD presents "Interior States," an exhibition by photographer Sarah Hobbs. Hobbs says of her practice, "The viewer is not merely a visitor but is called to participate in completing the work through identifying or sympathizing with the image." Hobbs assembles complex installations in private spaces, such as domestic interiors, hotel rooms and self-storage facilities. These installations wryly portray psychological traits, and Hobbs exaggerates familiar emotions, such as indecisiveness, perfectionism, denial or escapism. She photographs her installations, producing images that are simultaneously absurd and darkly humorous, and are primarily printed in large formats to invite the viewer to "enter" the space. The photographs in "Interior States" were created between 1999 and 2016, and the exhibition is a concise survey of Hobbs' photographic works to date.
Hobbs is based in Atlanta, Georgia. Her photographs are represented in the collections of the Art Institute of Chicago in Illinois, the Brooklyn Museum in New York, the Columbus Museum in Columbus, Georgia, the Los Angeles County Museum of Art in California, the High Museum of Art in Atlanta, Georgia, and the Museum of Fine Arts in Houston, Texas. She also creates room-sized installations for visitors to experience, including rooms in the W Hotel in Atlanta, Georgia, for "Overpacked," 2012; self-storage units for "Repository," 2014; and the childhood home of writer and Georgian Carson McCullers for the exhibition "Flight in Place," 2015. She holds a B.F.A. and an M.F.A. from the University of Georgia in Athens.
"Interior States" is curated by Amanda York, assistant curator of exhibitions.
Artist conversation: Thursday, July 28, 2016, 5:30–6:30 p.m.
Reception: Thursday, July 28, 2016, 6:30–8 p.m.
Transportation will loop between the SCAD Museum of Art and Pinnacle Gallery beginning at 6:15 p.m.
Gallery hours:
Monday-Friday: 9 a.m. to 5:30 p.m.
Saturday: 10 a.m. to 5 p.m.
Sunday: 1-4 p.m.
The exhibition, artist conversation and reception are free and open to the public.