Event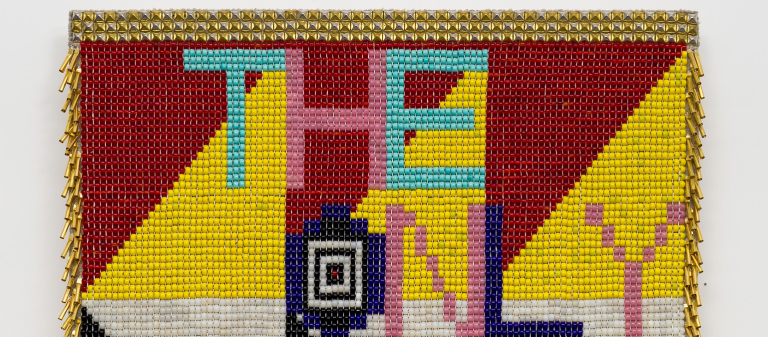 Jeffrey Gibson exhibition: 'A Kind of Confession'
Atlanta, GA
SCAD Atlanta, 1600 Peachtree St.
SCAD Atlanta presents "A Kind of Confession," the first Southeast solo exhibition by artist Jeffrey Gibson. The title of the exhibition is derived from a quote by the African-American novelist James Baldwin: "All art is a kind of confession, more or less oblique. All artists… are forced, at last, to tell the whole story."
Gibson is a member of the Mississippi Band of Choctaw Indians and half Cherokee, and has lived in the U.S., Germany, South Korea and England. His unique combination of global cultural influences come together in a multidisciplinary practice that intermingles elements of traditional Native American art with contemporary artistic references. Powwow regalia, intricate beading, trade blankets and stretched elk hide merge with elements of geometric abstraction, minimalism and the mid-1970s Pattern and Decoration movement in his paintings and sculptures. On exhibit will be a selection of recent work, including acrylic on elk hide paintings, intricately beaded punching bag sculptures and wall hangings that incorporate text statements.  
This exhibition is curated by Alexandra Sachs, executive director of SCAD FASH and Atlanta exhibitions.
Reception: Tuesday, Feb. 16, 6 p.m.
Artist lecture: Wednesday, Feb. 17, 7 p.m.
SCADshow
173 14th Street
Atlanta, Georgia
Gallery hours: Monday-Friday, 8:30 a.m. to 5:30 p.m.
The exhibition, reception and artist lecture are free and open to the public.
Presented as part of deFINE ART 2016, which takes place Tuesday, Feb. 16 through Friday, Feb. 19, 2016.
All deFINE ART lectures, receptions and events are free and open to the public.