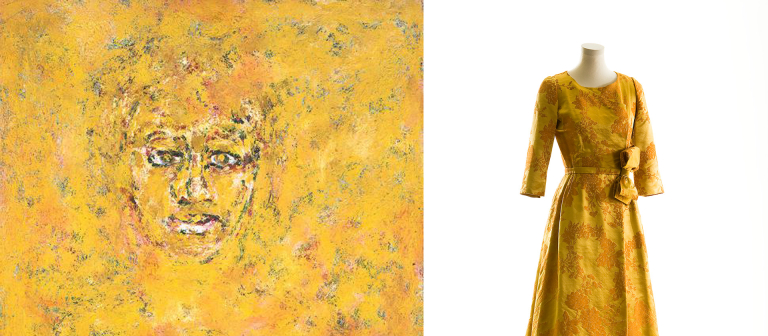 'Tête-à-tête: Art and Fashion from the SCAD Museum of Art Permanent Collection'
Savannah, GA
601 Turner Blvd.
SCAD Museum of Art presents "Tête-à-tête: Art and Fashion from the SCAD Museum of Art Permanent Collection," a series of intimate aesthetic "conversations" across media. Artworks and garments of historical and contemporary importance are paired to illustrate how inspiration transcends time and disciplines. These featured works share color, texture, technique or imagery. For example, Beauford Delaney's bright, gestural "Portrait of Ella Fitzgerald" (1968) is paired with a gold Mainbocher brocade gown of the same decade.
"Tête-à-tête" captures artists Chakaia Booker, Salvador Dalí, William Etty, Angelo Filomeno, Nicholas Hlobo, Jacob Lawrence, Marisol, Wangechi Mutu, Nelson A. Primus, Paul Sandby, Alma Thomas, Andy Warhol and Carrie Mae Weems in an imagined dialogue with the designers Stephen Burrows, Coco Chanel, Oscar de la Renta, Marc Jacobs, Miuccia Prada, Paco Rabanne, Ralph Rucci, Yves Saint Laurent, Louis Vuitton and Vera Wang.
"Tête-à-tête" is organized by SCAD curators Melissa Messina, Alexandra Sachs, Storm Janse van Rensburg and Amanda York.
Museum hours:
Sunday: Noon to 5 p.m.
Monday: Closed
Tuesday: 10 a.m. to 5 p.m.
Wednesday: 10 a.m. to 5 p.m.
Thursday: 10 a.m. to 8 p.m.
Friday: 10 a.m. to 5 p.m.
Saturday: Noon to 5 p.m.
Daily admission to the museum is free for all SCAD students, faculty, staff and museum members. The reception and the museum are open to the public with the cost of museum admission.