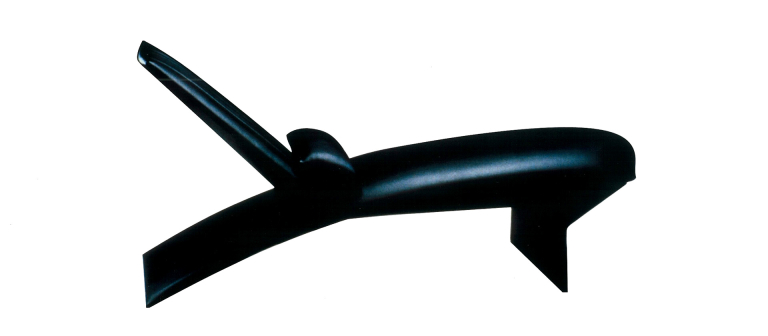 Dakota Jackson: 'The Making of Dakota Jackson'
Savannah, GA
601 Turner Blvd.
The SCAD Museum of Art presents "The Making of Dakota Jackson," the first major museum exhibition and retrospective of furniture designer Dakota Jackson. The exhibition explores the life and career of the visionary American designer and includes iconic works from his oeuvre, taking viewers from his first New York City design studio established in 1974 to the present.
Jackson's trajectory as a leading furniture designer began in the bohemian art scene of the late 1960s and '70s in downtown New York. He entered the creative sphere as a professional magician, a family trade he learned from his father. From there, his collaborations as a dancer and performer led to an interest in making furniture. One of his early commissions came from Yoko Ono in 1974: a desk as a gift to her husband, John Lennon, for his 34th birthday. Jackson was asked by Ono to create some of the unique features of the desk – an intricate piece of furniture drawing on the designer's fascination with illusion – such as the hidden compartments similar to those of an old Japanese magic box.
As Jackson expanded his practice, his focus shifted toward creating sleeker, more industrial-inspired objects. The series "Deadly Weapons" includes furniture designed and produced as one-of-a-kind works that could be described as functional sculptures. In the late 1970s, he moved his design practice into larger facilities and began using production line manufacturing, increasing the number and reach of his furniture pieces. His seminal pieces epitomizing this philosophy, "Vik-ter Chair" (1991) and "Library Chair" (1991), are included in the exhibition.
Music, movement and choreography remain important aspects of Jackson's design work. His longtime collaborations with Steinway & Sons led to the commission of two limited-edition pianos and the "TriCentennial Commemorative Piano I" (2000) also featured in the exhibition. Various photographic records, drawings and archival material included in the show will provide in-depth insight into Jackson's process, design philosophy and creative influences.
In 2013 SCAD recognized Jackson for his contribution to the American design lexicon through an invitation to be the university's honorary chair of furniture design. SCAD head curator of exhibitions Storm Janse van Rensburg states that "the multiple unique influences that shape Jackson's work have given form to objects that meld the artisanal with the conceptual, whilst remaining true to principles of exquisite design and practicality. The exhibition provides an opportunity to SCAD Museum of Art visitors and SCAD students to engage with the practice of a leading contemporary American designer whose oeuvre is rooted in existential questions of our time."
"The Making of Dakota Jackson" is organized by Laurie Ann Farrell, executive director of SCAD museums and exhibitions, and van Rensburg.
Reception: Thursday, Oct. 8, 6:30-8:30 p.m.
Q-and-A: Thursday, Oct. 8, 5:30 p.m., SCAD Museum of Art Theater
Museum hours:
Sunday, noon to 5 p.m.
Monday, closed
Tuesday, 10 a.m. to 5 p.m.
Wednesday, 10 a.m. to 5 p.m.
Thursday, 10 a.m. to 8 p.m.
Friday, 10 a.m. to 5 p.m.
Saturday, noon to 5 p.m.
Daily admission to the exhibition is free for museum members and anyone with a SCAD Card. The exhibition is open to the public with the cost of museum admission.