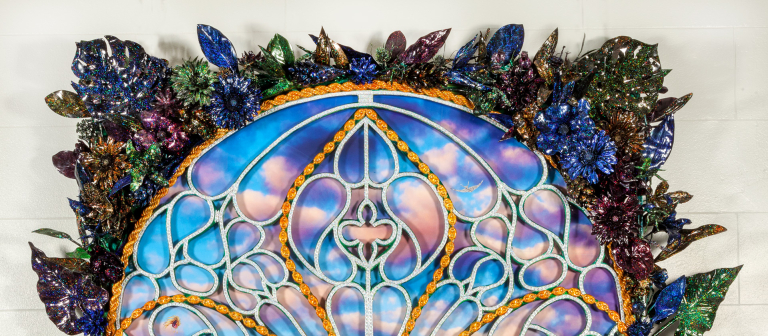 Reception for Rashaad Newsome exhibition: 'Orders of Chivalry'
Savannah, GA
601 Turner Blvd.
Join us for a reception celebrating "Orders of Chivalry," an exhibition of collage works and films from New York-based artist Rashaad Newsome. "Orders of Chivalry" showcases Newsome's contemporary take on historic imagery. Through the borrowing and blending of elaborately realized heraldic symbols with iconic hip-hop visuals, Newsome discerns and critiques power structures that have endured for centuries.
Newsome's treatise on social and economic divisions explores and recreates heraldic meaning through contemporary imagery and concepts. Heraldry's origins as the practice of recording coats of arms on banners and shields have long been wrought with imagery of one's status, displaying both familial lineage and military ranking. After living and working in Europe, Newsome began to make connections between heraldic elements in various forms of art and architecture. He also recognized correlations between the prominent status symbols found in hip-hop culture and those of heraldic motifs and symbols. Newsome's cross-cultural appropriation of European and American status symbols critiques issues of race, politics and consumer culture.
Central to the exhibition is Newsome's "Heraldry" film trilogy. Shown as a monumental cube installation, the films invite viewers to move through the gallery as they follow the progression of the image across three screens. This site-specific installation of "King of Arms" was commissioned by SCAD Museum of Art. Throughout these films, Newsome is the protagonist and master of ceremonies, guiding viewers through the rites and rituals involved with becoming the king of arms, the highest-ranking knight.
This exhibition is curated by Aaron Levi Garvey, SCAD assistant curator of exhibitions.
The reception is free and open to the public.
Daily admission to the exhibition is free for all SCAD students, faculty, staff and museum members. The exhibition is open to the public with the cost of museum admission.