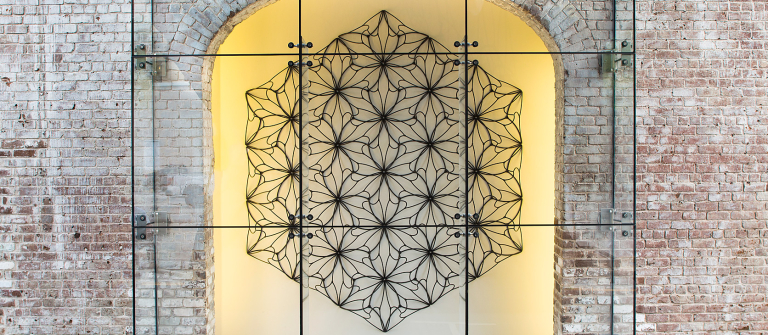 John Bisbee exhibition: 'Floresco'
Savannah, GA
601 Turner Blvd.
The SCAD Museum of Art presents "Floresco," a solo exhibition of work by sculptor John Bisbee, an artist who explores the elasticity and potential embodied in the humble nail, brilliantly transforming it into grand gestures that are both beautiful and awe-inspiring. For nearly three decades, Bisbee has focused his artistic practice exclusively on exploring the versatility of the medium by hammering, forging, welding and branding nails and spikes into complex geometric and organic compositions. "Floresco" will take place in two phases, occupying the SCAD Museum of Art's four exterior jewel boxes — now through Sept. 13 — and the museum's lobby, now through Jan. 3, 2016.
Each of the sculptures in "Floresco" was created using 12-inch bright common spikes, the largest nail commercially available, and demonstrates the range of artistic approaches Bisbee uses to give shape to his work; "A nail, like a line, can and will do almost anything," explains the artist. This range may be seen in the works on view in the jewel boxes: the twisted, sharp muscularity of "Plume"; flat, densely calligraphic lines of "Brittle Stars"; airy, arabesque patterning of "Floresco"; and the rhythmic mandala of "Lotus." Inside the museum, visitors have an opportunity to experience his work in the round and engage with the monolithic "Pillars" and "Seed." "Wheel Billows," a large-scale, branded wall piece on wood, was commissioned by SCAD especially for this exhibition. "Floresco" is the artist's first exhibition in the Southeast.
This exhibition is curated by SCAD curator Alexandra Sachs.
Daily admission to the exhibition is free for all SCAD students, faculty, staff and museum members. The exhibition is open to the public with the cost of museum admission.