Disk space
500GB (recommended)
250GB (minimum)

Connection and communication
Broadband
Webcam/microphone (recommended)

RAM
16GB or higher (recommended)
8GB (minimum)
Mac and PC specs
OS Features
Mac
PC
Recommended
OS
RAM
Processor

OS 10.14
16GB or higher
Intel-based Mac i7

Windows 10 or higher
16GB or higher
Intel Core i7
Minimum
OS
RAM
Processor

OS 10.13.6
8GB
Intel-based Mac i5

Windows 7 with Service Pack 1 (64-bit)
8GB
Intel Core i5
Chromebooks are not supported for SCAD Application Suites.
"SCAD eLearning is beneficial for all students who plan on working on an international level. We learned global online communication, file preparation and transfer, and IT resolution in addition to coursework."
Paul Maynard | M.F.A., writing, 2020; B.A., visual communication, 2015, Johnston City, Illinois
Flexible learning environment
SCAD eLearning is a multiplatform learning solution. Students can access and submit content through a variety of devices — mobile phones, tablets, desktops, or laptops — for a customized learning experience.
Screen capture applications allow students to share images and videos with their classmates and professors.
Video conferencing allows students to participate in live classroom events or watch the events at a later, more convenient time.
Mobile devices allow students to document in-process work as it unfolds so peers and professors can view it and offer feedback.
This flexibility brings multiple advantages to both sides of the learning experience. As students submit images and videos for grading purposes, professors can respond with images and videos for teachable moments on the go. 
eLearning technical support
The SCAD Help Desk is the first point of contact for any technology assistance from the university. Sensitive to the scheduling needs of eLearning students, the Help Desk offers extended hours to students located in different time zones and working outside normal business hours. The Help Desk can assist with hardware- and software-related issues, as well as problems with the MySCAD intranet. Students simply log in to submit new requests.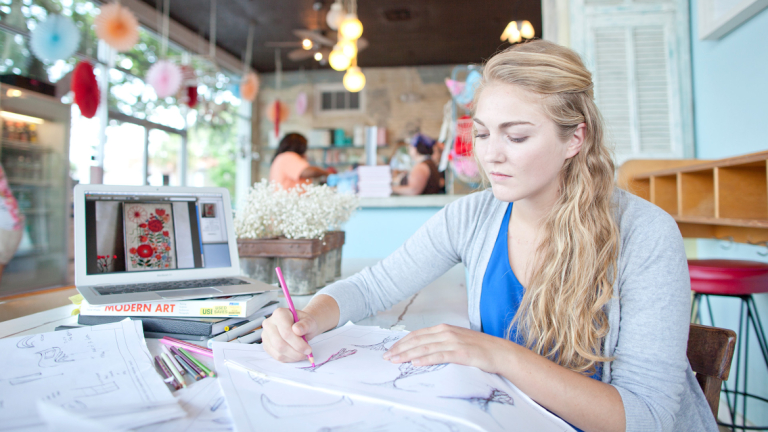 Orientation information
With the help of an online orientation course, eLearning students get all the information they need to know about the technology, software, and resources that will be integral to their studies.