Press Release
/
May 9
SCAD celebrates SCAD FASHION 2019 in Atlanta, Savannah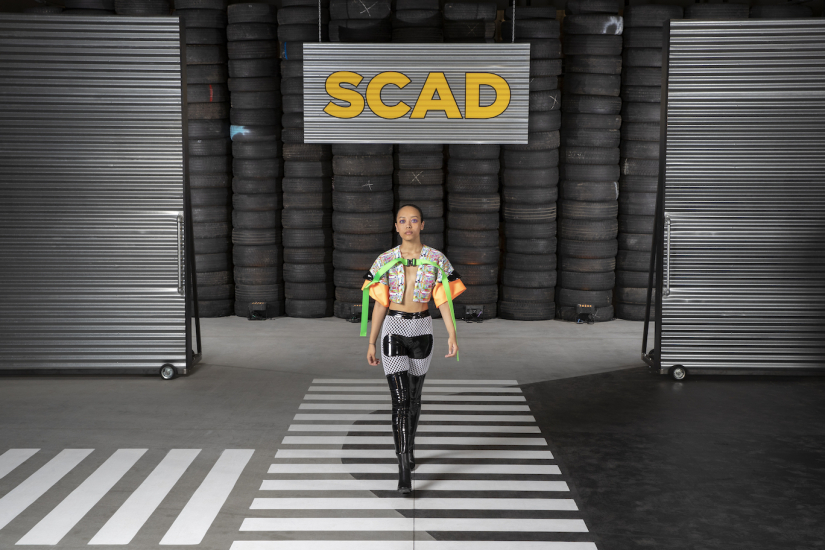 SCAD Savannah Fashion Show 2019 – Work by Jaycie Valdez
University to honor Cynthia Rowley and Phillip Lim with SCAD Étoile; SCAD Atlanta to debut first ever runway show
ATLANTA and SAVANNAH, GA., May 9, 2019 — The Savannah College of Art and Design (SCAD) presents SCAD FASHION 2019, a celebration of original designs curated from the finest SCAD School of Fashion senior and graduate student collections in Atlanta, May 9–10 and Savannah, May 16–18. Both runway shows are available for viewing via livestream.
As the most anticipated sartorial event of the year, SCAD FASHION redefines the runway. Programming Fri. May 10 includes the Static Showcase, 10 a.m.-5 p.m.; Jewelry Showcase, 10 a.m.-5 p.m. at SCAD Atlanta; and SCAD: In Conversation, 2 p.m., SCADshow. The inaugural SCAD Atlanta Runway Show will be held Fri. May 10, 7 p.m., SCAD Atlanta.
The following weekend, May 16-18 in Savannah, SCAD Fashion events will include the annual SCAD Savannah Runway Show, 5 p.m., Sat., May 18, outside at The Hive.
"SCAD's nearly 4,000 fashion graduates are now design leaders at Anthropologie, Marc Jacob, Kenneth Cole, Kate Spade, Abercrombie, Chanel, Lily Pulitzer, and just about every other major brand," said SCAD President & Founder, Paula Wallace. "SCAD grads also create new brands like Argent and AUDRA, and I'm just in the A's! Now Atlanta's fashionistas can see all this luminosity for themselves at SCAD Atlanta's first-ever runway show."
Each year, graduating SCAD School of Fashion students in Atlanta, Hong Kong and Savannah are given the opportunity to have their work expertly critiqued by fashion industry leaders, and the university's Style Lab mentor program connects them directly with established designers as they complete their final collections. This year's SCAD Style Lab mentors are Shirley Kurata, Los Angeles-based stylist; SCAD alumna and SCAD40 Prize winner Eleanor Turner (B.F.A., fashion, 2008), fashion designer; Mesrop Megrabyan, innovator designer at Nike; Robert Verdi, celebrity stylist, entrepreneur and television personality; and Frederic Tremblay, accomplished design professional.
SCAD will honor CFDA award-winning fashion designer Cynthia Rowley in Atlanta and Phillip Lim in Savannah. After the Étoile presentation, Rowley will be in conversation with Kimberly Rabanal, SCAD Professor of Fashion Marketing and Management. Lim will be in conversation with journalist Michelle Lee, editor in chief of ALLURE.
SCAD School of Fashion is comprised of degree programs including accessory design, business of beauty and fragrance, fashion, fashion marketing and management, fibers, and jewelry—all disciplines working together to produce all-encompassing creations, reflecting an industry where synergy is key.
The SCAD Étoile honors icons of style and design. Cynthia Rowley and Phillip join previous SCAD Étoile honorees including Derek Lam, Jonathan Adler, Pierre Cardin, Graydon Carter, Linda Fargo, Jason Wu, Carolina Herrera, Margaret Russell, and David Yurman.
SCAD has long been a destination for luminaries across disciplines to connect with emerging talent. Famed fashion designers have attended SCAD fashion events to extend their valuable insights and provide students with real-world critiques. The university provides these visits as opportunities to celebrate remarkable work and unprecedented careers. To date, SCAD has honored fashion industry titans Manolo Blahnik, Derek Lam, Reese Witherspoon, Stephen Burrows, Tom Ford, Diane von Furstenberg, John Galliano, Marc Jacobs, Zac Posen, Miuccia Prada, Oscar de la Renta, Ralph Rucci, Isabel and Ruben Toledo, Vera Wang and Vivienne Westwood.
Schedule of events
Atlanta
Thursday, May 9, 6 p.m. SCAD Atlanta Jewelry Trunk Show Opening Party
SCAD FASH Museum of Fashion + Film | 1600 Peachtree St. NW
Thursday, May 9, 6 p.m. SCAD Atlanta Static Showcase Opening Party
SCAD Atlanta | 1600 Peachtree St. Nw
Friday, May 10, 10 a.m. - 5 p.m. SCAD Atlanta Jewelry Trunk Show
SCAD FASH Museum of Fashion + Film | 1600 Peachtree St. NW
Friday, May 10, 10 a.m. - 5 p.m. SCAD Atlanta Fashion Showcase
SCAD Atlanta | 1600 Peachtree St. NW
Friday, May 10, 2 p.m. SCAD: In Conversation with Cynthia Rowley
SCAD Étoile honoree
SCADshow | 173 14th St. NE
Friday, May 10, 7 p.m. SCAD Atlanta Runway Show
SCAD Atlanta | 1600 Peachtree St. NW
Tickets available at scadshow.com
Savannah
Thursday, May 16–Friday, May 17 SCAD Jewelry Trunk Show
Jen Library | 201 E. Broughton St.
Thursday, May 16, 5 p.m. SCAD Savannah Fashion Static Show Opening Reception
Gutstein Gallery | 201 E. Broughton St.
Saturday, May 18, 2 p.m. In Conversation with Phillip Lim
Scad Étoile honoree
SCAD Museum of Art | 601 Turner Blvd.
Saturday, May 18, 5 p.m. SCAD Savannah Runway Show
The Hive parking lot | 207 W. Boundary St.
Tickets available at savannahboxoffice.com
Saturday, May 18 – Sunday, May 19 SCAD Savannah Fashion Static Show
Gutstein Gallery | 201 E. Broughton St.
Events are free and open to the public unless otherwise noted. For gallery hours and more information, visit Fashion Show 2019 online.
Follow @SCADdotedu and use #SCADFASHION to join the conversation via Facebook, Twitter and Instagram.
---
About SCAD School of Fashion
The SCAD School of Fashion offers a balanced curriculum of design and construction, costume history, and merchandising and marketing. Fashion students are encouraged to develop creative and intellectual thinking, inventive design skills and the practical expertise necessary to succeed in global fashion careers.
One of the most comprehensive fashion schools in the world, SCAD offers undergraduate and graduate programs across four global locations and online in accessory design, fashion, fashion marketing and management, fibers, jewelry, and luxury and fashion management.
To complement this innovative curriculum, the School of Fashion welcomes numerous designers and prominent industry professionals who give lectures, lead workshops, and provide valuable insight through one-on-one interaction with students. Recent visitors include Tom Ford International chairman Domenico De Sole; retail legends Simon Doonan and Linda Fargo; fashion news and business journalists Imran Amed, Bridget Foley and Anne Slowey; CNN Style Host Derek Blasberg; publicity maven Kelly Cutrone; and designers Mark Badgley and James Mischka, Carolina Herrera, Betsey Johnson, Christian Siriano and Alexander Wang, among many others.
 
SCAD: The University for Creative Careers
The Savannah College of Art and Design is a private, nonprofit, accredited institution conferring bachelor's and master's degrees at distinctive locations and online to prepare talented students for professional careers. SCAD offers degrees in more than 40 majors, as well as minors in more than 75 disciplines across its locations in Savannah and Atlanta, Georgia; in Hong Kong; in Lacoste, France; and online through SCAD eLearning. With more than 37,000 alumni worldwide, SCAD demonstrates an exceptional education and unparalleled career preparation. The diverse student body, consisting of nearly 15,000, comes from across the U.S. and more than 100 countries worldwide. Each student is nurtured and motivated by a faculty of nearly 700 professors with extraordinary academic credentials and valuable professional experience.
In 2017, the prestigious Red Dot Design Rankings placed SCAD as the top university in the United States and in the top two universities in the Americas and Europe. Career preparation is woven into every fiber of the university, resulting in a superior alumni employment rate. In a study of Spring 2017 SCAD graduates, 99 percent were employed, pursuing further education, or both within 10 months of graduation. For more information, visit the official SCAD blog.