Press Release
/
April 10
KALEIDOSCOPE KATRANTZOU: Mary Katrantzou, 10 years in fashion at SCAD FASH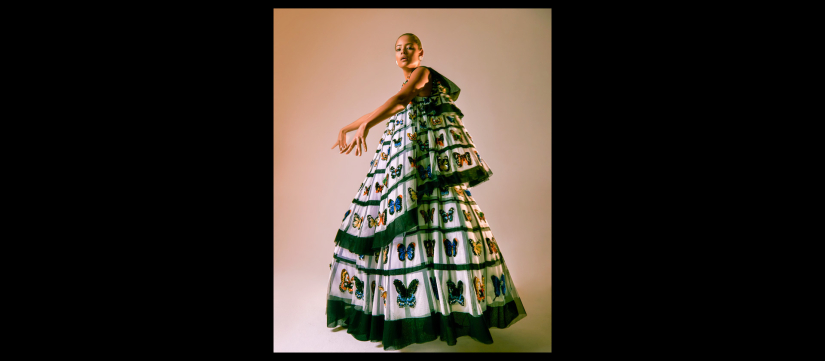 Mary Katrantzou gown photographed by Stephanie Galea
The stunning solo exhibition celebrates a decade of the designer's iconic looks
ATLANTA, Georgia — Savannah College of Art and Design (SCAD) presents KALEIDOSCOPE KATRANTZOU: Mary Katrantzou, 10 Years in Fashion, a new exhibition at SCAD FASH Museum of Fashion + Film celebrating the 10th anniversary of the coveted designer's eponymous label. The retrospective features iconic looks that reveal her innovative approach combining fashion, art and technology.
Known for her limitless imagination, Katrantzou draws from enchanting, unexpected sources: Fabergé eggs, Bauhaus posters, postage stamps, perfume bottles and typewriters have all found their way into her collections. Her garments are highly sought after by fashionistas, collectors and celebrities alike, and have been worn by Michelle Obama, Cate Blanchett, Lupita Nyong'o and Naomi Campbell, among many others. In December 2018, Katrantzou was invited to design Beyoncé's look for the Global Citizen Festival, a majestic ensemble of floral patchwork based on the contours of the African continent, printed on a sequin base and hand-embroidered with Swarovski crystals. Tapped for prestigious partnerships with cult brands including Atelier Swarovski, Victoria's Secret, Longchamp, Moncler and Adidas Originals, she has also collaborated with artist-provocateur Pablo Bronstein, designed costumes for the New York City Ballet and Paris Opera, and exhibited her work at the Metropolitan Museum of Art.
Katrantzou's innovative design philosophy mirrors SCAD's signature approach to crossdisciplinary education. Students and alumni from the university's top-ranked degree programs, including fashion, fibers and illustration, can explore more than 80 of the designer's cutting-edge creations from the past ten years of her career, including a selection of looks from each runway collection.
"By experiencing extraordinary, world-class exhibitions at SCAD FASH, students observe the work of global fashion superstars," said SCAD President and Founder Paula Wallace. "They also meet and exchange ideas directly with creators of the work. Only at SCAD!"
Katrantzou will also take part in this year's SCADstyle design summit April 9–11 at SCAD locations in Atlanta and Savannah, Georgia, and Hong Kong. On Tuesday, April 9, at 5:30 p.m., she will join Vogue Creative Digital Director Sally Singer at SCADshow to discuss her acclaimed career. The opening reception for KALEIDOSCOPE KATRANTZOU directly follows the conversation at 6:30 p.m. at SCAD FASH. The SCADstyle event is free and open to the public. The SCAD FASH reception is open to museum members and SCAD Card holders from 6:30 to 7:30 p.m. and to the public from 7:30 to 8:30 p.m. with the cost of museum admission. Find more details about SCADstyle online.
KALEIDOSCOPE KATRANTZOU is curated by Alexandra Sachs, SCAD FASH executive director, and Rafael Gomes, director of fashion exhibitions.
SCAD FASH is open to the public with the cost of museum admission. Admission is free for museum members, as well as SCAD students, faculty and staf with a valid SCAD Card.
About Mary Katrantzou
Greek born, London-based fashion designer Mary Katrantzou took the industry by storm in 2008 — and has been wowing the fashion world ever since. Known as the "Queen of Prints," Katrantzou plays with clashing aesthetics, mixing high fashion, high street, technology and craftsmanship. Katrantzou has received numerous awards, including the 2010 Swiss Textiles Award, a 2011 British Fashion Award for Emerging Talent and the 2012 Next Young Designer of the Year Award at the Elle Style Awards. In 2015, she won the British Fashion Council/Vogue Designer Fashion Fund and the British Fashion Award for New Establishment Designer, and was named the Harper's Bazaar Breakthrough Designer and Glamour Designer of the Year.
About SCAD FASH Museum of Fashion+Film
SCAD FASH Museum of Fashion + Film is the first museum dedicated to fashion and film in the United States, fortified by SCAD's top ranked, award-winning fashion and illustration degree programs. SCAD students and alumni consistently garner international accolades from renowned contemporary fashion designers, filmmakers and creative professionals all over the world.
SCAD FASH celebrates fashion as a universal language, garments as important conduits of identity, and film as an immersive and memorable medium. Situated within the SCAD Atlanta campus, the museum focuses on the future of fashion design, connecting conceptual and historical principles of dress — whether ceremonial, celebratory or informal. It welcomes visitors of all ages to engage with dynamic exhibitions, captivating films and educationally enriching events.
Like the award-winning SCAD Museum of Art, SCAD FASH serves as a creative resource for students of all ages and a wellspring of inspiration for visitors. Through programming that engages the university's broad array of academic disciplines, SCAD FASH ofers diverse exhibitions, films, installations, performances and events to enliven and inspire the greater community year-round. Each program is designed to engage and appeal to visitors with varied backgrounds and interests, from textiles and jewelry to photography and film. Past exhibitions have featured the work of designers Pierre Cardin, Oscar de la Renta, Carolina Herrera and Guo Pei. Photographic exhibitions have featured the work of Jonathan Becker, Bill Cunningham and Omar Victor Diop. Exhibitions are also accompanied by curated film series designed to complement programming. Past films include Ovation for Oscar, The First Monday in May, The Leopard and Funny Face, among others. Find more details about SCAD FASH online.
---
About SCAD: The University for Creative Careers
Savannah College of Art and Design is a private, nonprofit, accredited university, offering more than 100 academic degree programs in more than 40 majors across its locations in Atlanta and Savannah, Georgia; Hong Kong; Lacoste, France; and online via SCAD eLearning. SCAD enrolls nearly 15,000 undergraduate and graduate students from more than 100 countries. The innovative SCAD curriculum is enhanced by advanced professional-level technology, equipment and learning resources, as well as opportunities for internships, professional certifications and collaborative projects with corporate partners.
In 2018, the prestigious Red Dot Design Rankings placed SCAD as the No. 1 university in the U.S. and in the top two universities in the Americas and Europe. Career preparation is woven into every fiber of the university, resulting in a superior alumni employment rate. According to a recent study, 99 percent of Spring 2017 SCAD graduates were employed, pursuing further education or both within 10 months of graduation.