Press Release
/
April 26
SCAD celebrates 40th anniversary with special events and awards throughout the year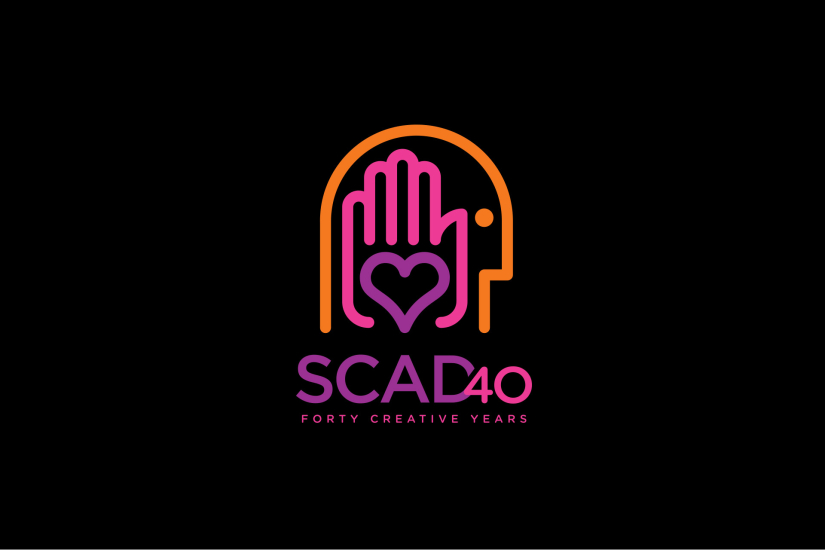 Festivities include debut of the SCADstory immersive experience; Mayor to present key to the city to SCAD president and founder Paula Wallace
SAVANNAH, Georgia — The Savannah College of Art and Design (SCAD) announces the spectacular schedule of events for SCAD40 WKND, celebrating the university's 40th anniversary. SCAD40 WKND gathers friends and families for the SCAD Sidewalk Arts Festival, the unveiling of SCADstory, the SCAD40 Block Party and more. The mayor of Savannah, Eddie DeLoach, will present SCAD President and Founder Paula Wallace with the key to the city during the anniversary celebration to recognize SCAD's role in changing the face of Savannah and higher education.
"My dream, 40 years ago, was to create SCAD," said President Wallace. "Our university—with its vast intellect, vibrant energy, and global impact—has far surpassed my dream. On this special occasion, I humbly thank all who have built SCAD over the years, especially SCAD alumni who chose SCAD for their education and who bring immeasurable joy and light to the world through their creative professions. They have proved that SCAD is a place to belong, to invent, and to flourish."
In 1978, Wallace created a new kind of university with a mission to prepare students for creative careers. From 71 students and eight degree programs in its first year, SCAD now includes almost 15,000 students and more than 100 degree programs. Over 40,000 students have graduated from the university, which boasts a network of global locations in Atlanta and Savannah, Georgia; Hong Kong; and Lacoste, France.
See the event schedule and read about SCAD40 WKND.
Event Highlights
The SCADstory Experience
SCAD40 WKND marks the opening of SCADstory, an immersive 360-degree journey created by former Disney Imagineers to bring the university's 40-year history to life. SCAD students, alumni and faculty helped create the experience, which showcases more than 25 of SCAD's world-renowned degree programs, including themed entertainment design, graphic design, costume design, animation, production design, visual efects, performing arts, interior design and architecture. The experience guides visitors through the early years of SCAD on its path to becoming the most comprehensive and connected art and design university in the world. SCADstory highlights not only the university's legacy but also its role in shaping and building the city of Savannah.
Notable SCAD alumni who worked on SCADstory include Sarah Brand (B.F.A., sequential art, 2016), Sam Chi (B.F.A., animation, 2005), Joanna Davidovich (B.F.A., animation, 2005), Jef Billon (B.F.A., broadcast design and motion graphics, 2007), Hannah Chiclana (M.F.A., performing arts, 2017), Masud Olufani (M.F.A., sculpture, 2013) and Reed Lovell (B.F.A., sound design, 2013).
SCADstory will open to the public April 28, 2019. The experience is free with a suggested donation of $5. All proceeds will go toward student scholarships. Visit SCADstory for more information and to reserve tickets.
SCAD Back40 and Apiary
The SCAD Back40 urban farm and apiary will showcase SCAD's ongoing conservation work in Savannah. This legacy environmental initiative will feature an all-seasons organic vegetable garden and bee colony to provide fresh produce for the community and help support the declining bee population. SCAD will work with America's Second Harvest of Coastal Georgia to give to the city regularly and will provide an educational observation area for city schools.
SCAD40 Prize
The SCAD40 Prize is the university's highest recognition for SCAD alumni. Honorees are selected for exemplary contributions to their professions and for demonstrating, through their success, the preeminence and purpose of a SCAD education. Awarded at signature events, including SCAD deFINE ART, the SCAD Savannah Film Festival and SCADstyle, throughout this 40th anniversary year, the SCAD40 Prize is presented to graduates who give all of themselves to their creative careers in the highest ranks of culture and business.
SCAD Sidewalk Arts Festival
The SCAD Sidewalk Arts Festival takes place April 27 in Forsyth Park. The very first of SCAD's signature events, the festival attracts tens of thousands of visitors each year to view chalk masterpieces created by SCAD students, alumni and prospective students. In addition to the hundreds of chalk designs that will be on view, SCAD alumni, including Martha Enzmann (M.F.A., painting, 1988), Karen McVay Butch (M.F.A., painting, 1995; B.F.A., painting, 1984), Jason Hackenwerth (M.F.A., painting, 2011) and Rashad Doucet (M.F.A., sequential art, 2009), will be creating new interactive artworks and installations.
 
---
SCAD: The University for Creative Careers
The Savannah College of Art and Design is a private, nonprofit, accredited university offering more than 100 academic degree programs in over 40 majors across its locations in Atlanta and Savannah, Georgia; Hong Kong; Lacoste, France; and online via SCAD eLearning. SCAD enrolls nearly 15,000 undergraduate and graduate students from more than 100 countries. The innovative SCAD curriculum is enhanced by advanced professional-level technology, equipment and learning resources, as well as opportunities for internships, professional certifications and collaborative projects with corporate partners. In 2018, the prestigious Red Dot Design Rankings placed SCAD as the No. 1 university in the U.S. and in the top two universities in the Americas and Europe. Career preparation is woven into every fiber of the university, resulting in a superior alumni employment rate. According to a recent study, 99 percent of Spring 2017 SCAD graduates were employed, pursuing further education or both within 10 months of graduation.