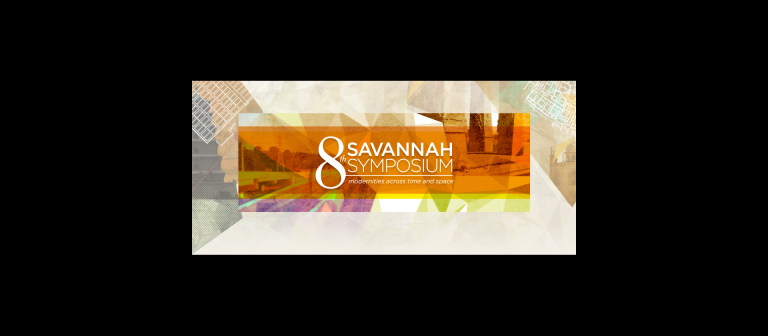 8th Savannah Symposium: Modernities Across Time and Space
Savannah, GA
601 Turner Blvd.
The art historian T. J. Clark spoke for many scholars when he declared modernity marked a special historical transition when "the pursuit of a projected future — of goods, pleasures, freedoms, forms of control over nature, or infinities of information" overcame tradition and ritual. He distinguished the last 500 years against all previous time, and the west against the rest of the world. But such a bold assertion has opened itself to diverse interpretations. Is there a single modernity? If so, how was it created, disseminated and adopted? Or, alternately, are there actually multiple modernities? How can we appreciate the diversity of different cultures and different times?
The 8th Savannah Symposium features papers investigating modernity and/or modernities in the broadest and most critical terms. Studies address architecture, landscape and the imagined environment as well as empirical, methodological and theoretical approaches. The significance of the split-level house in mid-20th-century suburbanization is discussed as are postcolonial reinterpretations of world architecture. There are papers that investigate attempts to assert modernity, as suggested by the origins of the very word "modern" deriving from the Latin modernus from modo, "just now," (marking a 5th-century desire to distinguish the Christian era from the Pagan era) as well as discussions of cultural hybridity where modernity is actively negotiated. Some studies focus on particular sites or examples of modern architecture while others interpret who determined the modernity, when and where it occurred, and how it was presented and promoted.
In all, the more than 60 papers, presented by scholars from over a dozen countries, represents a rich intellectual engagement with these exciting ideas.
Keynote speakers for the 8th Annual Savannah Symposium: Mark Jarzombek, MIT, and Dell Upton, UCLA.
For more information, please contact Patrick Haughey and Daves Rossell, department of architecture history, School of Building Arts, Savannah College of Art and Design.
Social History of Modern Design
Khoi Vo, SCAD, chair
Architecture of Emancipation: The Dohány Street Synagogue and the Self-Image of Budapest Jewry
Howard N. Lupovitch, University of Western Ontario
Fascist Modernities
Lucy M. Maulsby, Northeastern University
El Malecón of Puerto Vallarta: Controversy in a Tourist Traditional Townscape
Leonardo Diaz-Borioli, Princeton University
Material Culture of Modernity
Susan Falls, SCAD, chair
Air, Matter, Media: Étienne — Jules Marey's Insect Automata
Enrique Ramirez, Princeton University
Gropius and the Ger Or: The Quandary of the Insta-Modern
Marilyn W. Moedinger, Boston Architectural College, and Dan Weissman, Boston Architectural College
Electricity and Modernity in Haiti
Adam M. Silvia, Florida International University
The Politics of Socialist Modernity in Cuba
María Antonia Cabrera Arús, New School for Social Research
Choosing Modernity
Robin Williams, SCAD, chair
Modernity and the New Black
Jacqueline Taylor, University of Virginia
Abandoning Maybeck for 'Mid-Century Modern' on Two Campuses
Robert M. Craig, Georgia Tech
John Lautner and The California Eclipse: The Genius of Lautner's Virtually Forgotten Redwood Homes
Karen L. Mulder, Corcoran, College of Art and Design, Washington, D.C.
Urban Renewal before Urban Renewal: Postwar Modernism in Savannah, 1945-1960
Olivier G. Maene, SCAD
The Privilege of Knowledge
Deepa Ramaswamy, Massachusetts Institute of Technology
The Local and the Global in Modernity
Jonathan Field, SCAD, chair
Constructing a Regional Modernism: Art Nouveau Architecture in Nancy
Peter Clericuzio, the Wolfsonian — Florida International University
"Houses will be built everywhere": Modernity and Urban Space in the Press — Minas Gerais, Brazil, 1884-1914
James William Goodwin Junior, Centro Federal de Educação Tecnológica de Minas Gerais
International Brutalism Meets the Idealized Indian Village: Navigating the Universal and the Local in Balkrishna Doshi's ATIRA Housing
Daniel Williamson, SCAD Atlanta
A "Found" Desert and an Imagined "Garden": Modernity, Landscapes, and Architecture in Southern Georgia, 1865-1920
Mark V. Wetherington, the Filson Historical Society
Creating the Modern Southern City
Ella Howard, Armstrong Atlantic State University
Roundtable Discussion: The Significance of Preserving Modernities
Moderator: Jeff Eley, SCAD, historic preservation
Richard Cloues, National Register Office, GASHP
Robert Ciucevich, Quatrefoil Consulting
Cultural Reciprocity and Modernity
Margaret Betz, SCAD, chair
Richard Neutra and Henry Klumb as Colonial Negotiators: Thoughts on the Modernization of Puerto Rico through the Committee on Design of Public Works
Luz Marie Rodríguez, Universidad de Puerto Rico
From France to Brazil and Back: Le Corbusier, Architecture and Eugenics
Fabiola López-Durán, Rice University, and Nikki Moore, Rice University
Cultural Landscape of Modernity
Sam Olin, SCAD chair
Mobilizing the Austrian Settlement and Allotment Garden Association: Gardens, Produce and the War
Sophie Hochhäusl, Cornell University
Everyday Modernity: J.B. Jackson and the Postwar American Landscape
Jeffrey D. Blankenship, Hobart and William Smith Colleges
Modernity and Cultural Mediation
Andrew Nedd, SCAD, chair
Imperial Incarceration: Standardizing a Modern Prison Type for Colonial India
Mira Rai Waits, University of California, Santa Barbara
Italian Ecclesiastical Architecture under Fascists: The Case of Piacentini's Cristo Re
Anatole Upart, Benedictine University
American Modernism at Rockefeller Center: Localism in a Global City
R. Scott Miterko, R. Scott Miterko Architecture & Design
A Modernist View of Educational Utopia: Paul Rudolph's "Brutalist" Southeastern Massachusetts Technological Institute (SMTI)
Anna M. Dempsey, University of Massachusetts Dartmouth
Modernities Over Time
Celeste Guichard, SCAD, chair
The Triconch and Stibadium in Late Roman Architecture: The Essence of Modernity?
Lynda Mulvin, University College Dublin
Colonial Architecture of Confinement in the Audiencia de Quito (Ecuador)
Agnieszka Czeblakow, Emory University
1.7 Million Years of Modernity: Deep History, The Brain, and the Experience of Architecture
Matthew Allen, University of Toronto
Acropolis and the New Acropolis Museum — A Mytho-Poetic Meeting of Modernities
Mads Harder Danielsen, Aalborg University
The Endurance of the Archaic in Contemporary Architecture
David Rifkind, Florida International University
Representing Modernity
Geoffrey Taylor, SCAD, chair
Drawing Out a Modern Point of View: The Projected Visions of Auguste Choisy
Hilary Bryon, Virginia Tech
Maintaining Modernity: Photography, Paving, and Urban Anxiety in Paris, c. 1903
Sean Weiss, the City University of New York
Work of Art in the Culture of Mass Listening
Shundana Yusaf, Utah University
"Photography as Weapon": Preservation and Architectural Images in West Germany c. 1975
Kirsten Weiss, Massachusetts Institute of Technology
Models of Modern Enclosure: New Urbanism and the American Company Town
Peter Ekman, University of California, Berkeley
Defining Modernity
Scott Singeisen, SCAD, chair
A 'modern' Greek in the streets of Post-Napoleonic Berlin: Classical Taste and Prejudice in the Rise of a Nationalist Architectural Aesthetic
Irene Fatsea, NTUA
Mirages of Permanence: The Dream of a World Museum and the Paradoxes of the Exposition Project
Steve Rugare, Kent State University
Modern Architecture: The Debates and Definitions
Lisa Schrenk, University of Arizona
Identity Tectonics: Contested Modernities of Java and Bali
Robert Cowherd, Wentworth Institute of Technology
A Tale of Three Cities: Modernities Across Time and Space
Patrick Lee Lucas, University of North Carolina at Greensboro
Locating Modernity Amid Tradition, Formality, and Region
Thomas H. Taylor, SCAD, chair
Coal, Mourning and Modernity
Bradley Gordon Allen, University of Virginia
Baroque Spaces / Modern Subjects: A. E. Brinckmann and the 'Organic' City of 1920s Germany
Anthony Raynsford, San José State University
The Secret of the Bauhaus: Hoyerswerda and Architectural Modernism in East Germany, 1962-64
Emily Pugh, Center for Advanced Study in the Visual Arts
A Peruvian Weißenhofsiedlung; Or, Building a Better Barriada
Helen Gyger, Columbia University
When Art History Was Global
Barbara Jaffee, Northern Illinois University
Post Colonial Modernities
Thomas Gensheimer, SCAD, chair
Occidentalizing the Modern City: Perception and Representation of European Urbanism in Mirza Saleh's Travel Diary
Vahid Vahdat Zad, Texas A&M University
Agents and Networks of Modernization: Joseph Paxton, Ottoman Railways, and the Architectural Canon
Sibel Zandi-Sayek, College of William and Mary
Tropical Measures: Power and Change in Fry and Drew's African Projects
M. Ijlal Muzaffar, Rhode Island School of Design
Hanoi's French-Style Houses: Modernization and Local Adaptation
Dinh Quoc Phuong, Swinburne University of Technology
An African and Islamic Expression of Modernity: The Re-Imagination of the Historical Geography of Cap-Vert by the Layenne of Senegal
John Glover, University of the Redlands
Beyond Binaries of the West and the Rest: The Case for Teaching 20th-century Brazilian Diasporic Architecture of Nigeria (Aguda) in a Western Architecture Program
Adedoyin T. Teriba
Preservation and Modernity
Ellen Harris, Metropolitan Planning Commission, Savannah, Georgia
Historic Preservation and Early Modern Parallax
Anne P. Toxey, University of Texas at San Antonio
Re-Creating and Collapsing Time: Negotiation of History, Identity and Space in the Heart of Lexington, Kentucky
Bryan D. Orthel, Kansas State University
In the Crosshairs: Contemporary Historicist Design in the Public Forum
Kirk E. Peterson, Kirk E. Peterson & Associates Architects
The Contemporary Stamp of the Twenty-first Century: Article 9 of the Venice Charter Reconsidered
Paul Hardin Kapp, University of Illinois at Urbana-Champaign
Mid-Century Modern Preservation: A Conservator's Dilemma
Stephen Hartley, Savannah Technical College
Design Practice and Modernity
David Gobel, SCAD, chair
Modernity in Cyprus across Ottoman, Colonial and Republican Periods
Hifsiye Pulhan, Eastern Mediterranean University and Turkah Ulusu Ulraz, Eastern Mediterranean University
Negotiating Modernity in Interwar Prague: Centralized Urban Planning, Struggle and the Architecture of Democracy
Cathleen M. Giustino, Auburn University
From Policy to Training of Planners: Formulating a New Strategy for Development, 1954-56
Burak Erdim, North Carolina State University
Held in Suspension: Clashing Discourses of Urban Modernity in 1950s-1970s Slovenia, Yugoslavia
Veronica Aplenc, University of Pennsylvania
Zoning and the Controlled Space of Modernity
Matthew Heins, University of Michigan
Presenters and abstracts
For more detailed information about the symposium, please download the complete list of presenters and abstracts here.
Symposium history
In February 1999, the Architectural History Department at SCAD sponsored the Savannah Symposium on the City Square, a three-day forum for scholarship and discussion about an important theme in architectural and urban history with direct relevance to the city of Savannah and to contemporary practice in the building arts. That symposium received the first outside humanities grants ever awarded to SCAD — from the Georgia Humanities Council and the Samuel Kress Foundation — and paved the way for many more grants and outside sponsorships awarded to the symposium series. The success of that event led to development of the symposium as a biennial event intended to stimulate interdisciplinary dialogue among scholars, urban designers, regional and local community leaders, faculty and students on a topic that has relevance both historically and in current affairs.
The Savannah Symposium on the City Square
Feb. 25-27, 1999
Directed by David Gobel, Ph.D., and Robin Williams, Ph.D.
Keynote speakers:
Marvin Trachtenberg, Institute of Fine Arts, New York University
Malcolm Bell III, CASVA
Carroll William Westfall, University of Notre Dame
Robert Glover, City of Toronto
Stefanos Polyzoides, Moule & Polyzoides Architects
Public life in America at the end of the second millennium seems to be characterized increasingly by its placelessness. Automobiles, shopping malls, cellular phones and cyberspace seem to be heralding the extinction of urban space. Some would argue that city squares have no place in contemporary urban design. But to declare the traditional city square — which has served as the heart of urban design since antiquity — as obsolete seems premature. A stroll through any of the 18th- or 19th-century public squares in Savannah provides ample evidence of the viability of the city square today.

The 2nd Savannah Symposium: Authenticity in Architecture
Feb. 15-17, 2001
Directed by David Gobel, Ph.D., and Robin Williams, Ph.D.
Keynote speaker:
James Howard Kunstler, author of "The Geography of Nowhere"
Western society at the end of the 20th century is obsessed with authenticity. Ours is a "culture of authenticity," according to Charles Taylor. "To thine own self be true" has become the motto of a society in search of the authentic self. It is not surprising, therefore, to hear the incessant refrain of "authenticity" applied to contemporary architectural criticism. In the architecture columns of the New York Times, Boston Globe and Los Angeles Times, authenticity has replaced the Vitruvian triad of firmness, commodity and delight as the primary standard of judgment. Likewise, when debates arise regarding the appropriateness of a "modern" versus a "historical" building design for a community, the question often becomes, "Which is more authentic?"
3rd Savannah Symposium: Commemoration and the City
Feb. 20-22, 2003
Directed by David Gobel, Ph.D., and Daves Rossell, Ph.D.
Keynote speakers:
Catherine Bishir, senior architectural historian, Preservation North Carolina
David Lowenthal, University College, London
Dell Upton, University of Virginia
Acts of commemoration are fundamental to human experience and fundamental to the act of building. In fact, it can be argued that the building of cities itself is a radically commemorative activity. "Come let us make a name for ourselves," said the builders of Babel. Commemoration lies at the poetic, historiographic and social heart of human community. It is how societies define themselves. Individuals memorize, remember or ponder the past; communities commemorate. Collective memory is, however, an invitation to controversy and contention.
4th Savannah Symposium: Architecture and Regionalism
Feb. 24-26, 2005
Directed by Daves Rossell, Ph.D.; Thomas Gensheimer, Ph.D.; and Karl Schuler, Ph.D.
Keynote speakers:
Nezar AlSayyad, University of California, Berkeley
Henry Glassie, Indiana University, Bloomington
We begin with the simple proposition that architecture is inevitably regional. While globalizing trends alter or create entirely new regions, regional identities remain. The symposium explored the ways in which regionalism has been — and continues to be — defined and redefined. What are regional architectural traditions and how are they defined? Can regions be defined through architecture? How do regional spaces shape social identity? What constitutes a regional boundary in space or time? How have popular adoptions of regional form muddied the understanding of region? Is there a regional and time-bound character to popular forms as well? What are some contested identities of regions? How have regional traditions of architecture and cultural landscape been interpreted by artists, authors and scholars?
5th Savannah Symposium: Building in the Public Realm
Feb. 8-10, 2007
Directed by David Gobel, Ph.D., and Celeste Guichard, Ph.D.
Keynote speakers:
Tom Hanchett, Levine Museum of the New South
Christopher Mead, University of New Mexico
Jo Noero, architect, Johannesburg, South Africa
The theme for this symposium allowed consideration not only of the various manners in which architecture and space are and have been constructed for use outside of private contexts, but also of how various "publics" are formed, transformed, sustained and even elided through public buildings.
6th Savannah Symposium: World Heritage and National Registers in Perspective
Feb. 19-21, 2009
Directed by Celeste Guichard, Ph.D. and Thomas Gensheimer, Ph.D.
Keynote speakers:
Zahi Hawass, renowned Egyptologist and Secretary General of the Supreme Council of Antiquities in Egypt
Ronald Lewcock, international conservator and professor at the University of Queensland
Harold Kalman, prominent Canadian architectural historian and member of the Historic Sites and Monuments Board of Canada
The 2009 symposium explored the architectural and spatial elements of cultural properties on the World Heritage and National Register lists and topics related to heritage designations as a factor in furthering the study of the built environment globally and locally. This focus, tailored in response to requests to include issues related to National Registries, is supported by a Georgia Humanities Council grant.
7th Savannah Symposium: The Spirituality of Place
Feb. 17-19, 2011
Directed by Thomas Gensheimer and Jeff Eley
Keynote speakers:
Kenneth Foote, professor of cultural and historical geography at the University of Colorado at Boulder
Louis Nelson, associate professor of early American architecture and chair of the department of architectural history at the University of Virginia
The 2011 symposium explored the role of spirituality as it relates to the development and shaping of architectural and urban forms. Paper sessions focused on the broadest context of spirituality as a significant factor in the study of the built environment globally, nationally and locally. Of particular interest are essays that provided a critical evaluation of the relationship or co-existence of sacred and secular spirituality in regards to the constructed world.