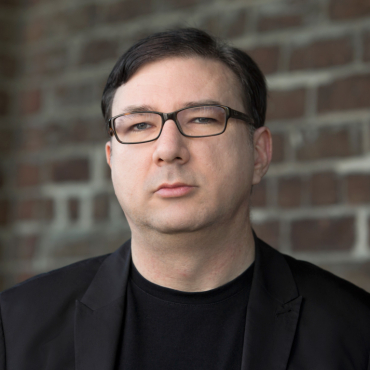 Michael Betancourt
Motion media design professor
---
Education
B.A., radio/television/film, Temple University, 1994
M.A., film studies, University of Miami, 1998
Ph.D., interdisciplinary studies, University of Miami, 2002
Credentials
Discovering the oldest surviving hand-painted abstract films produced circa 1916 by artist, engineer and inventor Mary Hallock-Greenewalt
Awards, recognitions and honors
Grants: National Endowment for the Arts / Iowa Arts Council Artist Project Mini-Grants, 2005; Drake University Center for the Humanities Grant, 2005; Florida Division of Cultural Affairs Artist Access Grant, 2003 Permanent collections: Museum of Modern Art, New York, New York; Anchorage Museum of History and Art, Anchorage, Alaska; Experimental Television Center, Oswego, New York; International Museum of Contemporary Art, Florianópolis, Brazil; Museum of Contemporary Art-North Miami, Florida
Organizations
iotaCenter, Los Angeles, California
Publications and Presentations
"100 Artists' Manifestos: From the Futurists to the Stuckists," edited by Alex Danchev. London: Penguin Modern Classics (2011): 496 pp.
"Stickers: From Punk Rock to Contemporary Art," edited by DB Burkeman and Monica LoCascio, New York: Rizzoli (September 2010): 308 pp.
"Immaterial Value and Scarcity in Digital Capitalism," CTheory, June 10, 2010.
"Structuring Time: Notes on Making Movies," second edition, (textbook for experimental media art), Wildside Press, 208 pp., 2009.
"Intellectual Process, Visceral Result: Human Agency and the Production of Artworks via Automated Technology," Journal of Visual Arts Practice, Vol. 7, No. 1, June 2008: 11-18.
"Precision Optics / Optical Illusions: Inconsistency, Anemic Cinema, and the Rotoreliefs," (reprinted), Euroart Magazine, Issue 5, Winter 2007.
"Wallpaper and / as Art," Vague Terrain 09: Rise of the VJ, 2008.
"The Valorized Artist: Incorporation into the 'Perpetual Art Machine' [PAM]" Bright Lights Film Journal, Issue 57, August 2007.
"Synchronous Form in Visual Music," Off Screen, Vol. 11, Nos. 8-9, August / September 2007.