Press Release
/
Jan. 2, 2013
U.S. Army names SCAD graduate Mark Curry 2012 Architect of the Year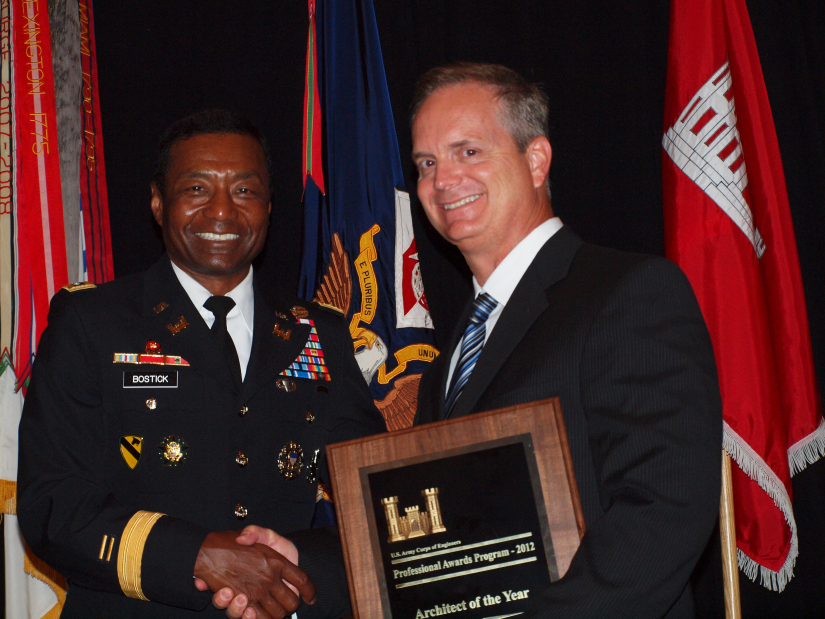 /SCAD alumnus Mark Curry, AIA, receives a plaque honoring his achievement as U.S. Army Corps of Engineers Architect of the Year for 2012. Photo by: U.S. Army/
SAVANNAH, Georgia —
Savannah College of Art and Design alumnus Mark Curry, AIA, has been named U.S. Army Corps of Engineers Architect of the Year for 2012.
Curry earned his Bachelor of Fine Arts and Professional Master of Architecture degrees from SCAD and now serves as an architect for the corps' Transatlantic Division, Engineering and Technical Services Branch in Winchester, Virginia.
"The education of an architect is a process of stress and refinement that creates a tool of the imagination. SCAD taught me to think outside of the box to seek solutions to design problems of any kind," Curry said.
"That [training] paid off during the years of my internship working in several Savannah firms, as well as my personal private practice, and it has been a great strength for leading Project Delivery Teams in numerous environments while a member of the US Army Corps of Engineers," he said.
Curry has directed corps projects in Afghanistan, Iraq, Jordan, Kuwait, Qatar, Kyrgyzstan and Oman, many of which are enduring projects, like command facilities and a detention facility in Parwan, Afghanistan.
"We are incredibly proud of Mark and his tremendous accomplishment," SCAD Dean of Building Arts Christian Sottile, AIA, NCARB, said. "As the SCAD School of Building Arts celebrates its 35th year of educating the nation's most talented students, we congratulate Mark as a leading example of the creative global thinkers, designers and problem solvers that SCAD cultivates."
At SCAD, architecture students learn in a stimulating environment that emphasizes the importance of interdisciplinary knowledge, collaboration and progressive thinking. The SCAD architecture program offers students a unique art and design context, teaching traditional architecture concepts against the backdrop of SCAD's other distinct art and design degree programs. Architecture studies at SCAD engage students in multi-disciplinary learning and celebrate the increasingly global culture of design.
SCAD: The University for Creative Careers
The Savannah College of Art and Design is a private, nonprofit, accredited institution conferring bachelor's and master's degrees at distinctive locations and online to prepare talented students for professional careers. SCAD offers degrees in more than 40 majors.