Press Release
/
Dec. 17, 2012
SCAD spreads holiday magic to Savannah community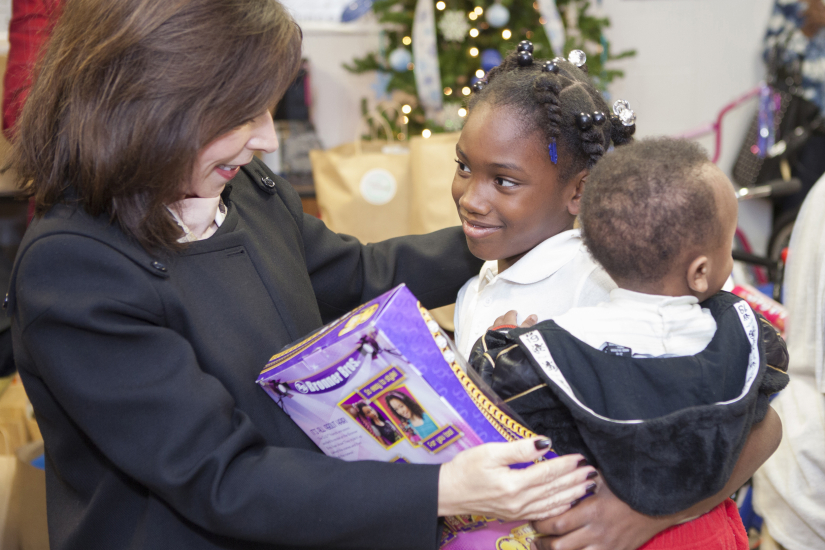 /President Paula S. Wallace brings holiday goodies to children at the United Mission during SCAD's 18th annual Secret Santa toy drop for homeless youth./
SAVANNAH, Georgia —
The Savannah College of Art and Design celebrated the holiday season with a weekend of festivities created to spread cheer throughout the local community. The slate of activities began on Friday with SCAD's 18th annual Secret Santa toy drop for homeless youth at the Union Mission.
"We appreciate the work of Union Mission," said SCAD President Paula S. Wallace. "Everybody at SCAD gets into this project. We collect many gifts as you can see. We try to make them very specialized so we look at the need and the ages."
President Wallace, Art T. Bee, and university faculty and staff loaded up the Buzz Bus to deliver more than 120 gifts from SCAD faculty, students and staff to children ages newborn to 18 years. SCAD volunteers formed a bucket brigade from the bus to the Mission's Christmas tree, filling the lobby with bicycles, warm coats, scooters, dolls, art supplies and more.
"It just reminds me of just home, just Christmas, just what you would expect Christmas to be, the festive spirit, the giving, the generosity," said Amber Kirklin, whose three children received gifts. "I really appreciate it."
On Saturday, the SCAD Museum of Art opened its doors to more than 400 patrons, who enjoyed free admission, cookies, live holiday carols and photos with Santa Claus. Artists young and old took home the museum's gift of watercolor paints.
Across town, more than 600 moviegoers packed into Trustees Theater for SCAD's annual holiday film screenings. Revelers enjoyed popcorn and refreshments while watching "Arthur Christmas," and the classic favorite, "National Lampoon's Christmas Vacation."
SCAD: The University for Creative Careers
The Savannah College of Art and Design is a private, nonprofit, accredited institution conferring bachelor's and master's degrees at distinctive locations and online to prepare talented students for professional careers. SCAD offers degrees in more than 40 majors.
For more SCAD news, follow:
twitter.com/scaddotedu • facebook.com/scad.edu • instagram.com/scaddotedu • youtube.com/aboutscad • pinterest.com/scaddotedu • scad.tumblr.com