Press Release
/
March 30, 2012
SCAD Museum of Art recognized by Congress for the New Urbanism with 2012 Charter Award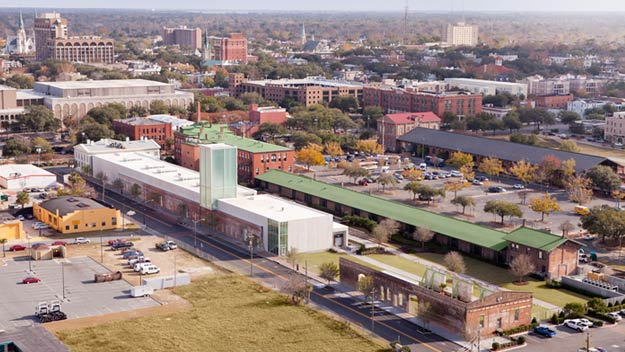 SAVANNAH, Georgia —
The Savannah College of Art and Design announces that the Congress for New Urbanism, the leading organization promoting walkable, mixed-use neighborhood development, sustainable communities and healthier living conditions, has named the SCAD Museum of Art as a winner of the organization's 2012 Charter Awards.
CNU's Charter Awards recognize excellence in architectural, landscape, and urban designs built in harmony with their physical and social contexts. Awardees are selected for their excellence in fulfilling and advancing the principles of the Charter of the New Urbanism, which defines the essential qualities of walkable, sustainable places from the scale of the region down to the block and building. SCAD was honored in "The Block, Street, and Building" award category.
"The design of the SCAD Museum of Art exemplifies CNU's charter principles and reinforces Savannah's rich cultural history, while maintaining SCAD's primary focus: fostering exceptional learning environments for SCAD students and professors," said Senior Vice President for College Resources Glenn Wallace. "We're honored to provide SCAD students and our Savannah community with a world-class public space to learn and grow in their understanding of art and design."
The SCAD Museum of Art, an 82,000-square-foot contemporary art and design museum, was completed in Fall 2011 on the western boundary of Savannah's Downtown Landmark Historic District. The finished museum site includes the former headquarters of the Central of Georgia Railroad, as well as the masonry ruins of a freight warehouse, both constructed in the mid-19th century, and encompasses the surrounding streetscape and courtyard spaces that align with and extend Savannah's public squares.
The SCAD Museum of Art project team designers, under the leadership of SCAD President Paula Wallace and Senior Vice President Glenn Wallace, included Sottile & Sottile, Lord Aeck & Sargent, Dawson Architects, SCAD Design Group, and SCAD Executive Director for Design and New Construction Martin Smith.
"Museums should not be designed as self-contained projects without meaningful relationship to their surroundings. They should contribute and relate to their urban contexts, influencing and enhancing the city's urban form," remarked Christian Sottile, principal of Sottile & Sottile and dean of the SCAD School of Building Arts who served as the museum's design architect. "Civic buildings call for distinct form and expression. They must have conviction."
SCAD is an internationally recognized leader in adaptive rehabilitation and urban revitalization. Since its founding in 1978, the university has revitalized more than 100 buildings around the world, creating inspiring communities for the study of art and design. SCAD has been recognized by the U.S. National Trust for Historic Preservation, the American Institute of Architects, the International Downtown Association, and UNESCO, among others, for its efforts.
For more information on the SCAD Museum of Art, including hours, directions and membership opportunities, call 912.525.7191 or visit scadmoa.org.
SCAD: The University for Creative Careers
The Savannah College of Art and Design is a private, nonprofit, accredited institution conferring bachelor's and master's degrees at distinctive locations and online to prepare talented students for professional careers. SCAD offers degrees in more than 40 majors.