Press Release
/
Oct. 15, 2012
SCAD Museum of Art offers free day for families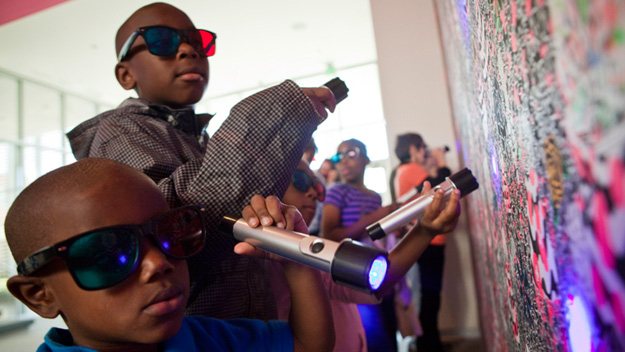 SAVANNAH, Georgia —
The SCAD Museum of Art will offer free admission and activities for the whole family in celebration of its first anniversary on Saturday Oct. 27.
The following gallery activities, workshops and demonstrations will be offered from 2-5 p.m.
Children can become art detectives, searching for clues and earning stickers as they participate in a scavenger hunt through museum galleries.
Learn to create your own tessellated 3-D shapes from laser cut paper in a sculpture workshop with SCAD professor Andrew Scott.
Find out how to use a live model as drawing inspiration in a portraiture demonstration with SCAD professor James Langley.
Storytelling with SCAD student Samantha Reveley allows children to step into an imaginary world where they design their own characters.
SCAD Radio DJs will play music in the museum courtyard and there will be a special appearance by the SCAD mascot Art the Bee.
One of the cornerstones of the museum is the Walter O. Evans Collection of African American Art, which spans more than 150 years and includes prized pieces by Edward Mitchell Bannister, Robert Scott Duncanson, Romare Bearden and Richard Hunt. Currently, the Evans Center features an exhibition called Pose/Re-Pose: Figurative Works Then and Now, which showcases works by acclaimed African American artists of the late 19th and early 20th centuries in dialogue with contemporary artists who utilize the body as a primary focus.
Other exhibition highlights on view in October include Little Black Dress, curated by SCAD trustee and Vogue contributing editor André Leon Talley; Addio del Passato, presenting photographs, sculpture and film by Yinka Shonibare MBE; Stretching the Limits, a group exhibition by fiber-based media artists; Reveal the secrets that you seek, featuring installations by Bharti Kher; and Figures, four large-scale wall hangings by renowned American sculptor Lynda Benglis.
The SCAD Museum of Art is located at 601 Turner Blvd., Savannah, Georgia. For more information about the museum, visit scadmoa.org.
About the SCAD Museum of Art
The SCAD Museum of Art is a premier contemporary art museum established to elevate art and design education for art enthusiasts around the world. Melding modern architecture with a historic 1853 railroad depot, the museum honors the past while showcasing world-renowned contemporary artists. Exhibitions range from painting and photography, to fashion, digital media and sculpture, complementing the artistic disciplines offered at the university. The museum also presents public programming year-round, including lecture series, film screenings, workshops and gallery talks.
About SCAD
The Savannah College of Art and Design is a private, nonprofit, accredited institution conferring bachelor's and master's degrees at distinctive locations and online to prepare talented students for professional careers. SCAD offers degrees in more than 40 majors, as well as minors in nearly 60 disciplines in Savannah and Atlanta, Georgia; in Hong Kong; in Lacoste, France; and online through SCAD eLearning.
SCAD has more than 20,000 alumni and offers an exceptional education and unparalleled career preparation. The diverse student body, consisting of more than 11,000 students, comes from all 50 United States and nearly 100 countries worldwide. Each student is nurtured and motivated by a faculty of more than 700 professors with extraordinary academic credentials and valuable professional experience. These professors emphasize learning through individual attention in an inspiring university environment. SCAD's innovative curriculum is enhanced by advanced, professional-level technology, equipment and learning resources and has garnered acclaim from respected organizations and publications, including 3D World, American Institute of Architects, BusinessWeek, DesignIntelligence, U.S. News & World Report and the Los Angeles Times.
Follow the SCAD Museum of Art on Twitter @scadmoa.