Press Release
/
April 8, 2013
SCAD furniture design students to debut work in Milan at Salone Internazionale del Mobile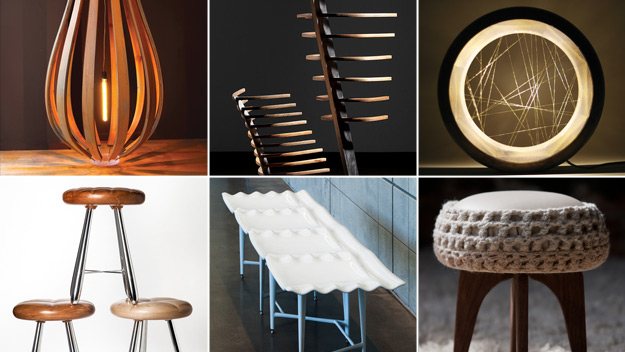 /SCAD is the only university from the United States invited to participate in this year's Salone Internazionale del Mobile's SaloneSatellite in Milan./
SAVANNAH, Georgia —
Students and alumni from the Savannah College of Art and Design furniture design department will get international exposure to some of the biggest names in the furniture and interior design world April 9-14, when their work is shown at the prestigious Salone Internazionale del Mobile's SaloneSatellite in Milan.
SCAD is the only university from the United States invited to participate in this year's event.
"As an invitation-only event, the SaloneSatellite represents the 'best of the best' in terms of fresh, innovative design," said George Perez, program coordinator and professor in the SCAD furniture design department. "It's truly an unparalleled opportunity for our designers to be recognized by global leaders in the design community, and a big stepping stone for their professional careers."
The SCAD work on display includes eight finely handcrafted pieces ranging from lamps to benches to stools, plus four large, highly detailed digital images.
"The design aesthetic and craftsmanship found in these pieces is admirable," said SCAD furniture design professor Sheila Edwards, who mentored many of the designers. "And while they are beautiful, they also open up a dialogue on what luxury means in today's marketplace. This 'new luxe' seeks to strike a balance between artistry and a better way of living."
Among the pieces are:
"Teardrop," a curvaceous, ultramodern lamp designed by Bachelor of Fine Arts student Christian Dunbar. Inspired by a drop of water, the piece combines such modern elements as steel connecting rods, translucent Lexan base and cap, and a warm tubular bulb with beautifully hand-wrought, recovered river cypress.
"Zephyr and Current," also by Dunbar, evokes a sense of movement on a dramatic scale, acting as both modern sculpture and shelving, as it seems to respond to an unseen wind. Dunbar used thin, curved beams of recovered cypress and a 10-gauge steel spine to create the dramatic effects.
By Master of Fine Arts student Kalin Asenov, the "Accretion" table lights draw from the cosmos, featuring individual LED lights corresponding to stars of the zodiacal constellations. The golden wires crisscrossing the circumference of the round wooden frames represent interconnectedness, a concept effortlessly observed throughout nature and humankind.
The "Colchone Group" of stools by John McMahon (M.F.A., furniture design, 2012), was born by mixing wood, metal and the idea of altering the senses. The inspiration for this family came from taking a sensuous, motherly material and transforming it to re-examine familiar practices. The physical process of drawing, sculpting, and modeling produced pieces that play with the perception of strength, softness and texture.
McMahon's "Rouche" is a multi-occupancy seating unit created through a perceptual play of material and structure. Made of metal and plastic, the bench went through an elaborate journey of investigation, illustration, modeling, prototyping and construction. At first glance, it appears light and soft, mimicking the wave of corrugated pattern. Upon closer examination, however, the bench evokes a powerful yet delicate quality.
"Crochet Stool" by B.F.A. student Jerri Hobdy is a petite piece featuring a small beige cushion set atop a pedestal of four short wooden legs. Delicate crochet work cossets the vertical surface of the cushion, providing an extra dimension of ultrafine, detailed work.
Digital images of work by Hobdy, B.F.A. student Charity Flores Frieberg, and M.F.A. student Daniel Brookman also will be on display.
SCAD student representatives Mary Hannah Jones and Angie Ngoc Tran will also attend the event but will not exhibit work.
The Salone Internazionale del Mobile is recognized as the world's premier furniture design event and brings together the most promising young designers from around the globe with the most important business leaders and talent scouts in the industry. According to event organizers, many of the pieces presented as prototypes in previous years have gone into production, and many of the participating designers have become important figures in the design industry.
Poised to celebrate 35 years of excellence in education later this year, the SCAD School of Building Arts includes the allied disciplines of architecture, urban design, historic preservation, interior design, architectural history and furniture design.
"This distinct collaborative environment promotes interdisciplinary learning that fully prepares our students for professional careers after graduation," said Christian Sottile, AIA, dean of the School of Building Arts. "At SCAD, students learn to become architects, designers and preservationists who are strategic thinkers, global communicators and ethical practitioners of the building arts."
In addition to participating in the SaloneSatellite, the SCAD School of Building Arts has seen a number of other honors over the past year. Legendary designer Dakota Jackson was recently named honorary chair of furniture design. During his two-year appointment, Jackson will work to enhance the program's emphasis on the business of design as well as mentor students in the classroom as they master technical skills and develop a unique design aesthetic.
The university's interior design program also made history in 2013; DesignIntelligence, a leader in industry-driven rankings in design disciplines, ranked SCAD's undergraduate and graduate programs as No. 1 in the nation, for a second year in a row.
About SCAD Furniture Design
At SCAD, furniture design students foster creative problem solving by learning to speak the integrated language of design, art, technology, culture and history. Students explore the entire process through which furniture is conceived, developed, fabricated and marketed. Their designs become full-scale prototypes through the use of leading industry resources and software that guide the creative process from sketch to final product. Additionally, furniture design students participate in industry-sponsored, real-world projects, including recent partnerships with Urban Outfitters, Steelcase, Brown Jordan and Herman Miller. As a result of sponsored projects, furniture design students may see their designs prototyped and produced.
In an effort to encourage accountability for the broader impact of their ideas, students are taught to transform traditional practices by infusing sustainable approaches. The SCAD furniture design department is also the only academic member in the United States that belongs to the Sustainable Furnishings Council, a nonprofit group that promotes sustainable practices among manufacturers, retailers and consumers.
SCAD offers Bachelor of Fine Arts, Master of Arts and Master of Fine Arts degrees in furniture design.
SCAD: The University for Creative Careers
The Savannah College of Art and Design is a private, nonprofit, accredited institution conferring bachelor's and master's degrees at distinctive locations and online to prepare talented students for professional careers. SCAD offers degrees in more than 40 majors.