Press Release
/
March 1, 2013
SCAD Buzz Bus to surprise students, teacher at Isle of Hope Elementary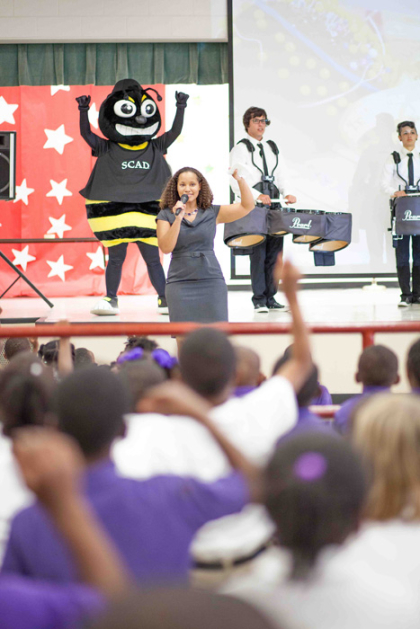 /Members of the SCAD family entertain children at East Broad Elementary School during a SCAD Buzz Bus visit there in September./
SAVANNAH, Georgia —
The SCAD Buzz Bus will bring a donation of much-needed art supplies to Isle of Hope Elementary School on Friday, March 1.
Students, staff volunteers and Art The Bee will board the Buzz Bus at 2:15 p.m., and travel to the school, located at 100 Parkersburg Rd., where they'll surprise the students and art teacher Magen Peigelbeck with the art-supply donation. The art supplies to be presented include pastels, paper and other items. Follett and the university's student bookstore, Ex Libris, sponsor the Buzz Bus.
Isle of Hope Elementary was selected to receive the items because it's a Title 1 school, which means it has a significant number of economically disadvantaged students and an annual art-supply budget of $500; less than $1 for each of the 750 students enrolled.
Students will also be treated to a performance from the SCAD production of "The Three Musketeers," and teachers will receive study guides provided by SCAD to enhance students' understanding of the performance. The SCAD drumline will also perform as part of the afternoon's program. The day's activities are all in keeping with National Youth Art Month.
Unveiled in October 2010, the SCAD Buzz Bus makes frequent surprise visits to local elementary and middle schools and other youth-centered organizations to promote art education through one-on-one student workshops, book readings, musical performances and art-supply donations. To date, the SCAD Buzz Bus program has positively impacted more than 4,000 Savannah children.
The SCAD Buzz Bus event at Isle of Hope Elementary is not open to the public. Local media, however, are welcome to attend for photography, video and interview opportunities. Media are encouraged to arrive no later than 2 p.m. to capture the rally and art-supply donation.
Media inquiries can be directed to 912.525.5250 or 912.257.6898.
SCAD: The University for Creative Careers
The Savannah College of Art and Design is a private, nonprofit, accredited institution that offers bachelor's and master's degree programs in more than 40 majors.