Feature
/
Nov. 15, 2011
Meet Clayton de Wet, sound design alumnus and Foley producer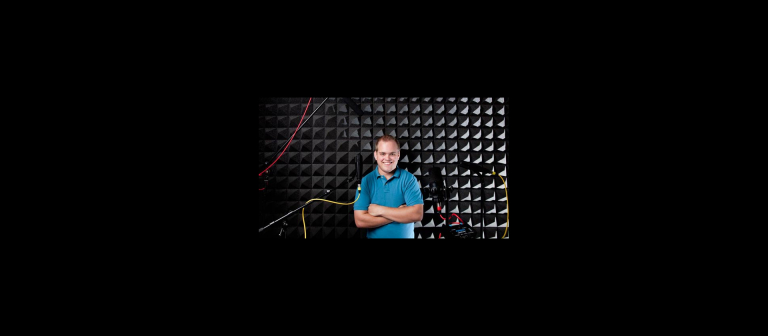 Clayton de Wet has been interested in sound and sound effects since he can remember, and has always picked up on audio details others miss. As a child, he aggravated his mother by refusing to watch the revamped versions of his favorite classic 1960s cartoons. "Since they had switched voice actors, I could tell and felt betrayed that those weren't the characters that I knew and loved," says Clayton. "She was like, 'It's the same thing!' And I was just like, 'Nope.'"
By the time he was in high school, Clayton was certain he wanted to work with sound in movies, though he wasn't sure how to make that happen. He looked into two of the only programs in the U.S. focusing on sound for film and decided to go with SCAD. "At the other school, you start the sound program in your junior year and they only take a certain number of students," says Clayton, explaining his choice. "So you may go there for three years and not even get into the program you came there for."
In his undergraduate studies, Clayton worked on numerous student films and took advantage of SCAD's status as a Digidesign Certified Pro School to become Pro Tools certified, an industry-recognized credential that speaks to Clayton's advanced skillset and comfort with crucial sound design software. As his graduation neared, Clayton decided to seek an M.F.A. to perfect his skills and dive into his specialization within the field. He looked into other programs, but ultimately decided to stay at SCAD. "I already had developed such a close relationship with professors and other students," says Clayton. "I'd gotten so much out of really specialized attention, both from other students and from professors. I wanted even more of that one-on-one time to hone my craft."
Clayton also appreciates that the program emphasizes concept rather than focusing exclusively on technology and technical knowledge. "The facilities absolutely are important in doing what we do and we use them all the time. Not one room is ever left unused," says Clayton. "But I think the true strength of the department is in teaching core concepts in addition to particular pieces of computer software, because technology will always change, but we learn the concepts relating to those technologies, which will always remain the same."
Clayton has made certain, however, not to neglect technology while refining his grasp of sound editing concepts. He has accrued experience across several software packages, and has tested his knowledge in the contexts of production sound mixing, sound effects editing and Foley, the creation of background sounds for films. He has put these skills to work on projects ranging from the student-produced Web series "Greg Prime" to TV spots for Food Network's "The Real Women of Philadelphia." He also worked as a Foley producer for two films screened at the 2011 Savannah Film Festival, including "The Secret Number," which won Best SCAD Student Competition Award.
In one of his more challenging jobs, Clayton worked on indie film "En Route" remotely while the director was living in Amsterdam. Clayton and the rest of the post-production team communicated over email and swapped files using servers. "That was difficult to work on," says Clayton, "and, in many ways, it was frustrating, because you're trying to ask people subjective questions through email, where tone is impossible to judge." This difficult process paid off for Clayton and the rest of the team when they were nominated for a 2011 Golden Reel award from the Motion Picture Sound Editors.
For Clayton, nomination or no nomination, the occasionally difficult post-production process only reaffirms his desire to work in the sound design field, and ultimately makes him a stronger sound designer. "It actually makes it fun when you have to be creative, and when you are creating with limitations," he says.
For his thesis, Clayton branched out into a new territory of sound design: Foley for video games. His thesis argues that tweaking the principles of Foley to better fit the nonlinear flow of games will result in more immersive and enjoyable games. As part of his thesis, he teamed up with some friends in the game design program to develop the sound for a large project they're working on.
At his 2011 graduation, Clayton received an outstanding achievement award in sound design for his work while at SCAD. Shortly after, he received his second Golden Reel nomination from the Motion Picture Sound Editors for his work on the film "The Secret Number." He has since moved to Austin, Texas, where he is currently finishing up post-production work on an independent feature film.
Visit Clayton's professional website.