Feature
/
July 7, 2014
Mad Rupert juggles graduate studies with "Adventure Time," "Regular Show" comic book miniseries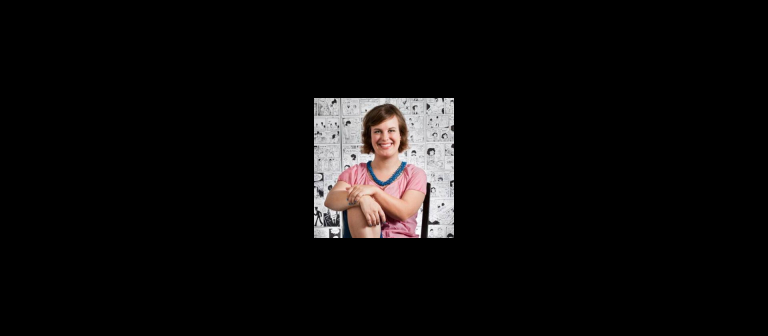 Savannah College of Art and Design M.F.A. sequential art student Madeline Rupert has some advice for her peers looking to break into the world of comics: start your own. 
Her webcomic "Sakana" is what got her noticed by publisher BOOM! Studios, eventually leading to two comic book miniseries that spin off from popular Cartoon Network programs "Adventure Time" and "Regular Show" — all while she's still in grad school.
As with most do-it-yourself projects, it didn't all happen at once. Instead, "a few small things turned into something big," says Madeline, who publishes as Mad for comic effect.
She started writing and drawing "Sakana," which stars two brothers who run a fish market in Tokyo, when she was an undergraduate sequential art student at SCAD. (She earned her B.F.A. in 2011.) As her audience grew and she traveled to comic conventions to sell her work, editors at BOOM! who liked her style approached her to hand letter a variant cover for the first "Adventure Time" graphic novel, "Playing with Fire."
The writing and artwork for "Sakana" also attracted attention. Although Mad says she never imagined that she might write as well as draw a comic professionally, that's exactly what happened next. SCAD sequential art alumna Whitney Leopard, an assistant editor at BOOM!, offered her a six-book comic book miniseries starring "Regular Show" minor character Skips the yeti in fall 2013.
"I hadn't originally been trying to write the miniseries or other comics," Mad said. "That was also my first quarter back at grad school, so it was a bit of a rough time, fitting schoolwork back into my increasingly busy professional life."
But as it turns out, her experience self-publishing the twice-weekly "Sakana" proved beneficial in that area too. The webcomic helped her practice what she was learning in class, taught her how to manage her time and, most importantly, showed her how to develop a storyline.
Mad did "everything but the coloring" for the Skips series, with the last issue released this spring. Shortly after that, she got a gig as the artist for an "Adventure Time" miniseries written by Kent Osborne about the Banana Guard Academy, a rag tag team led by Root Beer Guy who patrol the Candy Kingdom. The first issue will be in stores in July 2014.
Both "Adventure Time" and "Regular Show" are hit shows, and their popularity as comics is taking off as well.
"I really enjoyed working on both, and it's heartening to see people of all ages that come up to the booths that I work at the conventions," Mad said.
But Mad thinks webcomics just might be the next big thing. There's more opportunity for diversity in online comics, and there's nothing like your own creation to make you stand out, she said.
"Starting your own webcomic outside of class time on your own initiative was really what helped me take what my teachers were telling me and practice them on my own time," she said. "If you have a web comic, it shows a potential employer very quickly and easily that you can stick with a larger comic and manage your time well.
I think it's getting ready to be a big part of the industry," she said.
Just like she is.