Press Release
/
Nov. 20, 2012
Holiday season's hottest animated film "Rise of the Guardians" features work by student and alumni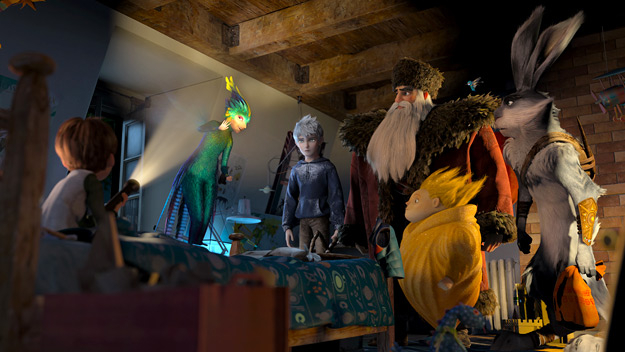 /Photo by: courtesy of DreamWorks Animation/
SAVANNAH, Georgia —
Ask any film buff, and they'll tell you one of their greatest desires is to see their name in lights. Beginning Nov. 21, more than a dozen Savannah College of Art and Design student and alumni visual effects artists will get the chance to do just that with the premiere of "Rise of the Guardians," one of the most highly anticipated films of the year that features their technical and storytelling mastery.
"Working on 'Rise of the Guardians' was an amazing experience. It's a dream come true to see your work on the big screen and your name in the credits," said Christy Page, an Oak Hill, Va. native and SCAD alumna who earned a Bachelor of Fine Arts degree in visual effects in 2011. "SCAD definitely helped me get to the position where I am now. Not only did the university teach me the artistic and technical skills needed to work in the visual effects industry but, thanks to the relationships SCAD has with working professionals and studios like DreamWorks Animation, I had many experiences with recruiters and professionals and knew how to prepare myself for a career."
DreamWorks Animation has recruited student and alumni artists from SCAD for a number of years and employs nearly 50 SCAD alumni at its locations in Northern and Southern California. "The reason that Savannah College of Art and Design alumni are successful at DWA is in large part due to the curriculum as well as the hard work the students are putting in while at SCAD," noted DreamWorks Animation's Head of Outreach Marilyn Friedman.
Based on the children's book series "The Guardians of Childhood" by William Joyce, "Rise of the Guardians" is an epic adventure that tells the story of a group of heroes - each with extraordinary abilities. When an evil spirit known as Pitch lays down the gauntlet to take over the world, the Immortal Guardians must join forces for the first time to protect the hopes, beliefs and imagination of children all over the world. The film was directed by Peter Ramsey and features the voices of Chris Pine, Hugh Jackman, Alec Baldwin, Jude Law and Isla Fisher.
"Working on 'Rise of the Guardians' was an incredible experience for me. I am truly lucky to have had the opportunity to work on this beautiful film as my first feature," said Andrew Dehner, a Master of Fine Arts student in visual effects from Wheatland, Iowa. "It's the dream of an 8-year-old boy fulfilled. The knowledge, experience and friendships that I gained while attending SCAD were undoubtedly key in reaching this point in my career. My education and efforts were supported at every step by my family, my friends and my teachers. I am extremely grateful for this opportunity and proud to have been part of such a special project."
David Lewis, a Master of Fine Arts student in visual effects from Youngstown, Ohio, added, "I first saw concept art for 'Guardians' two and a half years ago before I was even working for DreamWorks and have been enthralled with it ever since. It was remarkable in that every single person who worked on it poured his or her heart and soul into it; we all loved it from the start. Something about it spoke to all of us; I guess the Guardians sparked their magic in each of us so that we could bring them, and their values, to life. It was truly an honor to work with so many fellow SCAD alums. It's a wonderful testament to the university that so many of us are not only at DreamWorks, but that we all contributed to such a special film."
SCAD was the first university in the United States to offer an accredited degree program in visual effects and continues to lead in the discipline. Visual effects artists combine the skills of a computer programmer with the artistry of a designer. As members of motion picture, television and animation production teams, visual effects artists turn scriptwriters' and filmmakers' inventions into visual representation. Visual effects degree programs are offered at the university's locations in Savannah, Atlanta and Hong Kong. For more information, visit scad.edu/visual-effects.
Media requests may be directed to Sunny Nelson at 912.525.5225.
SCAD: The University for Creative Careers
The Savannah College of Art and Design is a private, nonprofit, accredited institution conferring bachelor's and master's degrees at distinctive locations and online to prepare talented students for professional careers. SCAD offers degrees in more than 40 areas of study, as well as minors in nearly 60 disciplines in Savannah and Atlanta, Georgia; in Hong Kong; in Lacoste, France; and online through SCAD eLearning.
SCAD has more than 20,000 alumni, and offers an exceptional education and unparalleled career preparation. The diverse student body, consisting of more than 11,000 students, comes from 49 states and nearly 100 countries worldwide. Each student is nurtured and motivated by a faculty of nearly 700 professors with extraordinary academic credentials and valuable professional experience. These professors emphasize learning through individual attention in an inspiring university environment. SCAD's innovative curriculum is enhanced by advanced, professional-level technology and learning resources and has garnered acclaim from respected organizations and publications, including 3D World, American Institute of Architects, BusinessWeek, Design Intelligence, U.S. News & World Report and the Los Angeles Times.
DreamWorks Animation SKG
DreamWorks Animation SKG is devoted to producing high-quality family entertainment through the use of computer-generated (CG) animation. With world-class creative talent and technological capabilities, our goal is to release two CG animated feature films a year that deliver great stories, breathtaking visual imagery and a sensibility that appeals to both children and adults.
In 2004, DreamWorks Animation SKG became the first animation company to produce and distribute two CG animated features in a single year, including Shrek 2, the third highest-grossing movie of all time.
With each film, we strive to tell great stories that are fun and comedic, told with a level of sophistication and irreverence that appeals to the broadest audience possible and captures the imaginations of all people regardless of age.
Our management is one of the most experienced and dynamic teams in the entertainment industry, overseeing a stellar collection of artistic and technical leaders from a wide range of backgrounds in film and animation production, computer graphics and information technology. Many of them have been with the company since its inception.