Press Release
/
Dec. 18, 2013
deFINE ART 2014 honors Alfredo Jaar as keynote speaker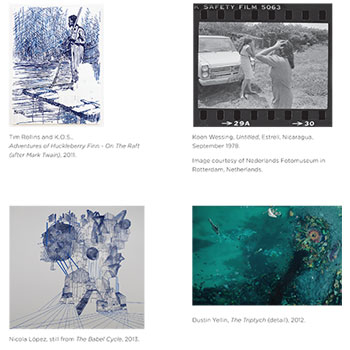 SAVANNAH, Georgia —
The Savannah College of Art and Design announces the first details of deFINE ART 2014, the university's annual global contemporary art showcase, and presents renowned artist Alfredo Jaar as the 2014 deFINE ART honoree and keynote speaker. SCAD deFINE ART will take place at the university's locations in Savannah and Atlanta, Georgia, and Hong Kong, Feb. 18-21. Additional exhibitions, programming and related special events will be announced soon.
Each year during deFINE ART, SCAD honors an artist for his or her groundbreaking influence on art. Jaar, who has participated in the Biennales of Venice and São Paulo as well as Documenta in Kassel, Germany, will debut a newly commissioned, large-scale installation at the SCAD Museum of Art. Jaar also will deliver the keynote talk at SCAD locations in Savannah, Wednesday, Feb. 19, and Atlanta, Thursday, Feb. 20. Previous deFINE ART honorees include Marina Abramović, Fred Wilson and Shirin Neshat.
"Alfredo Jaar is perhaps one of the most prolific, active and critically acclaimed artists of our time. As an artist and dedicated educator, he brings to light powerful images while simultaneously asking us to question what is not being shown," said Laurie Ann Farrell, SCAD executive director of exhibitions and organizer of the event. "Our hope is that some of our SCAD artists will go on to revolutionize the landscape of art just as Jaar has."
In addition to an exhibition and keynote talk by Jaar, work by Tim Rollins and K.O.S., Dustin Yellin, Sam Nhlengethwa, Viviane Sassen, Tallur L.N. and Nathan Mabry, among others, will be on view at the SCAD Museum of Art. In Atlanta, SCAD will present exhibitions by Orly Genger and Abrie Fourie. An exhibition by Gonkar Gyatso will be on view at SCAD's Hong Kong location. SCAD artists Rebecca Nolan, Ryan Brennan and Kalin Allen also have work on view at SCAD galleries.
The deFINE ART 2014 program will feature a series of public talks, panel discussions and performances at the SCAD Museum of Art by participating artists and leading art world professionals. These events are organized by Farrell, curator Alexandra Sachs, assistant curator Aaron Levi Garvey and SCAD Museum of Art program manager Melissa Messina. Further details will be announced soon.
SCAD DEFINE ART 2014: SCAD Museum of Art
Alfredo Jaar: Shadows
Alfredo Jaar's Shadows, a large-scale SCAD-commissioned installation, will make its world premiere at deFINE ART. This work, on view Feb. 18 through June 29, follows in the footsteps of The Sound of Silence (2006) as the second part of a trilogy of installations revolving around the power of a single extraordinary documentary image. In particular, Shadows unravels the narrative history of a stirring photograph taken by Koen Wessing near Estelí, Nicaragua, at the height of the revolution in September 1978. The structure of Shadows is inspired by Chili, September 1973, an entirely photo-based book created by Wessing about that fateful month in Chile. Echoing the photographer's masterpiece and paying homage to the golden age of photojournalism, Jaar's installation employs a similar strategy to construct narrative. Viewers are guided through Shadows by light and sequential images that simultaneously illuminate and obscure readings of moments of loss, reverence and collective transcendence.
Sam Nhlengethwa: Life, Jazz and Lots of Other Things
Life, Jazz and Lots of Other Things is Sam Nhlengethwa's first solo museum exhibition in the U.S. and is curated by Laurie Ann Farrell. Johannesburg-based Nhlengethwa is revered as one of South Africa's leading contemporary artists. This exhibition showcases a broad cross-section of the artist's practice and themes, and features vibrant jazz scenes, images of daily life and nation building along with iconic works that touch on deep social issues. Life, Jazz and Lots of Other Things will be on view Feb. 18 through June 22.
Dustin Yellin: The Triptych
The Triptych is Yellin's largest and most complex work, a massive 12-ton, three-paneled epic, embodying his vision of the world and consciousness. For Yellin, "the universe and the mind are shadowy places seething with dark magic, seas of boundless depth and possibility, overflowing with joy and disaster." In this composition of clippings, acrylic and glass, Yellin presents a surreal spectacle. Making its museum premiere, The Triptych, curated by Farrell, will be on view at the SCAD Museum of Art Feb. 7 through June 8.
Tallur L.N: Balancing Act
Tallur L.N.'s exhibition, Balancing Act, on view through March 23 and curated by Isolde Brielmaier, is the artist's first solo museum exhibition in the U.S. Balancing Act features new and recent monumental sculptures, two-dimensional wood works, and the U.S. premiere of Apocalypse (2010), an electromagnetic coin-polishing system. Employing a range of materials, Tallur L.N. creates sculpture, wall pieces, site-specific installations and interactive works that delve deep into the dichotomies between the tangible and the ethereal, the figurative and the abstract, and the decorative and the conceptual in order to reveal new meanings on contemporary existence.
Tim Rollins and K.O.S: RIVERS
RIVERS is an exhibition of collaborative paintings by the Bronx, New York-based artists Tim Rollins and K.O.S. (Kids of Survival). This exhibition features paintings inspired by historic and literary narratives of the American South, including the speeches of Rev. Martin Luther King Jr.; Harriet Jacobs' Incidents in the Life of a Slave Girl; Mark Twain's Adventures of Huckleberry Finn; and W.E.B. Du Bois' Darkwater, among others. Curated by Melissa Messina and on view Feb. 1 through June 8, the exhibition also features a commissioned work realized with students from the Esther F. Garrison School of Visual and Performing Arts in Savannah, Georgia, based on Duke Ellington's ballet score for The River.
Viviane Sassen: In and Out of Fashion
Curated by Farrell, Viviane Sassen's In and Out of Fashion will be on view at the museum's André Leon Talley Gallery, the only dedicated couture gallery in the southern U.S., Feb. 18 through May 4. In a projection conceived for the exhibition, Sassen experimented with bringing elements from her staged photography (mirrors, collage, tape, color filters) into the museum space. The intricate layering of lights and images reflects Sassen's bewildering language, with its intertwined bodies, sculptural compositions and abstract forms.
Nathan Mabry: Process Art (B-E-A-G-G-R-E-S-S-I-V-E)
Organized by Messina, Process Art (B-E-A-G-G-R-E-S-S-I-V-E) by artist Nathan Mabry is a six-piece, sculpture-based installation that will be exhibited in the courtyard of the SCAD Museum of Art Feb. 18 through June 22. Mabry's sculptures typically evoke a poignant humor and notions of high- and low-brow aesthetics, merging the two in a jocular yet analytical way. In these works, Mabry appropriates the figures of Auguste Rodin's "The Burghers of Calais," but in this case they are adorned with familiar American sports mascot heads.
Nicola López: Babel Revisited: History Repeats Itself
Babel Revisited: History Repeats Itself by artist Nicola López is a four-part, print-based installation created specifically for the "jewel box" exhibition spaces on the façade of the SCAD Museum of Art. Each space houses a different installation — a series of four architectural towers in various phases of construction or deconstruction. Curated by Messina and on view Feb. 18 through May 4, these silkscreen collages are presented as individual pieces in separate worlds that together make up what the artist calls "a string of parallel realities, sequential moments in history frozen in time and thus allowed to exist simultaneously." Making reference to the Tower of Babel, López's pieces explore themes of visionary and utopian architecture and how progress, growth, decay and deconstruction are inherent aspects of the processes of building and creation. A screening of López's drawing- and print-based stop-animation, The Babel Cycle, from which Babel Revisited takes its inspiration, will be at the SCAD Museum of Art Feb. 18.
SCAD DEFINE ART 2014: SCAD Atlanta
Ryan Brennan: Be Back in Five
Curated by Alexandra Sachs, Be Back in Five is a media art installation by Brooklyn-based SCAD alumnus Ryan Brennan (B.F.A., painting, 2005). The exhibition will be on view Jan. 13 through April 4 at Trois Gallery. This installation is inspired by photomontage and datamoshing, the intentional distortion of media for aesthetic means. Using the gallery's rounded shape, the artist has created an immersive, dynamic installation of ceiling-high photographic wall murals with video projection.
Abrie Fourie: Oblique
Abrie Fourie's Oblique, featuring photographs and a new audio work, will be on view at Gallery 1600 Dec. 18 through March 28 and is guest-curated by Storm Janse van Rensburg. This expanded version of the traveling exhibition has been previously shown at SCAD Savannah, as well as in numerous venues in Germany and South Africa, and follows the publication of the artist's monograph of the same name published in 2011. Central to Fourie's work is a narration by well-known South African actor Marcel van Heerden of a text by the author and theorist Ivan Vladislavić. Fourie's practice can be seen as a catalog of memories, as an ongoing archive.
Orly Genger: Undertone
Undertone, an exhibition of recent work by Orly Genger, will be on view at Gallery See, Jan. 24 through March 23. Genger is renowned for her ambitious environmental sculptures of intricate, hand-knotted rope coated in paint, most recently Red, Yellow and Blue, which debuted in New York City's Madison Square Park in 2013. The foundation of Genger's process is rooted in traditional female crafts of crochet and knitting. However, the scale and physicality of her process brings to mind Modernist masters such as Richard Serra and Robert Smithson. Curated by Sachs, Undertone will include two large-scale rope works that reference the "stacks" sculptures of Donald Judd, along with a selection of recent drawings and cast wall sculptures.
SCAD DEFINE ART 2014: SCAD Hong Kong
Gonkar Gyatso: Meditations on Irony
Meditations on Irony, a solo exhibition by Tibetan-born, British artist Gonkar Gyatso, illuminates his practice of interweaving traditional Buddhist iconography with the detritus of pop culture. On view at SCAD Hong Kong's Moot Gallery, this exhibition explores themes of identity, hegemony, globalization and hybridity and features prints, posters and sculptural works from 2006-present, which have been constructed with thousands of stickers, paper collage and logos. Curated by Messina, Meditations on Irony also includes a site-specific installation using materials sourced in Hong Kong.
Biographies
Alfredo Jaar is an artist, architect and filmmaker who lives and works in New York. He was born in Santiago, Chile. His work has been shown extensively around the world. He has participated in the Biennales of Venice (1986, 2007, 2009, 2013), São Paulo (1985, 1987, 2010) as well as Documenta (1987, 2002) in Kassel, Germany. He has realized more than 60 public interventions around the world. Jaar has served as a distinguished visiting professor at SCAD Atlanta and SCAD Savannah.
Laurie Ann Farrell is executive director of exhibitions for the Savannah College of Art and Design. In this role, she directs the exhibition program for the SCAD Museum of Art and all SCAD galleries in Savannah and Atlanta, Georgia, and Hong Kong.
Melissa Messina is program manager at the SCAD Museum of Art. She has organized a number of exhibitions at the museum including Uta Barth and Ursula Von Rydingsvard, as well as a site-specific installation by Ingrid Calame and the group exhibition Stretching the Limits: Fibers in Contemporary Painting, among others.
---
About SCAD deFINE ART
deFINE ART is an annual series of major contemporary art exhibitions, lectures and public events presented at SCAD's global locations in Savannah and Atlanta, Georgia; and Hong Kong. At its very foundation, deFINE ART celebrates SCAD's School of Fine Arts, which promotes artistic expression, dialogue and innovation in a new generation of emerging artists. In collaboration with numerous departments throughout the university, deFINE ART represents one of SCAD's many initiatives to expand the learning environment beyond the boundaries of the classroom and studio.
For more information on deFINE ART 2014 programming, please visit scad.edu/defineart or scadmoa.org.
SCAD: The University for Creative Careers
The Savannah College of Art and Design is a private, nonprofit, accredited institution conferring bachelor's and master's degrees at distinctive locations and online to prepare talented students for professional careers. SCAD offers degrees in more than 40 majors.
Visit our official blog.