Press Release
/
April 10, 2015
SCAD's 2015 Sidewalk Arts Festival to expand; spotlight multiculturalism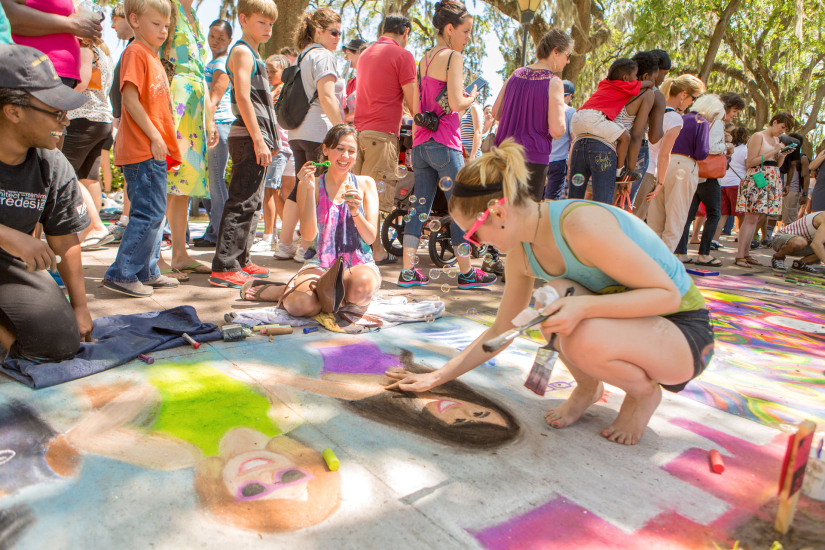 SAVANNAH, Georgia —
The Savannah College of Art and Design (SCAD) will hold its 34th annual Sidewalk Arts Festival on Saturday, April 25 in Forsyth Park from 11 a.m. to 4 p.m. Thousands of visitors will view chalk masterpieces created on the park walkways. More than 500 SCAD students, alumni and prospective students will collaborate individually and on teams of up to four to create a variety of artworks and compete for prizes.
SCAD also celebrates its 2,761 international students with new event additions. This year's festival will introduce a new contest category focusing on cultural heritage. Food vendors will offer international cuisine, while performances representing SCAD's multicultural student body will be held throughout the day
Prizes will be given for Best in Show, American Greetings Awards, SCAD Spirit Award, Graduate Student Award, Gray's Reef Award, Drawing Minor Award, and Cultural Heritage Award. First, second and third place will be given in the following categories: Student Award (both group and individual), Alumni and High School Competition.
Festival attendants are encouraged to share their imagination and creativity through Instagram using #SCADChalk. Media may call 912.525.5236 or 912.247.2574 for image requests.
MEDIA CONTACTS:
Holly Elliott
Marketing and PR Manager, Savannah
helliot@scad.edu
O: 912.525.5236
C: 912.247.2574
SCAD: The University for Creative Careers
The Savannah College of Art and Design is a private, nonprofit, accredited institution conferring bachelor's and master's degrees at distinctive locations to prepare talented students for professional careers. SCAD offers degrees in more than 40 majors, as well as minors in more than 60 disciplines. With over 29,000 alumni worldwide, SCAD demonstrates an exceptional education and unparalleled career preparation.
At locations in Savannah and Atlanta, Georgia; in Hong Kong; in Lacoste, France; and online through SCAD eLearning, the diverse student body consists of nearly 12,000 students, from across the United States and more than 100 countries. SCAD's innovative curriculum is enhanced by advanced, professional-level technology, equipment and learning resources. The university, students, faculty and alumni have garnered acclaim from respected organizations and publications worldwide including Time, Vogue Magazine and U.S. News & World Report. For more information, visit the official SCAD blog.