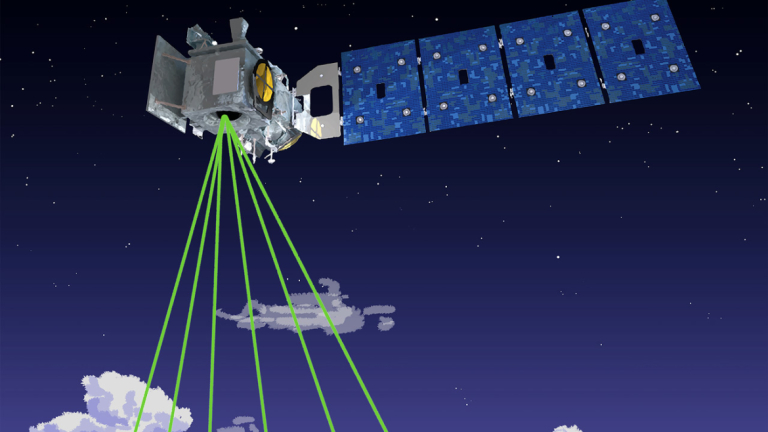 NASA: ICESat-2 satellite mission promotional materials
SCAD students collaborated with administrators from NASA's Goddard Space Flight Center to create educational public outreach concepts about the ICESat-2 satellite mission. The ICESat-2 is an Earth observation system used for measuring ice-sheet mass balance, cloud and aerosol heights, land topography and vegetation characteristics.
Project approach
This collaboration had two phases, beginning with a visit to NASA's Goddard Space Flight Center, where students could become more familiar with the second generation Ice, Clouds, and Land Elevation Satellite. Eight students at SCAD Atlanta and 16 students at SCAD Savannah began conducting research to determine how best to communicate the ICESat-2's features to the public. Working closely with NASA partners, several student concepts were developed and refined, with a select number chosen for production. During the second phase of the project, a team of 13 SCAD interns worked in Savannah to produce a 1.7-minute animated short, character concepts, posters, a lenticular bookmark and a website redesign.
"This was absolutely stunning! The story, the character, the artwork, the colors, the music and sound effects … everything! I am completely blown away."
Thorsten Markus | ICESat-2 project scientist
Project outcome
A select team of SCAD students created an animated short film, "Photon Jump," after working with NASA scientists for 15 weeks. Additional interns produced satellite mission mascot concepts, a new website design, posters and a large-scale banner to be displayed in the clean room of NASA's Goddard Space Flight Center, where the Advanced Topographic Laser Altimeter System is being assembled. Two of the mascot ideas were selected as icons to represent the ICESat-2 mission in space. The collaboration between SCAD and NASA resulted in the hiring of one student to work at NASA's Goddard Space Flight Center and the creation of eight subsequent internship opportunities for SCAD students.
"I never imagined I would get to work so closely with NASA. Collaborating with students outside my major and working on a real-company project was an invaluable experience."
Veronica Zak | B.F.A. animation