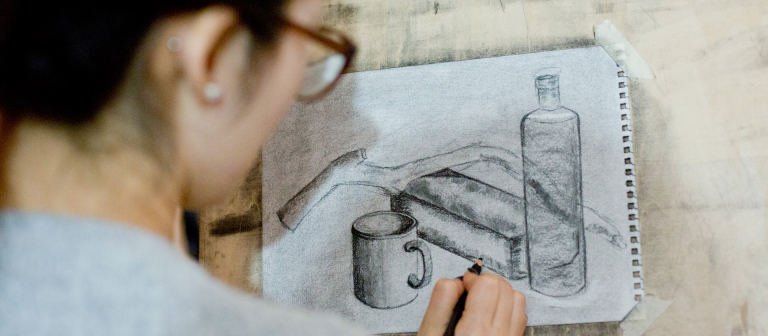 Showcase your best work at Foundation Studies Spring Honors Show
Demonstrate your creativity and skill while you compete for cash prizes in this annual juried exhibition.
Submissions are open to current students enrolled in a foundation studies class during the 2017-18 academic year. Work may be of any medium and size but must have been created in a SCAD foundation studies class.
Compile up to five of your favorite pieces in a PDF and email it to foundationshonorsshow@scad.edu by Wednesday, April 11, 2018. Include your name and "2018 FHS" in the subject line, along with your contact information and major/minor in the body.
Each image slide should contain the following:
FHS_2018_Name of student
Contact information (phone number and email)
Major/minor
Title of work
Medium(s) used
Dimensions
Class in which the work was produced and professor name
The submitted PDF should also include a title page with the following:
Your name
FHS 2018
SCAD email address
Your phone number
Your major or intended major
Both physical and digital submissions will be exhibited; specify if your work is digital and must be exhibited on an LCD screen. Images should be saved at 72 DPI and no more than 12" in any direction. Do not send as Microsoft OneDrive. All requirements must be digitally submitted together in a single PDF. This can be done in Adobe Acrobat, PowerPoint or Keynote and converted to PDF. Any submission that does not follow the exact guidelines will not be considered.
Students who have been selected will be notified Monday, April 16.
Accepted work must be delivered by noon, Friday, April 20, to Wallin Hall, 312 E. 37th St.
Accepted works must be matted and shrink-wrapped for final drop-off. We reserve the right not to display poorly presented works in the show or those that diverge greatly from the digital image submitted.
Awards
Foundation Studies and Ex Libris Purchase Award | $700
The Foundation Studies and Ex Libris Purchase Award winner's work will be framed and included in the foundation studies permanent collection. Additionally, awards for first place ($200), second place ($150) and third place ($100) will be given in the following categories:
Black-and-white drawing
Color drawing
Process drawing
3-D design
2-D design
Color theory
Exhibition
Friday, April 27-Friday, May 4
Wallin Hall
Reception and award announcements
Friday, May 4
3:30-5 p.m.
Any work left after the end of spring quarter will become property of the foundation studies permanent collection.
The exhibition and reception are sponsored by the SCAD School of Foundation Studies.