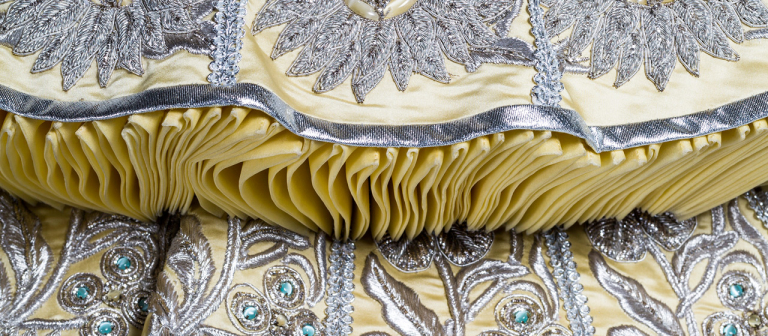 SCAD community reception for 'Guo Pei: Couture Beyond' exhibition
Join the SCAD community in celebrating "Guo Pei: Couture Beyond," the premiere U.S. solo museum presentation of designs by Guo Pei, whose upcoming fashion exhibition, presented by the university, was deemed the No. 1 "museum exhibit for alternative fashion history" by Elle Decor.
This landmark exhibition, on view Sept. 7, 2017, through March 4, 2018, presents more than 40 of her grandest, most dramatic couture designs from the past decade, alongside a selection of prêt-à-porter dresses and jackets, accordant footwear and accessories.
In her fantastical, unrestrained creations, Guo Pei imbues contemporary high fashion with ancient tradition, invoking history and mythology through intricate craftsmanship, opulent embroidery and sumptuous detail. Featured prominently in the exhibition is the now-iconic imperial yellow cape worn by Rihanna to the Metropolitan Museum of Art's Costume Institute Gala in 2015 — a seminal moment that introduced Guo Pei to America's fashion cognoscenti.
For more than 20 years, Guo Pei, the first Chinese national designer invited to join the prestigious Chambre Syndicale de la Haute Couture, has dressed celebrities, distinguished ladies, royalty and political elite. Long heralded as a modern messenger of the country's rich cultural heritage, Guo Pei made her Paris Fashion Week debut in January 2016, to wide critical acclaim. She has also been named one of Time magazine's "100 Most Influential People" and one of The Business of Fashion's 500 "People Shaping the Global Fashion Industry." Her work has been covered in major international news and fashion media outlets, including Vogue, Women's Wear Daily, The Sunday Times, Harper's Bazaar, The New York Times, CNN and Forbes.
The reception and exhibition are free for SCAD students, faculty and staff with a valid SCAD Card.