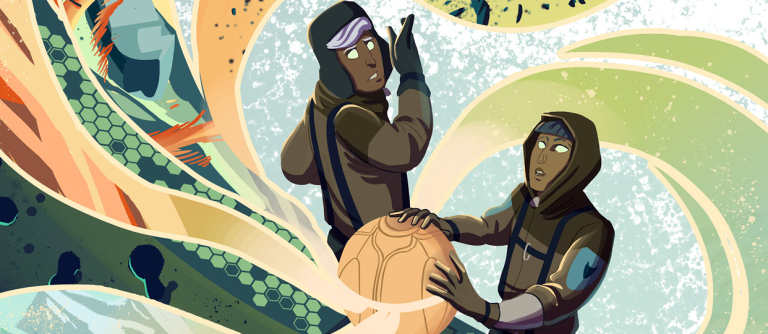 Group exhibition: 'Escapades'
Savannah, GA
201 E. Broughton St.
SCAD presents "Escapades," a sequential art group exhibition of SCAD alumni, faculty and students. Culled from comics with subjects as diverse as breakdancing and ancient mythology, the exhibition includes characters and narratives from an array of distinctive artistic voices from the SCAD sequential art community. The exhibition includes prints of digitally rendered comic book pages and covers, original hand-drawn works, and a comic book reading room and shop.
Featured in the exhibition are selections from "Knuckle Up," a teen LGBTQ break dance comic book, and "Tasty Racing!," an all-ages drag racing comic, by Jarrett Williams, (M.F.A., sequential art, 2010; B.F.A., sequential art, 2006). In addition to these pieces, the windows of the gallery have been transformed through large-scale, site-specific vinyl reproductions of Williams' work.
Sequential art professor Rashad Doucet (M.F.A., sequential art, 2009), creator of "Alabaster Shadows," employs a loose style and rich color in this series, which follows a group of kids on a sci-fi mystery adventure. Additionally, Doucet explores personification of emotion through superhero concept characters.
Original hand-drawn works in black and white are presented by Eryk Donovan (B.F.A., sequential art, 2013) and Kel McDonald (B.F.A., sequential art, 2009). Donovan's energetic drawing style in "Quantum Teens Are Go" features teen sweethearts who travel through time, and his work from "Cognetic" with acclaimed writer James Tynion IV, is the story of a powerful psychic unleashing his power in New York City. McDonald's "Misfits of Avalon" follows four magical teens tasked with saving the mythical isle Avalon.
A variety of comic covers and individual pages by Ron Chan (B.F.A., sequential art, 2005) portray adventures from published comics "Plants vs. Zombies," and "Cautionary Fables and Fairytales." Falynn Koch (M.F.A., sequential art, 2012; B.F.A., sequential art, 2007) and Mirana Reveier (B.F.A., sequential art, 2007) playfully explore mythology in their depictions of unicorns and centaurs as central characters.
Sarah Stern (M.F.A., sequential art, 2015) and Allie Pipitone (M.F.A. sequential art) use lush color in adventure fantasies. Stern's self-published "Cindersong" is a revenge tale of a misanthropic healer in search for her girlfriend's murderers while Pipitone's "Ciel" and "Cannon" explore themes like war, political intrigue, and the rebirth of civilizations through imagined worlds and magical characters.
Foundation studies professor Sarah Myer (M.F.A., sequential art, 2016; B.F.A., sequential art, 2008) presents selections from her autobiographical comic that tells the story of her transracial adoption, childhood struggle with bullying, and eventual self-acceptance through positive representations of Asian culture in anime and cosplay.
The exhibition is curated by Ben Tollefson, assistant curator of SCAD exhibitions.
Reception: Thursday, Sept. 28, 5–7 p.m.
Gallery hours:
Monday–Friday, 10 a.m. to 6 p.m.
Saturday, Noon to 5 p.m.
Sunday, Closed
The exhibition and reception are free and open to the public.