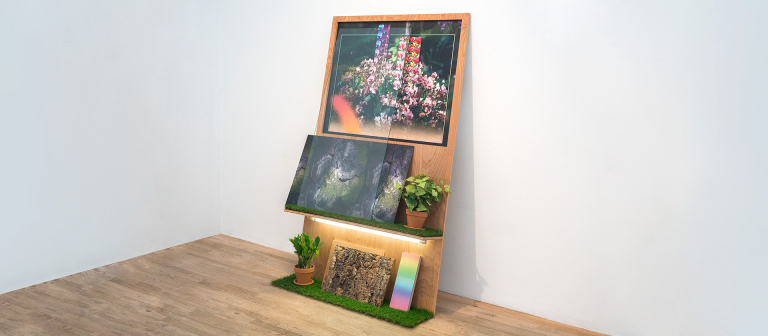 Mark Dorf exhibition: 'Translations'
Atlanta, GA
SCAD Atlanta, 1600 Peachtree St.
SCAD presents "Translations," an exhibition by SCAD alumnus Mark Dorf (B.F.A., photography, 2011). The artist is known for investigations into humans' relationships with technology, science, man-made structures and the natural world, while exploring the propensity to compartmentalize such concepts. Working in photography, digital media and sculpture, Dorf's work twists notions of an absolute truth in conceptions of "nature." This exhibition, composed of two series – "Emergence" and "Transposition" – is a reading of Dorf's overarching concern of translation and how specific images or materials are transformed to form new representations and meanings, once removed from their original source.
"Emergence," a series created while Dorf worked in Colorado at the Rocky Mountain Biological Laboratory in 2014, employs striking images of landscapes that he manipulates digitally. These manipulations are colorful gradients and rearrangements of visual information, which explore the attempt to find truth in the unknown. Through the transformations of landscape images, the artist reflects on the dissection of the natural world by methods such as observation, data collection or the scientific method. These transformations reveal information otherwise unobserved, referencing the revelatory qualities of the scientific method. 
In "Transposition," Dorf's newest body of artwork, he utilizes printed photographs and photographic installations as materializations of humanity's tendency to compartmentalize interconnected systems including nature, urban environments and virtual environments. Though these works, Dorf demonstrates that these systems are not separate, but in fact co-dependent and co-productive. The installations combine photographic images of flora with man-made objects as altered stand-ins for the natural world. In the photographs, Dorf digitally twists the images through techniques such as duplication, layering and gradients resulting in works that question material and reality. Sourced from botanical gardens, the images provide a translated version of a fabricated landscape.
"Translations" is curated by Ben Tollefson, assistant curator of SCAD exhibitions.
This exhibition is held in conjunction with Atlanta Celebrates Photography.
About the artist
Mark Dorf has exhibited nationally and internationally at Postmasters Gallery, New York, New York; Galerie Philine Cremer, Dusseldorf, Germany; Division Gallery, Toronto; Outlet, Brooklyn, New York; The Lima Museum of Contemporary Art, Lima, Peru; Mobile World Centre, Barcelona, Spain; Harbor, New York, New York; SCAD Museum of Art, Savannah, Georgia; and Phoenix Gallery, New York. Dorf's work is included in the Fidelity Investments Collection, the Deutsche Bank Collection and the SCAD Permanent Collection.
Gallery hours: Monday–Friday, 8:30 a.m. to 5:30 p.m.
Reception: Thursday, Oct. 5, 2017, 6–8 p.m.
This exhibition and reception are free and open to the public.