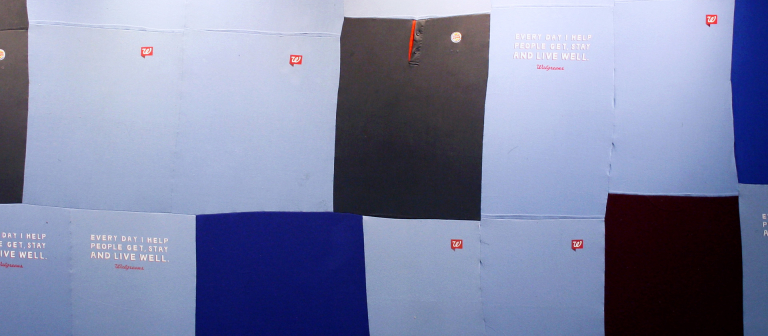 Raheem Pounds thesis exhibition: 'For What It's Worth'
Atlanta, GA
1600 Peachtree St. NW
SCAD presents "For What It's Worth," a thesis exhibition by M.F.A. painting candidate Raheem Pounds in which the artist uses painting, fibers and new media to examine themes of community, self-exploration and income inequality.
In his piece "56,423.90," Pounds quilts together his uniform shirts from past employment, using the colors and logos of the employer-mandated clothing to dictate the formal qualities of the work. The artwork's title is the cumulative amount of salary he received from these jobs. In a different use of material which explores the same theme, Pounds confronts the viewer with a deadpan gaze from a nude self-portrait, painted with the ashes of burnt unpaid bills — a tribute to his struggles working two minimum-wage jobs while pursuing his M.F.A.
Presented alongside these works are large-scale portraits of friends and family members. The artist adheres veils in front of some of the paintings, with leftover marks on their surfaces, creating ghostly replications of their subjects in commemoration of loved ones who have passed away.
Opening reception: Thursday, July 27, 2017, 5–7 p.m.
Gallery Hours: Monday–Friday, 8:30 a.m. to 5:30 p.m.
The reception and exhibition are free and open to the public.