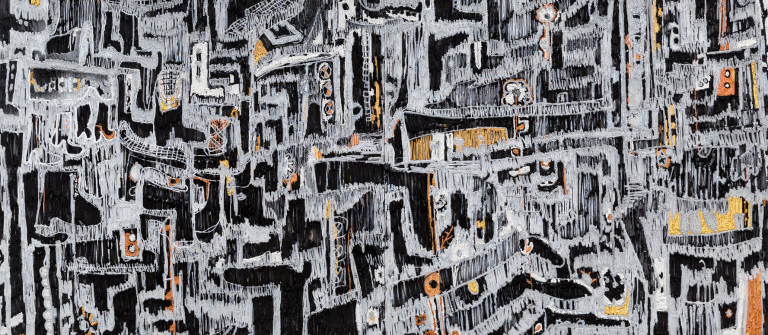 Summer Wheat exhibition: 'Noble Metal'
Atlanta, GA
1600 Peachtree St.
SCAD presents "Noble Metal," an exhibition by SCAD alumna Summer Wheat (M.F.A., painting, 2005). Known for pushing the boundaries of the paint medium, Wheat presents two new sculptural works along with new "tapestries" — figurative works in which the artist pushes paint through wire mesh, creating rich, fiber-like surfaces.
The exhibition title refers to metals that resist corrosion and oxidation, and serves as the conceptual backbone to the fictitious world that Wheat creates in her work. In the paintings, the artist imagines a group of women in a primal landscape. She carefully considers the metal objects — hairbrushes, drinking vessels, bowls and coins — that the characters use in ritual ceremonies or as tools in their everyday lives, featuring them in both the "tapestries" and sculptures. The strength of the metal serves as a metaphor for the resilience of this community of women.
Central to the exhibition is a sculptural table. Created in collaboration with the SCAD Atlanta sculpture department, the work features small gilded figures of the fictional women, with references to symbols found in the paintings. The characters are arranged on the tabletop in a sacred circle, a symbolic ritual that reiterates strength, healing and inclusiveness. At the base of the table, a cutout form of the Egyptian goddess Nut personifies the sky and figuratively represents a protective mother who watches over the women.
Wheat lives and works in Brooklyn, New York. She earned a B.A. from the University of Central Oklahoma in 2000 and an M.F.A. from the Savannah College of Art and Design in 2005. Her work has been included in museum exhibitions at the Institute of Contemporary Art, Boston, and the De Cordova Museum and Sculpture Park, Lincoln, Massachusetts, among others. Her solo exhibition "Pry the Lid Off" was presented at the Oklahoma Contemporary in Oklahoma City in 2016.
The exhibition is curated by Ben Tollefson, assistant curator of SCAD exhibitions.
Reception: Wednesday, Feb. 22, 2017, 6-7 p.m.
Gallery hours: Monday-Friday, 8:30 a.m. to 5:30 p.m.
The exhibition is free and open to the public.
This exhibition is part of deFINE ART 2017, held Feb. 21–24 at SCAD locations in Savannah and Atlanta, Georgia, and Hong Kong. DeFINE ART is an annual program of exhibitions, lectures, performances and public events that highlights emerging and established artists and visionaries.