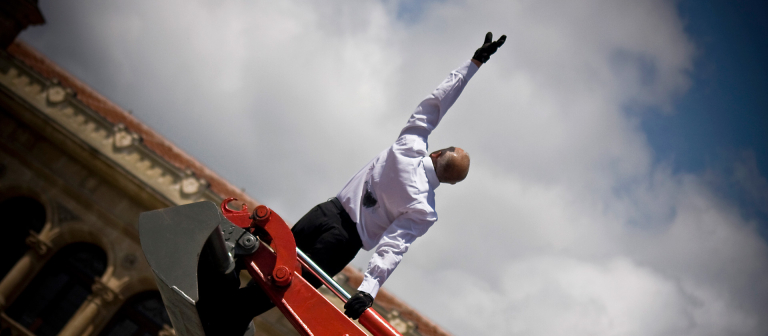 Beau Geste performance: "Exceptional Transport: duet for a dancer and an excavator" in Atlanta
Peachtree Christian Church
1580 Peachtree St. NE
SCAD presents the remarkable outdoor performance "Exceptional Transport: duet for a dancer and an excavator" by the acclaimed French dance company Beau Geste for its annual deFINE ART program.
The lyrical performance, set to an operatic score, pits man against machine through acrobatic and elegant movements. The piece plays off the inherent dichotomies of scale, as well as the hardness and softness between its two protagonists; and in so doing, dissolves perceived differences between the mechanical and the human.
The choreographer Dominique Boivin states: "I use the arm of the mechanical digger for its functionality and dynamism, but also like a human arm that takes, pushes away or gently coaxes! The machine's rotation is a broad movement, spectacular, but it can also be reminiscent of a merry-go-round. The digging device, whose function is to scrape, drill, transport and tip out, offers a poetic extension: a hand that carries, elevates and protects."
Biography
Beau Geste was formed in 1981 by seven dancers from the Centre National de Danse Contemporaine (National Center of Contemporary Dance) based in Angers, France, and headed by the American choreographer Alwin Nikolaïs. The company moved to its own premises close to Rouen, France, where it presented performances in collaboration with other artists, including musicians, dancers and visual artists. During this time, company members created and toured different shows, including "Désir-Désir," "Strada Fox" and "Princes de Paris." In 1985 Beau Geste joined forces with the company Lolita for the conception of the revue show "Zoopsie Comedi," which has received great accolades in France and abroad since its creation in 1986.
Beau Geste developed solo and group works, including "Belles de Nuit," "Follis" and "Le Cabinet des curiosités." In 1991 the company was restructured as a trio with Christine Erbé, Philippe Priasso and Dominique Boivin as the head of artistic direction.
Beau Geste has since created numerous group works that became emblematic of the company's style and ethos, with more than 300 performances in France and across the world. The company's repertoire includes "Mécaniques, spectacle pédagogique," "La Danse une histoire à ma façon…" and "Transports Exceptionnels," and it continues its journey across the world, performing in more than 40 countries.
Pursuing an approach of emphasizing each dancer's unique personality and movement, Beau Geste ventures into multiple performance styles: solos, cabarets, variety shows and dance conferences — all of which provides opportunities to affirm a taste for diversity, distance and humor.
This performance is free and open to the public.
Presented as part of deFINE ART 2016, which takes place Tuesday, Feb. 16 through Friday, Feb. 19, 2016.
All deFINE ART lectures, receptions and events are free and open to the public.
Special thanks to: