Press Release
/
June 17, 2016
SCAD Interactive Design and Game Development Team Wins First Place at E3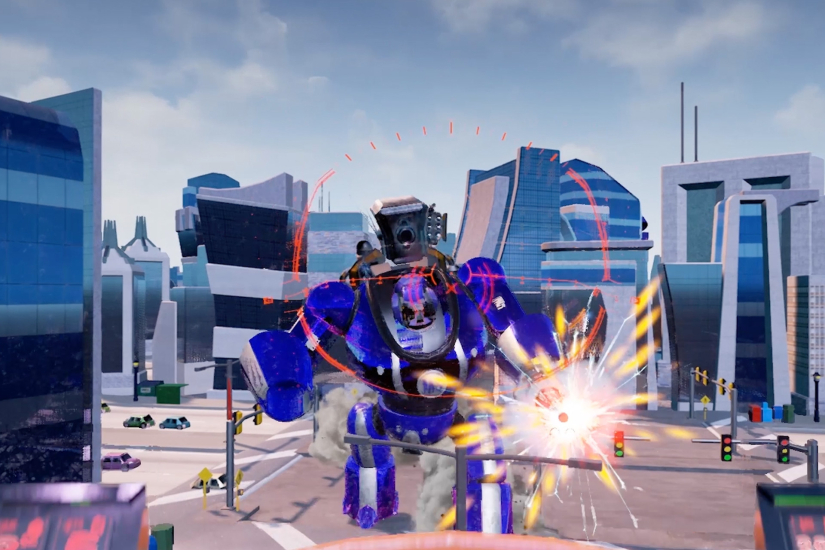 Multiplayer virtual reality game "Brobot Beatdown" garners top accolade
SAVANNAH, Georgia and LOS ANGELES, California — The Entertainment Software Association (ESA) announced yesterday that a panel of industry professionals and experts selected the Savannah College of Art and Design (SCAD) as winner of the 2016 E3 College Game Competition for the virtual reality video game "Brobot Beatdown."
This is the third time in four years that SCAD has received top honors at the premier electronic entertainment exposition in the world.
"SCAD had a great presence at E3 2016 College Game Competition with the 'Brobot Beatdown' team," said SuAnne Fu, SCAD chair of interactive design and game development. "This win by our student VR project attests to the quality of our game development program at SCAD, from our leading-edge curriculum to the department's outstanding faculty and talented students."
"Brobot Beatdown" is a virtual reality multiplayer game developed in Unreal Engine 4 (UE4) where players pilot giant robots in attack-and-defend gameplay in a dynamic city environment. "Brobot Beatdown" was created and developed in a senior project class led by Professor Jack Mamais. The game was SCAD's official submission for the 2016 E3 College Game Competition. Three professors and six of the ten students involved in creating the game attended E3 to celebrate the win.
E3 2016 broke records for social media numbers across all channels, with more than seven million posts on Twitter alone. More than 70,000 people participated in the week's events, including 50,300 video game professionals, analysts, journalists, and enthusiasts attended this week's trade show, and 20,000 fans attended E3 Live. The premier global video game event displayed more than 1,600 products from more than 250 exhibitors.
SCAD: The University for Creative Careers
The Savannah College of Art and Design is a private, nonprofit, accredited institution conferring bachelor's and master's degrees at distinctive locations and online to prepare talented students for professional careers. SCAD offers degrees in 42 majors, as well as minors in more than 70 disciplines across its locations in Savannah and Atlanta, Georgia; Hong Kong; Lacoste, France; and online through SCAD eLearning.
With more than 32,000 alumni worldwide, SCAD demonstrates an exceptional education and unparalleled career preparation. The diverse student body, consisting of more than 12,000 students, comes from across all 50 U.S. states and more than 100 countries. Each student is nurtured and motivated by a faculty of nearly 700 professors with extraordinary academic credentials and valuable professional experience. These professors emphasize learning through individual attention in an inspiring university environment, and the innovative SCAD curriculum is enhanced by advanced, professional-level technology, equipment and learning resources.
In 2015, the prestigious Red Dot Design Rankings placed SCAD in the top four universities in the Americas and Europe. Career preparation is woven into every fiber of the university, resulting in a superior alumni employment rate. In a survey of Spring 2016 SCAD graduates, 98 percent of respondents reported being employed, pursuing further education or both within 10 months of graduation.
About E3:
E3 is the world's premier trade show for computer and video games and related products. The show is owned by the ESA, the U.S. association dedicated to serving the business and public affairs needs of the companies, publishing interactive games for video game consoles, handheld devices, personal computers, and the Internet. For more information, please visit www.E3Expo.com or follow E3 on Twitter: @E3.
ESA offers services to interactive entertainment software publishers, including conducting business and consumer research, providing legal and policy analysis and advocacy on First Amendment, intellectual property and technology/e-commerce issues, managing a global anti-piracy program, owning and operating E3, and representing video game industry interests in federal and state government relations. For more information, please visit www.theESA.com or on Twitter: @RichatESA.