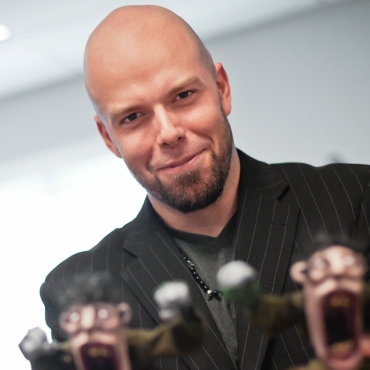 Matthew Maloney
B.F.A., computer art, Savannah College of Art and Design, 2002
M.F.A., animation, Savannah College of Art and Design, 2004
"I like working with students. Their ideas are generally less restrained. Creativity still matters a great deal. With student projects, money isn't part of the process. We're left with pure creation driven towards nothing but an increase in skill, an exploration of new methods, and the development of interesting and compelling work."
Matthew Maloney | Associate chair, animation
Awards, recognition and honors
MT Maloney Custom Jewelry listed in counter-culture press as one of the top five skull ring designers in the world.
Previous Positions
Department chair and instructor at the School of Communication Arts in Washington, D.C. and Raleigh, North Carolina; independent filmmaker and freelance animator, Washington, D.C.; gallery exhibitor, Atlanta, Georgia; owner and chief designer, MT Maloney Custom Jewelry; owner of Ocean Floor Studios, Georgia; animation works include "King Rust," "Bill" and "The Anchorite"
Publications and presentations
"Creative Synthesis: The Anchorite and the Noble Failure," Mezmer, 2010.
"Digital Diegesis," Webvisions Barcelona
"Adventures in Game Design," Webvisions Portland