Feature
/
March 20, 2013
Meet Deepti Kundra, design management student and design associate for Chicago-based company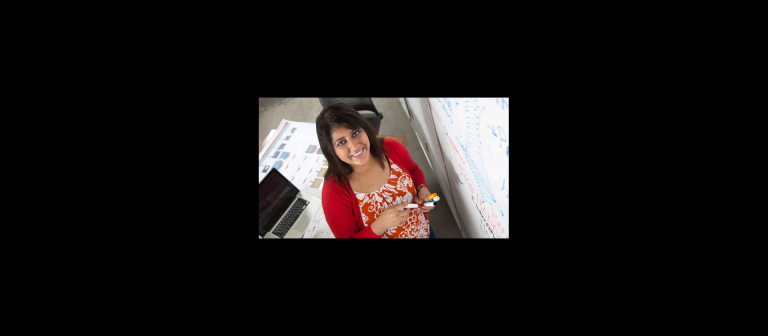 Before coming to SCAD, Deepti Kundra spent several years working as an assistant director for both the BBC in India and for the Bollywood film industry before she went on to work in visual merchandising. Deepti's previous specialty was design, and she realized while working in other fields how much she missed the discipline.
She began researching universities where she could continue her design education. She first encountered SCAD on the Design Management Institute's website, where it was listed as one of the few U.S. universities offering an M.F.A. in design management. She was happy to see that it was on the same coast as the university where her husband would be working toward his M.B.A.
"The next thing I looked up was, how was the international scene?" says Deepti. "And it turns out, it is very welcoming." Once she arrived at SCAD, Deepti easily made friends not only with her American peers, but also with students from all over the world. This diversity of the general student body, as well as the graduate students' range and variety of professional backgrounds, has helped Deepti develop new perspectives. "It offers a rich knowledge that you would not get at any other place," she says, "even if you're working in a company."
As part of the design management program, Deepti has collaborated with these other students in a variety of projects. She was on the collaborative team for an industry project sponsored by Hachette Filipacchi Media. As part of this team, she helped to create a platform for online magazines that would allow users to tailor content to their interests. She also was part of a collaborative project for client Intercontinental Hotels Group, and worked on another sponsored by Swiss think tank GDI.
Deepti even took the initiative for a collaborative project of her own and co-founded Play Up Savannah, a community action organization that used the annual Sidewalk Arts Festival to promote wind energy initiatives. The group invited festivalgoers to help customize a miniature wind farm, which was on display for the community.
Wind energy and other issues of sustainability have only recently captured Deepti's attention and imagination. "Before SCAD, all I knew about sustainability was recycling and to use less water, use less paper," she says. "But SCAD, especially professor Scott Boylston, has given me the theory behind sustainable design."
Design for sustainability is not the only outside department Deepti has dabbled in; she has also used her electives to take classes in several other design departments outside her own, including service design. "The school of design faculty is all there in one building, which is a great resource," she says. "I can go talk to people from any department. In that way, the resources go beyond the direct, tangible ones, and we have a wealth of information in terms of people."
Deepti finished her coursework this summer, and is now finishing her thesis, an examination of locality as brand and of local consumption-from buying local food to supporting local businesses - as an aspirational lifestyle. The inspiration for this topic stemmed partially from Deepti's experiences in her hometown in India - where she bought everything from local street vendors - and partially from Savannah, which has the kind of unique local identity that Deepti believes lends itself well to branding.
Deepti recently moved to Chicago, where she is balancing her time between finishing her thesis and working as a design research associate at Greater Good Studio, a user- and environment-centric design firm. She is considering eventually moving into the nonprofit sector, a field she never considered as an option prior to SCAD. She finds the prospect of leaping into a new field exciting, and says it's exactly what SCAD has set her up to do. "Once you get comfortable with something, you tend to get complacent," she says. "But SCAD has challenged me at every step. I want to continue to be challenged."