SCAD AnimationFest passes and venue
Passes are complimentary for SCAD Card holders.
More information
Questions about SCAD AnimationFest? Contact Brantly Watts at [email protected] or 404.253.3198 between 10 a.m. and 4 p.m.
Free parking
Parking is free for all SCAD AnimationFest attendees at SCAD Atlanta, 1600 Peachtree St. NW. Shuttles to SCADshow will begin running two hours prior to each event. A parking garage is available near SCADshow for a fee.
Will call
Passes can be picked up at the SCADshow Box Office one hour prior to each event beginning Thursday, Sept. 26. Will call is located in the lobby of SCADshow.
Refunds and exchanges
No refunds or exchanges will be issued.
Special accommodations
SCADshow is wheelchair accessible. Specify need when you purchase your pass.
Pass policy
Passes to all SCAD AnimationFest events are nonrefundable and nonexchangeable. By attending SCAD AnimationFest, the participant(s) and guest(s) hereby irrevocably authorize SCAD AnimationFest, its affiliated companies and their agents, sponsors and partners, successors and assigns, and anyone authorized by them, to use, copyright, reproduce, publish, film, videotape, photograph and record their name, address, biographical data, photo, caricature, likeness, appearance, performance, voice and other resemblance or likeness, and to use the results and proceeds thereof in connection with television commercials, audiovisual works and derivative works including, without limitation, the rights to edit, copy, exhibit, transmit, perform, copyright, reproduce, display (on the website or otherwise), publish, license, sell and otherwise exploit all or any portion thereof in any and all media, whether now known or hereafter developed, throughout the universe in perpetuity, and they hereby waive any and all such rights and claims that they may have with respect to such use of their likeness.
Security policy
All patrons entering SCAD performance venues are subject to search and may be screened by security staff. No large bags, purses or backpacks are permitted inside the venues, and small bags are subject to search. Firearms of any kind are prohibited on SCAD property. SCAD reserves the right to refuse items that may cause a danger or disruption to other patrons or to the event. Any patron who declines to be searched or is in possession of prohibited items may be denied entry or ejected from the facility.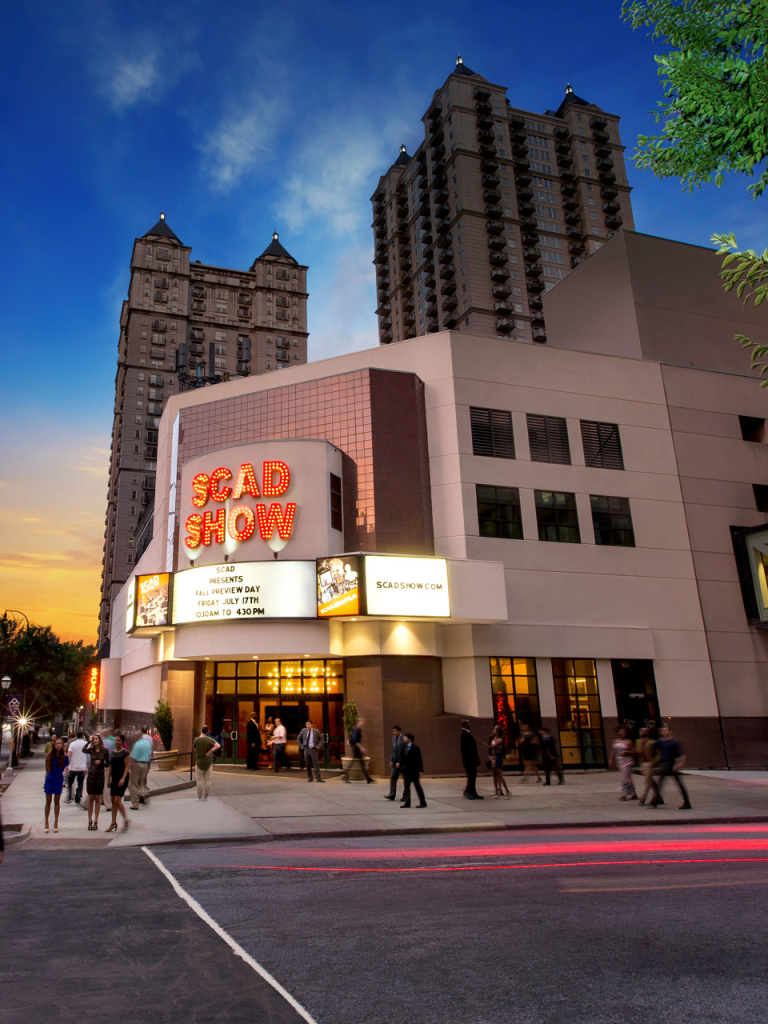 SCADshow
173 14th St. NE, Atlanta, Georgia
Located in the heart of Midtown, SCADshow is the university's premier theater space in Atlanta. The venue opened in 1986 as the Academy Theater and was later rechristened as the 14th Street Playhouse while under the management of the Woodruff Arts Center's Tony Award-winning Alliance Theatre. During the last quarter-century, dozens of local and national companies have graced its stages.
SCAD acquired the theater in December 2013. After a whirlwind five-week renovation, it was rededicated as SCADshow.
Book an event
SCADshow offers two spaces for rental, the 365-seat Mainstage and the 180-seat Stage 2.
Visit scadshow.com for rates and information.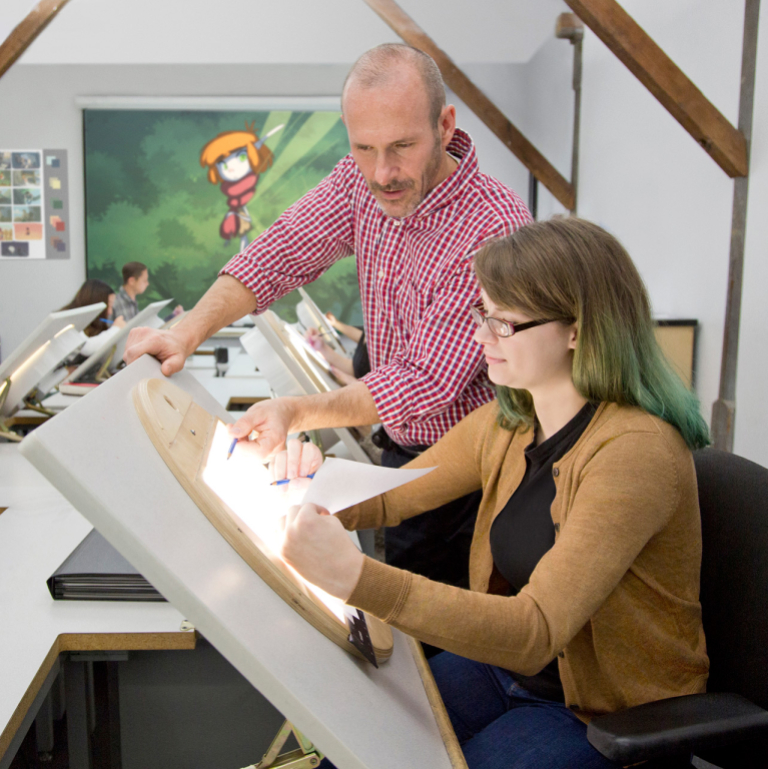 SCAD School of Digital Media
The SCAD School of Digital Media combines artistry and technology within a framework that reflects the highest standards of entertainment production. Digital media students earn degrees in animation, interactive design and game development, immersive reality, motion media design, visual effects and more, and gain the technical mastery to launch their careers. Through the production-ready SCAD Digital Media Center, state-of-the-art resources, hands-on opportunities and career-building connections, SCAD students are prepared to rise to the pinnacle of their professions.
SCAD School of Entertainment Arts
The SCAD School of Entertainment Arts incorporates a diverse array of degree programs designed to guide students as they master the art forms and industries that amuse, entertain and inspire. Cutting-edge resources and equipment in every department, coupled with an experienced, acclaimed faculty, facilitate student development and create the entertainment industry leaders of tomorrow. Programs include sound design, film and television, and performing arts, among others, and feature curricula that bolster students' creative visions while providing a sound basis in both theory and practice.
Learn more about SCAD
Thanks to our sponsors