Libraries and learning resources
The Savannah College of Art and Design libraries are focal points for information, learning, inspiration and research. The libraries contribute to every aspect of academic and intellectual life at SCAD by providing a broad range of services to students, faculty and staff.
SCAD's libraries contain nearly 300,000 physical and electronic publications accessible by all students at all locations. Collections include volumes for research and reference, as well as thousands of literary and creative works and periodicals.
A collection of artists' books includes 2,100 works in book form by artists active from the 1960s through the contemporary era, comprising one of the most significant collections of artists' books in the United States. The Don Bluth Collection of Animation consists of animation drawings, storyboards, and other materials from some of the artist's most admired work in film, including The Secret of NIMH, An American Tail, The Land Before Time, Anastasia and Titan AE.
The special collections of SCAD's libraries also include pop-up books, local history materials, comic books, graphic novels, graphic nonfiction, and other rare books on artists, architects and art movements.
As well, students have a broad range of collections and services available to them at every location, including access to digital images, online databases, media, course reserves, archival materials and personalized research instruction.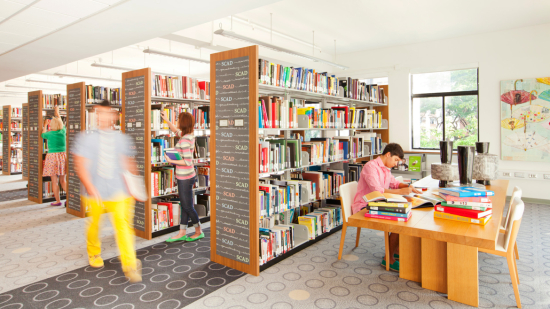 Resources and collections
Research, technology, interlibrary loan requests and more.
Learning assistance
In addition to excellent professor instruction, state-of-the-art specialized equipment and cutting-edge technology, SCAD students have access to a wealth of learning resources outside the classroom. SCAD offers a variety of supplemental programs designed to provide students with individual attention focused on their specific academic needs.
Learning assistance is designated by subject or class and is provided to students free of charge. On-site peer tutors are available in Atlanta, Hong Kong and Savannah. Numerous academic and skill-based workshops take place to supplement in-class instruction. Multiple online resources, including full access to Lynda.com and online peer tutoring through SCAD Connect, are available to SCAD eLearning students.